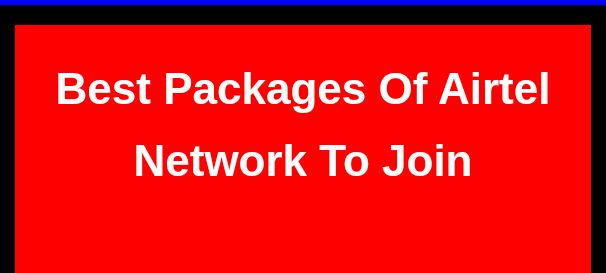 If you are a subscriber of Airtel Nigeria network and at the same time a type of person who uses a lot of data bundle (MB) for browsing, then it's very ideal to find the package to that will be making you get extra MB any time you load your Airtel recharge card. Since you need the package to join, then I will show you the list of top best packages of Airtel network for both browsing and calling.
Every sim card has its own package, that is, the package you are subscribed to determines how you use your sim card. If you like using your sim card to call your friends and customers, then it's good to look for the package that suits calling.
It's not a news that many subscribers of Airtel network need both large quantity of airtime and data on their line to call and browse at the same time. Now, my question for you is what if you're a such person, what package of Airtel can you join?
Read this also: USSD code and how to transfer airtime in Airtel Sim card to Airtel or other network (step-by-step guide).
Before you completely read this post, you will know:
Best package of Airtel network for getting bonus any time you recharge
Package of Airtel night data bundles offer and how to subscribe
Airtel package of getting extra data bundle always very cheap
If necessary how to contact Airtel network customer care for recommending you best package that you can join
How to change some settings on your Airtel line in order to migrate from one Airtel package to another package without spoiling your line and
Lots more. Please continue reading this post for the step by step explanations of the topics which we have highlighted above.
List of all packages of Airtel network
Below are the list of top five (5) best packages of Airtel network which we have to list and explain to you for any task that you may have to do package migration.
1. Smart Connect
With Airtel Smart Connect, a prepaid package which gives person an extra and a bonus data bundle and eight (8X) eight times of the value of recharge amount.
This package is good for both new and exciting customers of Airtel network. If you're on another package and want to switch to Smart Connect, then dial *311# on your Airtel Sim card.
Note that if you're not on this package, you will cannot subscribe for friends and family plan of Airtel network. That is, this package was designed to help you discuss with your friends and family for a very long time.
To subscribe for or migrate to Smart Connect, please dial *311#.
2. Smart Trybe
Airtel Smart Trybe package is the prepaid plan also which was designed for youths, students or tech guys.
Any time you will recharge if you're a subscriber of Airtel Smart Trybe, you will be given extra fourty (40)%.
The good news about this package is that after you have recharged five hundred Naira (N500) airtime, you will be given extra one GB (1 GigaBites).
If you are type of person who uses abundant of Data (MB), then subscribe for this package now. Now, to subscribe or migrate to this package, Airtel Smart Trybe, please dial *312#.
3. Freedom Plan
Freedom Plan is of the best packages created by Airtel Nigeria network provider ever.
Every time you recharge as an existing subscriber of freedom Plan, your airtime amount (balance) will be multiplied.
To subscribe for this package, the USSD code to use is *152#.. Indeed, you will have freedom to speak with your loved one for a very long time without having the problem of running out of airtime.
Keep moving with Airtel, the smart phone network!!
4. Smart Talk
Airtel Smart Talk is designed for both new and exciting customers of Airtel network. This package is meant for calling only.
If you do use your Airtel sim card to browse too much (i.e, regularly), then this package is not for you.
Meanwhile, you should look for the package that will be giving you extra data to browse. Now to subscribe for this package, dial *315# through your Airtel sim card.
5. Smart Premium
Smart Premium is for the people who have got friends and families to call in abroad. This package will give you extra airtime to call your relatives in foreign countries.
With Airtel Smart Premium, you will also be provided an airtime to text an SMS to your friends in Nigeria and abroad and also abundance of data.
If you are determining to subscribe for smart premium package purposely for calling your relatives or friends who live in outside the continent of Nigeria, that is a good determination.
As for your information, will be charged 11 (eleven) Kobo per second for calling.
To subscribe for this package, please note that it's two different packages (Smart Premium Platinum and Smart Premium Platinum plus).
The USSD code to subscribe for any package of Airtel smart premium, dial *470# and choose any package that suits your needs. Thank you.
Conclusion
Now, let me ask you. What package are you using or will you be using base on the new things you have learnt from this article today? Please show me what you are feeling right now through the comment section.
Meanwhile, the contact details or information of Airtel network Nigeria limited is 111. You can also click here to know the contact information (email, phone number and lots more) of all four (4) networks in Nigeria.
If you know that you have gained a lot of knowledge while reading this article, then please share it with your friends and remember to subscribe to the newsletter of this website for more information.
Always want me to be continued in showing you these free guides? If you do, then please tell your friends to come here and read by sharing this post.
Read this also: how to fix message center number of all four (4) sim card on every type of mobile phone (smart and step-by-step guide) in order to receive messages.