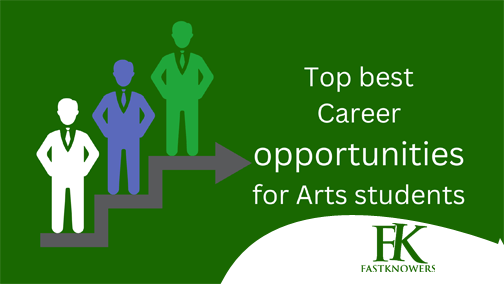 As it is always being, you don't have to completely rely on what you are being taught in school as a student. Hence, you have to find a career to start doing. The job alone will not be able to take you anywhere. If you are an art student, here is the list and explanation of the top best career opportunities for art students in 2022.
Some students who like to learn careers undergo a professional course during their final year of studies in college. If you are a student and hoping to get a job after your graduation, that plan is not strict enough. To succeed in life, you have to do something on your own.
Thank the innovation of the internet of things (IoT). With networking, you can create a business or learn a career that you have been dreaming of. In fact, if you don't pursue a career, you will be paying a peanut as a salary for being a staff. Nowadays, before someone pays you a salary, he/she has made 1000% of that amount.
There is a high involvement of money in science and art courses. If you study art courses or science courses, you don't have to make any mistake of not being a business owner or your own boss.
Now, we are going to discuss the top best jobs that art students can do in 2022.
Top job and career opportunities in the Art department
Professional artist
Photographer
Graphic designer
Printmaker
Song Producer
Teacher/lecturer
Librarian
Author/writer
Trader
Read this also: Harvard University's famous alumni and their careers.
1. Professional artist
If you are an art student, one of the best career opportunities that you can opt in for is becoming a professional artist. Though this depends on your field of interest.
Deciding to become a professional artist is very important as it can enable you to work from anywhere and at any time of your choice. However, building a strong job in the field of art through requires three main things; passion, commitment, and determination.
To build any of the career opportunities or jobs in the art department/field/sector, you be/have:
Persistent: the quality that allows you to continue doing something or trying to do something even though it is difficult or opposed by other people.
Patient: the quality of being calm while enduring unfriendly things.
Passion-oriented: having a liking mind toward a career you are creating.
A sense of adventure: think about how to do something today and earn a profit from it in the future.
Disciplined: the quality of being competent and saying no to going back. Always believe that where you are going is nearer to where you are coming from.
2. Photographer
Photography is another best career or type of job an art student can create for themselves. It is important because it opens a view into a person's mind and allows them to convey messages. Nowadays, people value images more than text, hence, the services of a photographer are in demand.
Becoming a photographer is a challenging task. Although, you have to get great potential skills and talent. That is, you have to have a passion and a clear plan for the future. After the successful dedication, hope that you will have a self-employed job and live from it in the future.
You don't have to own a degree to learn how to become a photographer. There is no strict formal education and training requirements for the profession, however, you can take several years of practice to develop the skills and build the job yourself.
3. Graphic designer
If you are a student in the art department, a Graphic designing career is here another type of job that you can create yourself. You can help companies or other people create a professional image for their brand, product, or services.
There are many career opportunities out there for art students. Being a graphic designer, you don't need to own a degree or master but what you would need and use is a laptop and picture editing software.
Being a graphic designer, you must learn how to use elements such as shapes, colors, typography, images, and more to pass ideas to an audience through pictures.
4. Printmaker
Printmaker is another career opportunity that art students can build themselves. As a printmaker, you'll design the prints yourself and create them using techniques. Earning an associate's or bachelor's degree in fine arts with an emphasis in printmaking is okay as it can serve as the first step toward a printmaker career.
Being a printmaker, you must have an idea of inserting images on the paper, fabric, etc. using varying methods of replication. Printmaking is a good career in any part of the world.
5. Song Producer
As an artist, people believe that you can artistically make them laugh through singing, making a comedy, etc. Although, everybody is not created to become an artist or a comedian. Perhaps, you can create a job through song production.
You can decide to start a career by becoming a song producer to record or produce songs for musicians. In fact, being a song producer is another way o getting yourself a new strange job.
In any country, the demand for music and song production has risen to an exponential height. Everyone wants to sing songs. In some cases, most of them don't have a deep background in this career, hence, as an artist that studied music or art in the school or tutorial center, you can help or coach them to achieve their goal and objective. Doing this will get you a job or career opportunities.
See this also: top richest musicians in Africa in 2022 – Forbes.
6. Teacher/lecturer
Teacher/lecturer jobs are meant for the one who studied art. If you are an art student/graduate and want to broaden your career or looking for a job, teaching and lecturing are two options.
If you can try to broaden your education to a master's degree level, you would have a high chance of gaining a lecturing job at a university or college. To become a teacher/lecturer as an art student, you must have studied education along your study and must also have taken teacher's professional courses.
During your learning, while undergoing teacher's professional courses, you would be taught how to listen, coach, and mentor students.
7. Librarian
Another career involved in the art department is becoming a Librarian. This career can give you a job to work in national libraries, academic libraries, etc. Your main aim of being a librarian in a library is to make books and other learning materials easily accessible for users.
Being a librarian is a good career opportunity in the art department for students. Perhaps, the typical job details of a librarian include the following:
Managing collection development and acquisitions
Cataloging, collections management
Circulation, and providing a range of services, such as:

Reference
Information
Instruction, and
Training services, etc.
8. Author/writer
Another best lucrative career in the art field or department is book writing. As a book writer, you earn money as much as you want. You can write the book at your own pace and sell it to the public depending on your own price.
With a degree or higher national diploma in courses related to art, you can become an author. Age requirement doesn't involve in becoming an author/writer.
You can write English literature such as novels, original stories, etc. Through this career, you can get highly valued employees. If you are a very professional writer, different companies like radio stations will book you to offer them broadcasting editing services, write for their audiences, etc. Careers involved in being an author/writer are immeasurable.
In fact, through your ability to create writing, you can become:
A technical Writer
Editor
Magazine Writer
News Reporter
Social Media Manager
Blogger, etc.
9. Trader
The main aim of most art courses is how to sell products/services and make a profit, e.g, marketing. Being an art student, this is your field, hence, you can turn your knowledge into business. Trading enables you to know the experiences involved in selling things for making a profit.
As a trader, you can sell your own product/service or help other companies make a sale in order to get a commission.
See this also: accredited music schools in Nigeria and their fees.
Conclusion
As a student, schools only give you a liability, they can't give you a real future. However, it is a liability you are being given by schools that you have to use it create your real future.
Let me ask; what did you or are you studying in the art department in school now and which career from the above are you interested to invest in and why? Please let's know how you feel via the comment section.
If you know that this article has helped you know the top best career opportunities for art students, then please share it with your friends and remember to follow us on Facebook or subscribe to our newsletter for more important updates.