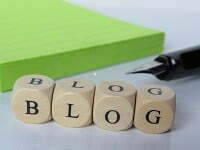 Do you want to become a blogger in order to create articles for people as we are doing here? Bloggers are next to author because we're dealing with creating and editing post. In this article, we shall discuss with you step by step how to become a blogger in Nigeria and how you can make money in being a blogger.
Everywhere I go, I hear people talking about the good things in being a blogger. In fact, blogging is very advantageous. It enables say your thoughts on the net to a large volume of people without restriction, you get fame and also make money from it by advertising other company's products/services or sell your own products to your audiences.
There have been a lot of people that have made blogging their number one source of income. If you are serious about blogging, you can make three hundred and fifty to four hundred thousand Naira monthly within your first year of starting a blog. In Nigeria, we have a ladies who blogging made them become billionaire. One of them is Linda Ikeji.
You don't need extra ordinary knowledge or a possession of academic certificate to stat blogging. If you know what to write to solve people's problem(s), entertain people, etc., then you are good to start a blog.
If you are good at tech, you can start tech blog. Or start a news blog if you are a type of person who likes reading news and get latest news very fast. Most bloggers in Nigeria run news and education blog.
Some of them write about tech, for example, www.naijatechguide.com. If you are interested to know how to become a blogger and make from blogging, then we have got you covered.
Read this also: how to become a pastor in Nigeria (step by step).
Now, let's start to discuss how to become a blogger in Nigeria for this 2022.
How to start a blog in Nigeria for 2022
Find a niche you are good at.
Think about the name you are going to give it.
Register your blog's name.
Install blogging flat form.
Add setting to it.
Install theme.
Download plugins to it.
Start creating essential pages and post.
Learn and implement SEO.
Market your blog.
Post regularly.
Abide by copyright law.
Decide to make money from it.
How to become a blogger and money in Nigeria
1. Find a niche you are good at
The first step for somebody to become anything they want is finding their major topic of interest. If you are not interested in something, you will not perform well when you are forced to do.
Similarly, a blog topic/niche must be chosen based on what you love or professional in writing about. For example, if you are a mechanic or car dealer, you may know everything concerning car, hence, you can start automobile blog.
If you have chosen a particular niche, don't abandon it and start another niche as doing so can affect your blog's SEO (search engine optimization), it will also make people confused what does your blog really about.
In Nigeria, there are a lot of niches that you can start writing about as a blogger. If you are good at trading, you can open commercial or business blog, teaching people how to trade and make profit.
If you must write multi niches articles on your blog, make sure to categorize them or group them into category and tag in order to make people navigate through your blog as we do here.
2. Think about the name you are going to give it
Every website or blog on the net has a name. If you are aspiring to become a blogger, think about the name that matches the type of your blog and give it to it. Remember that a good domain name is very important to be chosen.
Sometimes, the name you are planning to give to your blog may be taken by someone. To know whether the name you are deciding to give to your blog has not be taken, there are tools to help you find out.
Just simply visit www.bluehost.com or www.namecheap.com and start entering the name you like to give to your blog
After entering up, click "Search"
If the domain name is available, then add to your cart.
Alternatively, you can visit www.leandomainsearch.com. On this site, you'll enter the keyword you want to use as your blog name and it'll show you all the available different name suggestions you can use as your blog name.
3. Register your blog's name
What is your blog's name and how you can register it? Perhaps, you might be asking yourself what a domain name is? A domain name is your blog's name and is simply the web address that leads to your blog, for example, www.fastknowers.com.
Registering your blog's name can be easily done with web hosting. Web Hosting is a platform that provides storage space on web servers for websites to effectively store its file.
There are different web hosting companies available on the web. We recommend you to register your blog's name with any of; Bluehost, Interserver, Namecheap, Hostgator, etc. because they highly put their customers' satisfaction at first.
If you are registering your blog, you may be given several extensions t choose from like .com, .ng, .net, .org, .com.ng, .edu.ng, etc. Please we recommend you to pick .com because it is widely used domain extension.
4. Install blogging flat form
With WordPress, you don't have to write any line/piece of programming language before you can create a blog or website. After you have registered your blog's name (domain name and hosting), the next step is to install WordPress on your domain name and simply start managing your blog.
The content management systems (CMS) that was specifically and greatly designed for building a blog, starting a blog in has become easier than ever. One of the CMS platforms is WordPress.
As of 2021, according to statistic, there are more than 455 million websites that use WordPress for blogging and other purposes around the world.
How to install WordPress
Login to the company you registered your blog with (your cPanel).
Click the Softaculous Apps Installer icon.
Tap the WordPress logo.
Select the Install tab to proceed.
On this page, you will be required to fill out the details of your WordPress installation.

Select the domain – enter the website domain you wish to install WordPress on.
State the root folder for installation. The Directory field by default is empty, leaving it that way informs WordPress that your website is built on WordPress, for example, yourdomain.com. You can decide also to install it to a subfolder if you want just your blog to be powered by WordPress for instance, yourdomain.com/blog, then type "blog" in the directory field
Leave Database Name as default.
Again, the default wp_; Table Prefix can be the same but for better security, it is recommended to have something unique, like wpwebsitename_.
Fill in the Site Settings (this can be changed at any time).

Lastly, hit Install when you're set.
Now, the most important procedure is done for creating your blog. By visiting the domain name, you can find out if your blog is live or not.
5. Add setting to it
After successfully installing WordPress on your newly created blog, now, it is time to add settings to it. You have to customize your:
Blog's permalink structure. This is the address of your blog posts where people can visit and read your blog posts.
Information such as name, email address, name you want to display anytime you write an article, etc.
You have to also delete all preinstalled unnecessary plugins, pages, and posts. Go ahead also and set your WordPress title and tagline in the settings.
To edit your site title and tagline, go to settings>General>Enter your site title and tagline and click "save changes" button.
Please note that your blog's tile and tagline are very important. They have to be properly edited for ensuring you have a good SEO result.
6. Install theme
Are you just newly become a blogger in Nigeria? Every newly created blog must have a well designed-visitor-driven theme. To install them on your blog, you must not have a programming language. Just simply install a theme on it and it will change.
There are many themes on the net for all types of bloggers. The type of theme you have to install depends on the type of your blog.
If you want to become a blogger in Nigeria, you don't have to hire a web designer to design it for you as you can design everything yourself using phone or computer. Here, we will list some of the top best themes and the types of blog they are meant for.
Divi | multi-purpose WordPress themes on the market.
Ultra | powerful and flexible WordPress theme created by Themify.
SeedProd | best drag and drop landing page and theme builder for WordPress.
Astra | fastest, flexible and free WordPress theme that is intuitive and offers deeper integration with WooCommerce.
OceanWP | the perfect theme for your project. Lightweight and highly extendable.
StudioPress | The world's most popular mobile-responsive themes and design framework for WordPress.
Avada | multipurpose WordPress theme that can be used to create just about any type of site.
Soledad | Multi-Demos for Your Purposes! Soledad is a powerful & flexible WordPress Themes and easy to customize.
See this also: how to create a blog very fast step by step.
7. Download plugins to it
Plugins help in extending and regulating the functionality of your blog,. With plugins, you can create beautiful blog you have been ever desired. Below are some of the useful plugins every blogger should download on their blog.
| S/N | Plugin | Function |
| --- | --- | --- |
| 1 | Contact Form | creating contact us without code. |
| 2 | Updraftplus | Backing up your site. |
| 3 | Jetpack | Multipurpose plugin. |
| 4 | Easy table of contents | Adding table of content when your post is long. |
| 5 | Rankmath | SEO plugin. |
| 6 | Social icons | Sharing button. |
| 7 | Asimek | Anti Spam plugin. |
| 8 | WP Rocket | Speed up blog. |
| 9 | Really Simple | Issue SSL certificate |
| 10 | iThemes security | Securing your theme. |
| 11 | Social snap | For adding your social media platforms. |
| 12 | OneSignal | Pushing notification. |
8. Start creating essential pages and post
Now you blog is looking good and performing very well, it is time to start creating essential/useful pages for blog. Essential pages which every blog should have even at initial stage are contact form page, about us page, privacy policy page, terms and conditions page, etc.
Start creating important posts to attract your reader to spend times on your blog and also share your contents with their friends through the social media icon on your blog.
Any time a idea of writing a post, just log in to your WordPress dashboard and start writing your post.
Note: your posts are seen by many people you could never imagine, hence, dedicate your time to write it perfectly.
9. Learn and implement SEO
SEO stands for Search Engine Optimization. It is the process of technically making making people know the existence of your blog and let them to read or engage with your blog's post contents.
Generating traffic should always be in your mind because the blogs that have traffic are blogs that make money. You should have to learn how write SEO -optimized content before you begin writing post.
Always focus on generating traffic (page views) to your blog than creating new content every day. There are many ways to let people read and share your blog's articles, some of them are:
Learn, implement, and master SEO.
Post your article on your social media.
Opt in to paid ads to earn traffic from there.
Contribute on other people's blogs by commenting friendly comment.
10. Market your blog
As your blog is running and bringing little amount of traffic, keep doing great work.
You are getting tenths or hundred of page views monthly presently and wonder why you are getting hundred of thousands of page views in order to make thousands of dollars? Always blog about your niche, one day you would be there.
If you are not making money from your blogging, you might not be too serious about it, and that can be a bit frustrating. Below are however how you can actually monetize your blog and make money in Nigeria for 2022:
Place Google AdSense on your blog.
Render SEO, content writing, web designing, etc. for others.
Participate affiliate marketing
Host paid Webinar
Sell Ebooks to your audiences.
Sell online course
Sell some places on your blog to others to advertise their products or services.
Please note that without hard work, you won't make anything from being a blogger.
11. Post regularly
Don't be a blogger that post weekly or monthly especially when you have just started. Try to reach at least 500 posts within the first of starting a blog. That will quickly boost you fame on web.
Google and other search engines such as Yahoo, Bing search, Firefox, etc. will easily find your blog. If you are professional and know mostly in the niche you want to write about, creating a 500 articles is just a simple task for you.
If you are confused about a blogging that you can choose, here are the most profitable and best blog niches that you can start blogging about in Nigeria for 2022:
Personal finance.
Education.
News/magazines.
Food.
Pet.
Relationship advise.
Business & marketing.
Travel.
Parenting.
Health and wellness.
How to make money online.
12. Abide by copyright law
Another tip for those that are planning to become a blogger in Nigeria to know is that they should abide by copyright law. They shouldn't copy other's people work (articles or posts). Try to make an effort to write your own personal article.
A lot of people are glad to read what you are writing. One of the disadvantages of copying other bloggers' posts is that search engine such as Google will not rank your blog the way it should to a searchers.
Strive to create your own content. It may be better than the one of those who you want to copy from. Don't get discouraged why your blog is not ranking, over time, your blog traffic will grow from a hundred to thousands if you keep creating quality content. 
As a beginner blogger, it is important to grow your knowledge base in blogging. Think about the most successful blogs in Nigeria today, they all started out not being perfect. Nothing comes easy and nothing was made naturally.
13. Decide to make money from it
Now that you have made sure everything is smoothly going on, this is the right time to decide about the monetization scheme you should implement on your blog. Just like we have discussed above, you can start by placing Google Adsense on your blog to make money through page views and clicks.
As you have just become a beginner blogger in Nigeria, we recommend Adsense to be your first monetization option because you don't have to have technical knowledge before you can make money with them.
Adsense is an advertising company based in USA. All your total earning will be monthly paid to the bank account of your choice that you register with them.
As a successful blogger in Nigeria, you can earn, you can make as low as N500,000 to over N2,000,000 with Adsense in Nigeria. In fact, there is no limit as to how much you can earn as a blogger in Nigeria. There are a lot of bloggers even making hundreds of millions of Naira from their blog here in Nigeria, example, Linda Ikeji.
If you know that this article has helped you know how to become a blogger in Nigeria, please share it with your friends and don't forget to subscribe to our newsletter or follow us on Facebook for more important updates.