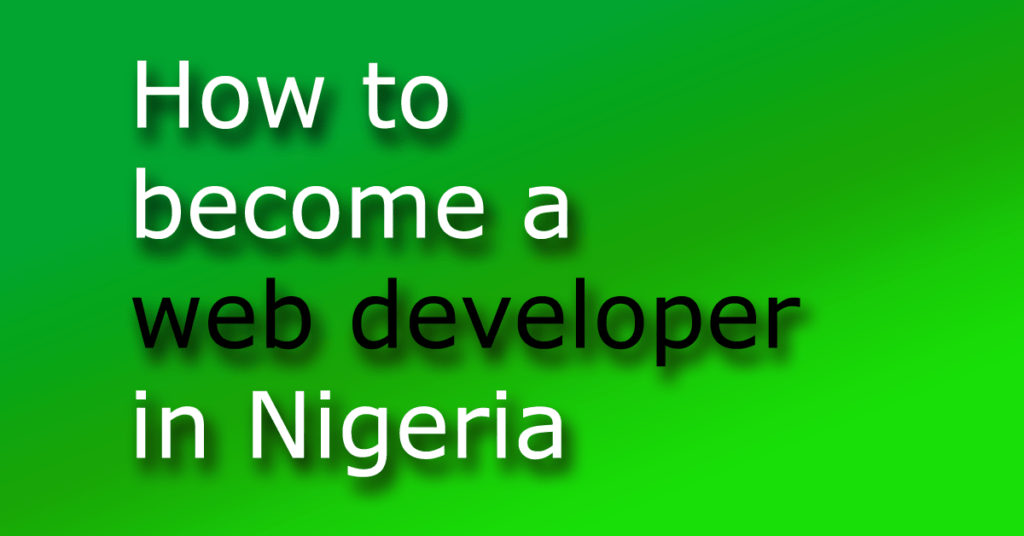 You don't need to have experience about web development as it is so easy to learn. In this post, we will share with you step by step guides about how you can become a professional successful web developer of any type even if you don't have any ICT experience.
Web developer is a person who is good at creating a website. Web designers interact with web designers, UI/UX, graphic designers, SEO experts, digital marketers, copywriters, etc. when they are developing a website.
Website development is one of the most lucrative services in the world this century because every business, body and company need website to promote their goods or services. As a highly skilled web developer, you can earn at least NGN 220, 000 to NGN 500, 000 per month in the first year of your starting.
To go deeply in web development, you have to understand HTML and CSS. There are three types of web developers and they are backend, frontend and full stack web developer. Hence, the earning of web development services differs from types to types.
Backend web developer: specialized at writing the underlying code for running all website operations.
Frontend web developer: specializing at the taking care about the user interface. They are sometimes called "UI/UX".
Full stack web developer: they are both a backend and frontend web developer, hence, they manage all aspects of a website.
To become a web developer of any type in Nigeria, you don't need to have degree in computer science. Web development is a skill which everyone can acquire.
Now, let's start.
How to become a web developer in Nigeria even with no experience
Learn simple programming language
Learn some simple programming languages such as HTML (HyperText Markup Language) and CSS. If you master all of these two languages, you would be able to develop a website.
HTML and CSS are the mostly used language by web developer. Importantly, they are very easy to learn. HTML language ensures the proper formatting of text and images for your Internet browser. Without it, a browser would not know how to display text as elements or load images or other elements. It also provides a basic structure of the page, upon which Cascading Style Sheets are overlaid to change its appearance.
The CSS on the other hand stands for Cascading Style Sheets. It is used to style and layout web pages, for example, when differentiating the font, color, size. It also helps in spacing your content, split it into multiple columns, etc.
Buy hosting and domain name
Another step to become a web developer in Nigeria even if you don't have any experience about website development and design is buying a hosting plan and domain name.
There are many web hosting and domain name registrars out there which you can buy your domain name and hosting from. You need to buy this just like the way you buy land or rent shop for your physical business.
The main duty of domain name and hosting registrar is just to issue an opportunity to have presence online. You domain and hosting are your store name and location on the internet.
Read these also:
top best accredited domain registrars in Nigeria this 2022.
Tips on how to find best company that develop website in Nigeria.
Top cheapest domain name and hosting registration companies in Nigeria.
Open a website
Immediately you have bought domain and hosting, you website is automatically ready for you to configure it the way you want. This is when you would put the knowledge of HTML and CSS which you learned into practice.
If you need advanced features such as profile registration or payment gateway, you would need to further learn other programming languages such as JavaScript, Python, SQL, etc.
Practice everyday
Practice brings expertise. To become an expert, you must practice. If you want to become a web developer in Nigeria with no experience, start by learning HTML and CSS, then buy hosting and domain name, open a website, and practice everyday.
Get involved in freelance service
After working on yourself for like two years, you must have learned many things about web design and development. Now, to earn money with it, get involved in freelance service. Create a profile on Upwork or Freelance and start developing website for different companies.
Hope this is helpful? Let's hear your thought via the comment box.