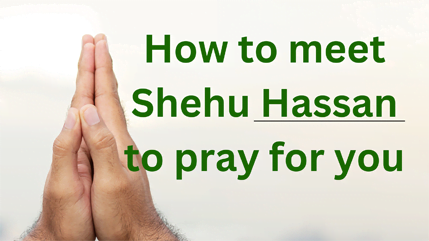 Do you want Shehu Hassan of Kogi state to pray for you in order for your disease and problems to be healed up or resolved quickly?
Or have you got some problems that you want God to solve for you immediately? I will help you in this article to show you how to locate Shehu Hassan to pray for you in Lokoja, Kogi state.
Shehu Hassan is a blessed citizen of Kogi state but he presently lives in Lokoja, one of the LGAs of his state. He was born and raised in Abejukolo in Omala Local Government of Kogi state.
If you've never visited him in your life, then he is worth to be visited as doing so will get your prayer(s) answered. Shehu Hassan is neither a Christian nor a traditional man but he's a Moslem.
People know him as Mallam Hassan while other people know or call him Shehu Hassan. He was before a chief commandant officer.
In this article today, I will show you every step you should take in order to locate Shehu Hassan to pray for you. Shehu lives in Lokoja, thus you must come to Kogi state or you can even invite him. In this article, you will know everything.
How to locate Shehu Hassan to pray for you in Lokoja
To locate or meet Shehu Hassan to pray for you, you must visit his prayer center which is based in Lokoja of Kogi state. Any time you are in Lokoja, below are the Step-by-Step guides to take.
Step 1:
Make up your intention why you are wanting to locate Shehu Hassan
Go to Kogi state if you're not living in Kogi state
Then head to Lokoja directly
After you are now in Lokoja, ask any motorcyclist or tricyclist to take you to Ojo Arahman Islamic Prayer Centre
While you have finally arrived, then go to the room and meet if your case is too worrisome or you cannot stay too long
Make sure to go there with your pure water (preferably rainfall)
Shehu Hassan Lokoja doesn't collect money before he prays, in fact, he may even give you money if it is mattered
After your prayer was being answered, you can at your own will give him anything you like to give as a testimony
Mallam Hassan of Lokoja Kogi state can use his Islamic prayer which was being sent to him from God to cure every illness such as diabetes, asthma, stroke, madness, disability status, deaf, dump, etc.
The only fastest way you can use to invite Shehu Hassan is by teaming a large group of people in your community and doing the Ahabab of Shehu Hassan Mikailu, Abejukolo.
By locating Shehu Hassan to pray for you, you should not do backbiting, adultery, say false information (lie), block peoples' way of success, etc in order for your prayer to get answered quickly
Make sure that you are not in your period while meeting or nearing Alhaji Shehu Hassan Mikailu Abejukolo for anything, as a woman
Entering the place where Mallam Hassan prays with an ablution as if you are going to pray is an added advantage as it can make your problem to be resolved quickly
Read this also: Name Of All Islamic Months And Their Meaning In English (Hijra calendar that Moslems should have to know).
Step 2:
Security officers like Police, soldiers, or civil defense will ask you some questions at the entrance gate, then tell them that you are there to meet Shehu Hassan to pray for you
A servant officer will take you to Shehu Hassan directly
Note that everything is free of charge. Hence, Shehu Hassan doesn't collect money to pray for anybody, indeed, he even shares it.
Do not pay anybody who wines you so that he/she can take you to Shehu Hassan.
Step 3:
In some cases, Shehu Hassan will start telling you your problems and why you are coming to him immediately after he has seen you
If your problems are not shown to him for disclosure, then go nearer to him and greet him religiously (Asalamualaiyqum, if you're a Moslem). Meaning, may the peace of God be with you.
As soon as immediately you have seen him, then say Shehu Hassan, Assalamualaikum (he likes this so much).
Does Mallam Hassan of Kogi state collect money?
Shehu Hassan doesn't collect any money before he will pray. Indeed, if God has answered your prayer(s), you can do thanksgiving.
Thanksgiving is not compulsory but it is worth doing it. Meanwhile, he has healed many cripples, blinds, and a lot more diseases that are not sent down from God.
For example, see Shehu Hassan and the people who came to him for prayer in the image below:
Read this also: best web developer in Kogi state.
That is to say that Mallam Hassan whose the name of Islamic prayer center is Ojo Arahman Kunfayaqun Islamic Prayer Centre, Lokoja, is one of the best and most famous Islamic prayer centers in Kogi state 2022 so far.
The day for the general or public prayer is Sunday night till Monday morning while you can visit him officially on any day that you find it suitable.
Mallam Hassan is the type of person who visits people town-by-town to pray for them on a special day like Moulud Nebbiy celebration. Whenever he has invited me, I usually post it on our Facebook page. Now, if you want to get notified about it henceforth, you may click here and follow fastknowers.com's page on Facebook by clicking here.
Conclusion
If you know that this article has helped you know how to locate or meet Shehu Hassan to pray for you in order for your disease to be healed or your problems to be solved quickly, then subscribe to the newsletter of this website for more important information about Shehu Hassan by clicking here.
Do you like your friends to read this too? If yes, then please share it with them on either Facebook or Twitter now.
If you have any questions to ask which is related to this article, don't feel shy to ask through the comment section. Thank you for your time and goodbye!!