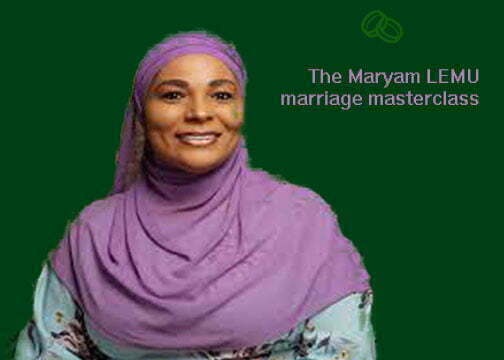 Without having made proper planning for the marriage, some marriages get crashed in a few months. This crashing of marriage is what everybody doesn't like to happen to him/her. Today, we shall be looking at the marriage masterclass comprised of Maryam LEMU.
Maryam LEMU is a Nigerian female Islamic motivational speaker who is completely interested in talking about marriage. She nationally and internationally speaks on a lot of occasions. Her main in life is just to simply advise people about how to keep a good Islamic marriage.
According to her, LEMU is not her surname. Hence, she bears LEMU because of her belief that she will continue to learn knowledge and idea, educate others, motivate others and also uplift others.
If you are planning to start a relationship with someone or you have started a relationship, the Maryam LEMU marriage masterclass is a must-have as it is assured to teach and guide you through what you have to know before marriage.
This is meant for brothers and sisters in Islam. You can get this masterclass on your own or get the plan of two couples so that you can also be able to undergo the training with your partner.
The journey of marriage in Islam is not a type of journey which you must play with. Before one starts a relationship, there are good and bad things he/she needs to know. Happily, Maryam LEMU has compiled them together in such a way that you can easily understand and become a master.
Maryam LEMU has been successfully married for more than thirty years plus. Both she and her partner had compiled this masterclass what should from their mistake, successes, etc.
Today, we will look at the Maryam LEMU marriage masterclass, how to get in touch with her blog, listen to her audio, etc. We will also show you how you get her masterclass online.
Now, let's first take a look at Maryam LEMU'S biography, books, audio, husband, blog, children, how to get her masterclass, etc.
About Maryam LEMU
Her name: is Maryam.
Popularly known as LEMU.
Husband: Sa'id Takuma.
Occupation: Islamic marriage motivational speaker.
Nationality: Nigerian.
Contact numbers: +234 913 109 0749 (WhatsApp), [email protected], via her website's contact form, etc.
Books: Premarital Masterclass, The Rights & Responsibilities of Couples in Islam, Free Productive Journal, etc.
Instagram handle @maryamlemuofficial.
Lectures: Zoom meeting, YouTube channel, at the event, etc.
Audios: available on Apple Podcast, Muslemcentral, Spotify Podcasts, etc.
Founder: Marriage Academy.
Maryam LEMU has been regarded as a philanthropist because of Marriage Academy she founded. She has dedicatedly spent her time and money toward the successful running of this rewardful initiative just to simply help the populace find the right spouse for their marriage.
Historically, she inherits the mind of Her late mother, Aisha LEMU, a British-born author and religious educator who converted to Islam in 1961. Her mother is the wife of Dr. Sheikh Ahmed LEMU.
"My life, knowledge, and everything were made possible by my parents and husband", says Maryam LEMU. She says on a lot of occasions how the books written by her late mum help her through different things in life.
Her father discouraged her from going to school after her secondary education due to how she is created unless she got married. In the line with this, her mother sponsored her to abroad to learn how to cook at Elizabeth Russel Cooking School, in England.
Hope these paragraphs have helped you answer the question relating to Maryam LEMU. Please let's know what you further want to know about her that was not mentioned here via the comment section.
Now, let's look at everything about Maryam LEMU's pre and post-marital masterclass and how you can get it or get benefited from it.
The Maryam LEMU marriage masterclass
The Maryam LEMU marital masterclass is a course designed by Ustadha Maryam LEMU, a Nigerian public speaker to guide Moslem brothers and sisters in choosing the right spouse for themselves in Marriage. This course is for everybody that wants to have a joyous and violence-free marriage in their life.
This masterclass is available in two different categories; premarital and post-marital. The first one is for those that are willing to get married while the second one is simply for the ones who have married.
You can easily get any of these marriage masterclasses online by visiting the Maryam LEMU's website at www.maryamlemu.com.
If you need more information about this marital masterclass or how it can benefit you and your spouse/partner in your marriage, then you can watch her interview with Dr. Mufti Menk which took place via Zoom meeting.
You can also listen to the introduction of this course in an audio format via https://muslimcentral.com/maryam-lemu-premarital-masterclass/.
In August 2021, Maryam LEMU carried out an event in Abuja to launch Premarital Masterclass in Nigeria. At the event, the executive governor of Kogi state, Alhaji Yahaya Bello attended, the chief Imam of National Mosque Abuja, Zahra Muhammadu Buhari, wife of Niger state executive governor, and another guest of honor also attended.
The launching was about learning premarital matters, marriage, parenting, personal growth, and spirituality in marriage. During the event, all guests of honor invited to the occasion thanked Maryam LEMU and her wonderful husband for the time and effort they put together in establishing the initiative that has never existed in Africa.
Governor Yahaya Bello also advised the commissioner of education in all north central geo-political zone states in Nigeria to start teaching their students about marriage using the course Maryam LEMU marriage masterclass. He concluded that doing so will help their children in building a good home for themselves in the future.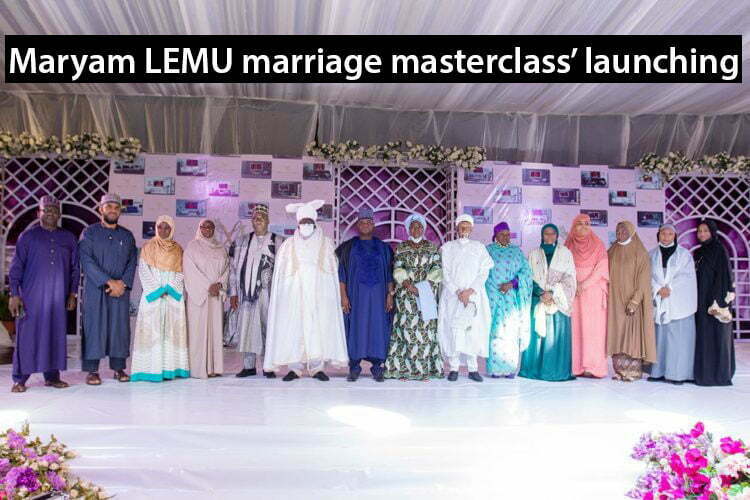 Listen to the launch of this event in an audio format via Apple podcast: https://podcasts.apple.com/ng/podcast/launch-of-the-marriage-academy-and/id1500249761?i=1000531480225.
Or you can also listen and download it from https://muslimcentral.com/maryam-lemu-launch-of-the-marriage-academy-and-the-certified-premarital-masterclass/.
Read more about Maryam LEMU's premarital masterclass on her website by clicking here.
Hope this article is helpful Please share it with your friends and remember to comment on anything you may have to say about this page via the comment section.
Conclusion
Marriage in Islam is very important. Allah will surely ask you how you go about it in the hereafter.
Maryam LEMU is an Islamic relationship expert. She can guide you through your marriage issues. No doubt, she has been married for more than 30 years, hence, she knows the ins and outs of marriage. Please visit her website at https://www.maryamlemu.com/ for more.
If you know that this page has helped you with every important piece of information about Maryam LEMU's marriage and premarital masterclass, then please subscribe to our newsletter or follow us on Facebook. Thank you and have a nice day ahead.