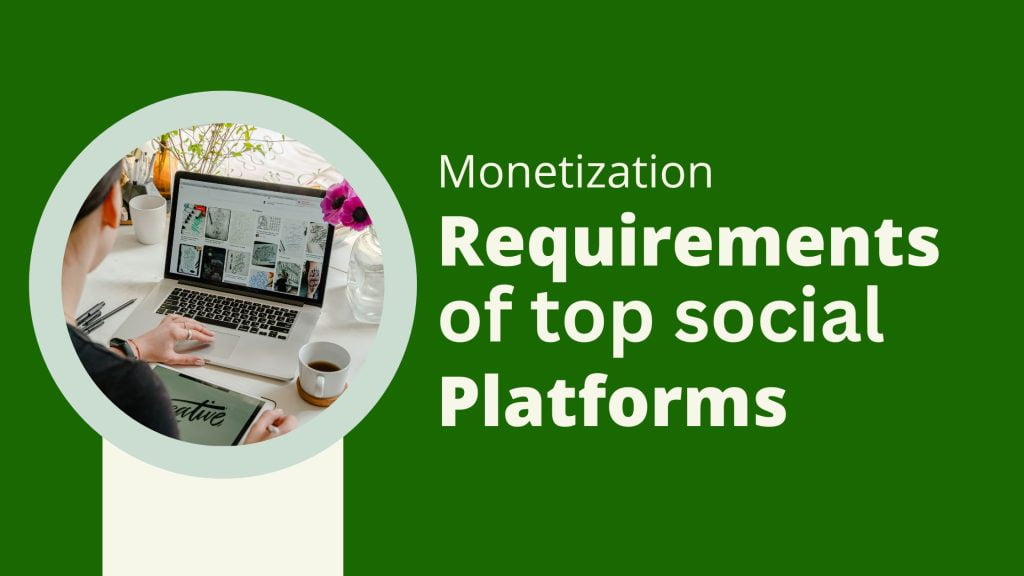 Have you got audiences on your social media handle and looking for how you can monetize? Most social media platforms have a monetization option and today we shall help you know everything and how you can join step-by-step.
Monetization, as its name implies, is the act of earning money from your services or products on a regular basis. Welcome to this page where you will know the requirements for the top social media platforms such as YouTube, Facebook, Instagram, TikTok, blog/website, SoundCloud, podcast, and many more.
Now, let's begin to show you the top social media platforms and their monetization requirements.
Top social media platforms and their monetization requirements for 2023
#1. YouTube channel
YouTube is the #1 social media platform in the world. Xxx people use it on a daily basis. One of the important things about YouTube is it educates, informs, and guides its users.
YouTube is a software owned by Google. To make money on it, you have to first create a channel. When it's come to monetizing YouTube channels, the Google team will assess any channels for their Partner Program, they need content and a lot of views.
To be eligible to join the YouTube partnership program, here are the requirements.
Have at least 1,000 subscribers and 4,000 valid public watch hours.
Create longer YouTube videos.
Optimize your YouTube videos.
Create custom thumbnails for your YouTube videos.
Add video cards to your videos.
Create end screens for your videos.
Recommend related videos in your video description and comments.
Add your videos to the recommended playlists.
#2. Facebook page
Another top social media platform to grow audiences on in order to monetize for 2023 is Facebook. There are different ways to make money from the content you post on your Facebook page.
However, to be eligible to monetize a Facebook page, the Page and its content must adhere to Facebook rules for monetization. The rate at which you and your Page follow their monetization rules will determine your eligibility.
Your content itself must follow these guidelines in order to be eligible for certain monetization products. Here are the types of content that cannot be monetized on Facebook:
Static video
static image polls
Slideshows of images
Looping videos
Text montages
Embedded ads
Prohibited behaviors
Engagement bait
Soliciting engagement
Restricted Categories
Debated social issues
Tragedy or conflict
Objectionable activity
Sexual or suggestive activity
Strong language
Explicit content
MisinformationMisleading medical information.
#3. Instagram monetization requirements
Instagram is another one of the top social media platforms and its monetization requirements are very simple if you follow the due processes as shown below.
Content creators and publishers on Instagram can monetize the content that they created or were involved in the creation of, or that directly features the creator or publisher.
On Instagram, content that is unoriginal or reproduced without making meaningful enhancements (commentary, parody, creative editing, etc.) cannot be monetized.
To monetize your Instagram profile, here are the requirements:
Fanbase and Influence
The question you need to ask yourself is why would businesses be willing to pay an Instagram user, like you, money for sponsored content. They would do so to gain exposure and access to your audience, in the hopes of selling their products to them.
Dedicated and Engaged Followers
Having a sizeable follower count on Instagram, increase your chances of appearing in the feeds of more users.
Committing to engage your follower
Instagram is a competitive social media platform that needs regular updates. On a daily basis, you have to post photos or videos in order to keep your followers engaged, else, they will start engaging with other influencers on Instagram.
Since Instagram is owned by a company (Meta) which is also the owner of Facebook, then its monetization requirements are the same as that of Facebook. To know more, please scroll up a little bit.
Recommended posts:
#4. Blog/website monetization
When it's come to monetizing a website/blog, a blogger or webmaster needs to look at his/her traffic streams in order to be able to generate a friendly earning if he/she is displaying ads. However, some bloggers/webmasters may need less traffic to monetize their blogs with affiliate marketing.
We have compiled seven (7) ways or methods that a blog can be monetized for 2023 and they are:
Buy a hosting and domain.
Make your blog/website SEO-optimized
Build audiences on social media, e.g, create a Facebook page, Instagram, LinkedIn, etc.
Publish display ads, e.g, Google Adsense.
Sell your own products or services.
Join affiliate marketing.
Most bloggers monetize their blogs with Google Adsense because of its ease to use. Adsense is a display advertising program managed by Google that every blogger or webmaster can join even without a digital marketing experience.
You are eligible to join the Adsense monetization program if you can create high-quality content and have tens of thousands of pageviews even if you just started as early as 3 months.
Want to join Google Adsense and search for the requirements? Here there are the:
Must be above 18 years old
Create a valuable and original content
Your blog must have an accessible, easy-to-use navigation bar (or menu bar)
Providing a comment section for your visitors (it is not compulsory but the idea in increasing your fans' engagement)
Must have sufficient traffic (10k pageviews in a month is okay in order to earn a cashable monthly Adsense earning).
Proper arrangement of the layout of elements (text, images, etc.) on your pages
Must have a contact, about us, and privacy policy or disclaimer page.
Your blog may not change user preferences, redirect users to unwanted websites, initiate downloads, include malware, or contain pop-ups or pop-unders that interfere with site navigation.
Your content must be written in a supported language. Please read the updated Adsense-supported languages on the Google website here.
Register for at least after six months old of your blog.
Hope this article has helped you know the monetization requirements of top social media platforms one by one. Please if it's, share it with your friends and remember to like our Facebook page for more important updates.