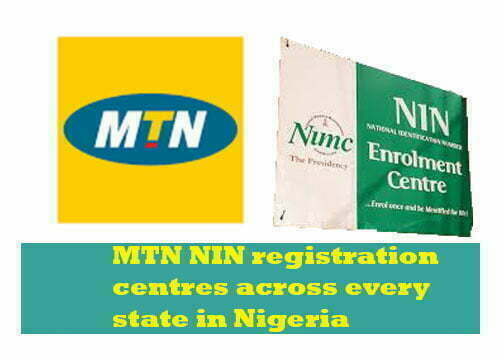 Nigerian government is still very serious about the law they laid in 2020 which postulated that every SIM card must be linked with NIN, else, it would be disconnected/blocked. However, in a bid to help people's lives easier, MTN has established an offices across different locations in the country. If you are searching for all MTN NIN registration centres in Nigeria, then let's get started.
In this post, we will show you all MTN offices where you can register your NIN free of charge. MTN introduces these offices in order not to enable their SIM card being blocked.
Your NIN is your identity. It can help in so many ways. You can also register any NIN with these MTN NIN registration centres even though you are not using MTN line but it will attract fee.
Registering NIN with MTN is very fast. They would issue you your NIN immediately they finish. It is not like other enrollment centres where they promise people an endless days.
Read this also: code to register NIN on MTN (2022 guide).
Now, let's list and show you the name and address of all MTN NIN registration centres in Nigeria across every state for this 2022.
MTN registration centres where you can enroll for NIN in Nigeria
The MTN NIN registration centres are uncountable. This article is very long, though, we have covered every state. Please use table of content's tool to easily locate your own state.
We have arranged them in an alphabetical order in such a way the thirty states and capital in Nigeria is written and read/song by nursery school pupils so that it enable you to easily find your state.
Lets, start from MTN NIN registration centres in Abia, Adamawa, down to Lagos, Rivers, to Zamfara state Nigeria. Are you ready to go now?
MTN offices where you can register for NIN in Nigeria
Abia
Pasdavis Integrated Ventures | 135 Azikwe Road, Aba, Abia State.
Jons Ndy | 163 Ikot Ikpene road, Ogbor Hill.
Aba 3 Connect Store | 186 Faulks Road, Aba.
Ohafia Connect Store | No 47 Arochukwu road, Amaekpu, Ohafia.
Aba Connect Store | 44 Aba-Owerri Road, Aba.
Kashmir Global | 2 Ohafia Street, Ukjmuahia.
Hislilly Services | Mary Junction Uturu Isuikwuato Lga.
Golden Rule | 2 Club Road, Umuaiha.
Lampholder | Bank Road, Umuahia.
Stone View Hotels | Nkalagu Junction, Ishielu LGA.
Fambuchez | 17 School Road, Umuahia.
Adamawa
JEM JEM Ventures Nigeria Ltd | No 33, Abuja road Sanda junction.
Mubi Connect Store | 84 Sokoto street Kolere Mubi.
Sangekemi | No 12 Luggere, Ganye LGA.
Zealstar Numan Newdawn | No 1 Attadashi Complex, Gombe road Numan.
Echo Logistics | No12 Lamido Aliytu Way Jimeta.
Crescita DTP | Shop 2 Waterboard By Fire Service Roundabout Jimeta, Yola.
Akwa Ibom
Talkcenta Nigeria Ltd | 294 Uyo-oron road, Uyo.
Global Phonelinz Ltd | 128, Uyo/Own Rd, Okobo, Akwa Ibom.
Global Phonelinz | 12 Akpautong Road Nung Udoe, Ibesikpo Austan.
Eket Connect Store | 22 Grace Bill road, Eket. Akwa Ibom state.
Uyo Connect Store | 41 Ikot Ekpene road, Uyo.
Emetex Global | Opposite Saint Francis Primary School, Ikot Ekpene.
Willie Gem Communication | 11, Ekparakwa road, Ikot Akpa Nkuk, Ukanafun.
World Light Services | 25 Black and White T Junction Afia Nsit Eket.
Abasiamaka Communications | No 25 Mbiaso Afaha Offiong Road.
Sirmeek Archivers | Ikot Akan Junction.
Circled Star Communication | 9 Oron Road, Uyo.
Anambra
Transtell New Dawn | 1/1i, Pond Street, Housing Estate, Fagae, Opp Coca-Cola Market, Onitsha.
Seaman Ventures | 85 Zik Avenue Awka.
Ekwulobia Connect Store | 31 Nnewi Road Ekwulobia.
Obosi Connect StoreAnambraKLM 4 Onitsha Owerri Road, Onitsha-Anambra.
Ogidi Connect Store | 67 Limca Road, Nkpor.
Onitsha 2 Connect Store | 46 Iweka Road, Onitsha.
Obejor and Obejor Resources | 42 Old Onitsha Rd Nnewi.
CEMA | 6a, New Market Road, Fagee, Onitsha South.
KSCP Technical Works & Services Ltd | Kings Plaza Beside Zenith Bank Umunze.
Bauchi
Bauchi Connect Store | Giwo house No6 Ahmadu Bello way opposite eagle sina park Bauchi.
Hamaz Communications | No 9,Yandoka Road Opposite First Baptist Church Bauchi.
Maiburgami | No 1, Yandoka road, opposite Total Filling station, Bauchi.
Mufaish Ventures | Shop No 5, Angale Shopping complex, Jahun.
North Start | 13 Jamaare road, Azare. Bauchi State.
YBC Communication | Kirfi Local Government Office.
Yesman Communication | G7 Alim Plaza, Opp Tashar Mota, Ahmadu Bello Way, Ningi.
Alkaleri LGA Secretariat | Alkaleri Local Government Secteriat.
Bayelsa
Yenogoa Connect Store | Plot 5 DSP Alameseigha road, Ovon -Epe (corner of sand field road).
Nelix Engineering Ltd | No 499 Mbiama/Yenagoa Kpansia.
Benue
Gboko Connect Store | No 541, Makir Zakpe Way, Gboko.
Otukpo Connect Store | No 1 Federal Road, Otukpo Benue State.
Chicadef | 18, Old Otukpo road, Opposite Zone 4 Police Headquarters.
Arcane DTP Shop | Opp Total Fuel Station Kashim Ibrahim Way Makurdi.
Recommended post: top 5 tourist centres in Nigeria (this 2022).
Borno
GLADSAMBornoNo 1 Fototek House, Custom market Maiduguri.
A&Z Standard | Opp Fish market, Baga road.
Maiduguri 2 Connect Store | No 8 Lagos Road, Opposite Lagos House, Old Gra (Former High Court).
Velay Limited | Opp. UBA Bank, Along Gombi Road, Biu, Borno State.
New Millenium | D25 Ramat Shopping Complex, Maiduguri.
Bash Wakil Communications | Shop 9a, Open Air Theater, Maiduguri.
Cross River
Macsworth Global | 55 Marian Road, Calabar.
Calabar Connect Store | 72 Etta Agbor, Calabar, Cross Rivers.
JJ Best | 15 Mbarakom road, Beside De Hills Hotel, Calabar.
First Love Communication | 30 Hospital road, Abak.
Uzed Digital | 4 Bateba street, Calabar.
Philip Communication | 132 Old Ikang road, Calabar.
Bernard Essien | 83 Marian road, Calabar.
IPU Global Communication | Port hacourt Street By Micro Finanace Bank, Obudu Cross River.
PDP Constituency Office, Boki | PDP Constituency Office, Ogoja Road, Okundi, Boki.
Dicksambros | Eket/Uyo Road, Calabar.
Today Nig. Ltd | Banana Park, Obudu City.
Sandy Oonoh | Okim Osabor Road,Ikom.
Ausmatech Integrated Services | 25/26 Mission Road, Ogoja.
Inemsco Communication | Ikot Edibon Road, Ndiya.
Fix Connect Global Service | 42 Ikom Calabar Highway, Ugep.
Otobong Communication | 16 Shell Road, Ikang.
Delta
MTN Service Centre Asaba | KM 129 Benin Asaba Expressway, Asaba.
Charleson New Dawn | 3, Onwuegbuzie Str, Behind Konwea Plaza, Asaba.
Goslash DTP | 126, Sapele/Warri Road, Opp Fidelity Bank, Ajogodo, Sapele.
Warri Connect Store | 46 Effurun Sapele Road.
Okolo Brothers | Plot 108 Okpanam road, Asaba.
Hanope Blitz | 33B, Orhunwhorhun road, Udu by Victory Schools, Opp NNP Filling Station.
Destiny Communication | Owa Eke Road By Kingsley Street, Boji Boji Owa, Near Army Base, Ika North East.
Andy Young Concept | 3 Orhumoru Road, Ozuaka-Orogun.
Kadick | 46, Effrun Warri Road, Effrun.
Sapele Connect Store | 31, New Ogorode Road Sapele.
Agowin | G21, Robbisson Plaza, Pti Junction, Effrun-Warri.
Warri 2 Connect Store | 98, Warri Sapele Road.
Edo
Kcee Device DTP | 60 Airport Road Benin City Edo State.
Betowan New DawnEdo9 Abrume Street Off New Lagos Road Benin.
Benin 3 Connect Store | 155 Uselu Lagos Rd Benin City.
Ringo | 49 Ukpenu Road Ekpoma, Edo state.
Auchi Connect Store | 8 Old Court Road By Public Field Auchi.
Dadev | 2 Urubi street off Iyaro Benin City, Edo.
Benin Connect Store | 89, Akpakpava Road, Benin City.
Ebonyi
Abakaliki Connect Store | 38 Ogoja Rd Abakaliki opp FCMB BANK.
Seaman Ventures | 77 Ogoja Road Abakaliki.
Deblesskins | No 1A Ogoja road, opposite Access Bank, Abakaliki.
Pasdavis | MOMO Office opposite Eke Market, Afikpo.
Amos Investment Communication | Ezzamgbo Junction, Ohaukwu LGA.
Ekiti
Ado Ekiti 2 Connect Store | No 11 Iyin Road, Beside Captain Cook, Ado Ekiti, Ekiti State.
Stratford Communications LtdEkiti42, Hospital road, similoluwa, Ado ekiti.
Wadhino Gblobal Business LtdEkiti3 Okeyinmi Street, Ado-Ekiti.
Ado Ekiti Connect StoreEkitiPNN House, Mr Biggs, Ado-Ekiti.
Related: how to download and use NIMC software application.
Enugu
MTN Service Centre Enugu | 34 Zik Avenue Uwani Enugu.
Iyekwireless | A02 Patsyl Plaza, Opp Kenechukwu Micro Finance Bank Nsukka.
Noem Synergy | No 45 Enugu road, Agbani.
Enugu Shoprite Connect Store |Shop 55 Polo Park Mall, Enugu.
New Haven Connect Store | Discovery Plaza, 96/98 Chime Avenue, New Haven- Enugu.
Nsukka Connect Store | 56 University Market Road Nsukka.
Mazeli TradingEnugu141 Nike Lake Resort road, Enugu.
Todays Services | No 2 Redcross Way Ogbete Enugu.
Alennsar Enugu | 58 Ogui Road Enugu.
Buchez Energy Limited | 13/19 Ogui Road ,Enugu.
Successgate limited | 132 Agbani Road.
FCT
MTN Service Centre AbujaFCTPlot 2784, Shehu Shagari Way,Maitama, Abuja.
MTN Service Center Transcorp LiteFCTTranscorp Hilton Hotel, Abuja.
Salmana View | Shop A2 Maigari Plaza, opposite Fish Market Lifecamp, Abuja
Garki Connect Store | Plot 289 Lagos Street, Off Ladoke Akintola Boulevard, Garki, Abuja.
Abuja Wuse Connect Store | 2121 Ndola Square, Wuse Zone 5, Abuja.
Alachee Global | 17, Alhaji Abubakar Burga road opp Police division, HQ Keffi.
Gwarimpa Connect Store | Shop 109A, DBB Plaza, 1st Avenue Gwarimpa.
Correspondence New Dawn | University Road, Opposite Rims Plaza, Phase One, Gwagwalada.
Gwagwalada Connect Store | Kaita Shopping complex, Near Japaro Hotel, Along Lokoja-Kaduna Expressway Gwagwalada Abuja.
Zuba Connect Store | Tonsjos Filling Station along Abuja- Kaduna Express way, Abuja, FCT.
Karu Connect Store | Plot NC1 Karu Shopping Plaza, Karu site, Opp. Karu park before roundabount.
Shoprite Apo, Abuja | Shoprite, Murtala Muhammed way, Apo, Abuja.
Petrus Technology | Shop 1 Tan Bala Plaza, 302 Senior Staff Quarters Along Stadium Road Kuje.
Dan Communication | Opposite Ekwe Idah, Okete Enafola Street, Idah.
Twins Communication | No. 14 Beside Attah's Okete Ekwe Idah.
Mararaba Connect Store | No 2, Baba Street, Beside Amana Super Market Opp Abacha Road. Mararaba, Abuja, Keffi Road.
Yanky Communication | Okoliko House Alekwo, Ofanya Okpo.
Sammyrichy | Opp. Onuh Ochogwu Palace, Ogugu, Olamabaro LGA.
Gombe
Gombe 2 Connect Store | No 10 Goodluck Jonathan Road Buba Shongo, Federal Lowcost Gombe.
Sports Commission | Pantami Stadium, Pantami Gombe.
Shukuriya Global | No 1 Gombe Local Government Shopping Complex, Gombe.
Fusaha Ventures | No 15 BIU ROAD, Sabonlayi, Gombe.
Pure Silver Communication | No 5 Opposite JED Office, Along Government House road, Gombe.
Imo
OZB New Dawn | No 20 Wethral road, Owerri.
Orlu Connect Stores | 1/2 Bank Road Orlu.
Owerri Connect Store | No 104 Wetheral Road Owerri.
Owerri 2 Connect Store | Plot 21 old D world bank road Owerri.
Hunger Solace | Hunger Solace building, 1010 Ihioma road, Banana Junction. Amaifeke Orlu.
Telecoms Boutique Limited | Zango Plaza, Cluster Market, Nekede /Ihiagwa Road, Owerri North.
Cockpit Global Resources | N0.90 Owerri Road, Okigwe.
Kelvic Systems | Aba Road, Off Ahaiara Junction, Ahaizu Mbaise, Owerri, Imo State.
UG Systems Limited | N0.1 Amaraku Junction, Amadi Plaza, Isiala Mbano LGA.
Stepy-Chuks Network Ltd | No 1 Umuchima Street, Off Owerri Road, Okigwe.
SUDHA New Dawn | No 10 Umuna Road Orlu.
Unbeatable Communications Ltd | No 5 Umuna Road Orlu.
Jigawa
Natallie | No. 1/2 beside general hospital kazaure Jigawa state.
Bash Communication, Dutse Jigawa Opposite Unwala Junction Kanji road, Kaiama.
Dutse Connecr StoreJigawaBeside Asmau House, Sani Abacha Way, Dutse.
Nakowa Trade Partner | No 13 Opp Jibrin Inkande Residence, Maje Road Hadejia, Jigawa State.
Kaduna
MTN Service Centre Kaduna | 2 -8 Bank Road, Off Ahmadu Bello Way, Kaduna.
Sariking | No 94 kano street by Emir palace.
Barnawa Connect Store | No C2 Zaire Road Barnawa Complex Kaduna.
Igabi Connect Store | Kaduna-Abuja road bypass, Amingo junction, White storey building beside GTBank, Igabi.
Zaria Connect Store | 20 Ahmed Markarfi road, Tudunwada, Zaria.
Kaduna Connect Store | 5 Yakubu Gowon Way, Kaduna.
GALAPHONE ND | Shop 6 Capital Plaza Kawo Kaduna.
Junction Road Connect Store | No 8, Junction Road, Kaduna.
Trust Services DTP | Shop 12 Futureview Station Plaza, Sabongaya.
Isitech Global | 20 Yahuma Plaza By Ahmadu Bello Way.
Kano
MTN Service Centre Kano | No 2, Civic Centre By Post Office Kano.
Yau Da Gobe | Rijiyar Zaki.
Bellokano | No 2 Farmcenter, Tarauni.
Kainuwa Communications | Shop 12 Kwanar Kara yan kaji, Dambatta.
AlIhsan Caf | No 5 Makoda road, Dambatta.
Kamar Mainasarra Communications | Opp Tashar Kano Dambatta market along Daura road, Dambatta.
Ungogo Connect Store | Katsina Road Ungogo, Kano State.
Tsamiya Communication | Barnin Tafasa Damatta Local Government.
Tarauni Connect Store | No 64 Hadejia road, Tarauni, Kano.
Chatzone | No 12 Muhammad Bashar road, Daura.
Kano 2 Connect Store | No 2334, Sani Mai Nagge Road, Kano.
Fantel New Dawn | No 1 Gaya Road, Opp Inec Office, Wudil.
Easy GSM | Shop 5-7,Makera Plaza, Samaru Road By Airforce Junction. Kakuri Kaduna.
Katsina
Katsina Connect Store | IBB way, Kofar Kaura Adjacent I.S. Magama Supermarket, Katsina.
Ringo Telecoms | No 23 Alasco House Yahya Madaki Way Katsina.
Hisbah Communication | No 2a Hui-Junction, Baure Town, Baure LGA.
MTN Connect Point Daura | Old Kano Road, Along Zongo Road Daura Katsina.
Funtua Connect Store | No 159 Zaria road, Adjacent to UBA bank, Funtua, Katsina state.
Great Friends Resources | No 36, Along Emir palace road, opposite Head communication, Daura.
Malumfashi Connect Store | Opp. Funtua Police Station, Kano Road, Malunfashi – Katsina State.
Kebbi
Benjee Kebbi, Kenni | Tudun Wada Area By FBN round about, Birnin Kebbi.
Gobir JegaKebbiCity Center, Birnin Kebbi.
Gobir Jega investment KebbiCity Center, Birnin Kebbi.
Kogi
Okene Connect Store | Al-Eemaan Plaza, No. 8 Atta Road, Opp. Okene Public Library, Auchi – Benin Express Way, Okene – Kogi State.
Rimtel | Beside Radio Kogi Office, Anyigba.
Yisab New Dawn | No 17 Taiwo Road Opposite Bestway Hotel Kabba, Kogi State.
Lokoja Connect Store | 64 Muritala Moh'd Way, Lokoja.
Manequiin | Beside Petro Jus Filing station Okene, Kogi.
Zavitech Global Services | Beside Sheikh Abdulmalik Central Mosque, Iduka, Okene Eba.
Wisdom Communication | Ilemla Egbe-Lokoja Road.
T-Two Communication Egbe | Isaba Area Egbe Yagba West.
Read this also: top uses of national ID card (NIN) in Nigeria (2022).
Kwara
Golad Telecommunications | No 82 Ibrahim Taiwo road Ilorin, Kwara State.
Ilorin East Connect Store | No 39 Murtala Mohammed way, Ilorin Kwara State.
Tunnet Ventures | 85 Ibrahim Taiwo Road Opposite CAC Church, Ilorin.
Manzuma Telecoms | Opposite Ajibola Fuel Station Lafiagi.
Integrity Communication | Isalu Compound, Iloffa.
Olajire Telecoms | Olorunsogo Area Bode Saadu.
Al Hamid Communication | Alhikimah Area Ilorin.
Nafcom Telecom | Adeta Round About Ilorin.
Tunnet DTP Outlet | By Olunishola Filling Station, Olofa Way, Offa, Kwara.
Lagos
MTN Service Centre Ikeja | No 1 Opebi Road, Ikeja, Lagos.
MTN Service Centre IkoyiLagosNo 4 Aromire Road, Off Kingsway Rd, Ikoyi.
Stratford Communication Ikoyi | 17 Keffi Street Off Awolowo Ikoyi.
Stratford Communication Lekki | No 43A freedom way, Ikate, Lekki.
Moving Star Shop | 66, Bode Thomas, Surulere.
Apple Tree | 76 Mobolaji Bank Anthony Way, Ikeja.
Sudha Nigeria Ltd | 47, Adeniran Ogunsanya, Surulere.
Bailord | 2 Ijegun Road, Ikotun.
Lookman communications | 93, Broad Street, Lagos Island.
V-lite Solution | 5, A.I.T Road, Off Lagos Abeokuta Express way, Kola Bus stop, Lagos.
Bajeiid Communications | No 32, Association avenue, Ilupeju.
MMA2 SC Lite | Muritala Mohammed Airport 2 Departure Lounge, Ikeja.
MTN Service Center Matori | 16 Fatai Atere Way, Matori, Oshodi.
Ikorodu Connect Store | 84 Lagos Road, Haruna Bus-Stop Ikorodu.
MTN Service Centre Yello City | 1267 Adeola Odeku, Victoria Island, Lagos.
Surulere Connect Store | 81 Bode Thomas, Surulere.
Allen Connect Store | 75, Allen Avenue, Ikeja.
T-Smart Nigeria Ltd | No 6 Lagos Road, Epe.
Festac Connect Store | Community 1B, 72,By 23 Road, Festac Town, Lagos.
El-russon | Favour Plaza ASPAMDA, Trade fair Complex.
Ketu Connect Stores | 4 Owode Oyeleaja Drive, Opposite Sweet Sensation, Tiper Garage, Ketu.
Ikota Connect Store | Shop D216/D223 Ikota Shopping Complex VGC.
Nicanor Nigeria Ltd | LSDPC Shopping Complex, Jakande Estate.
Alaba Connect Store | 30, Ojo Alaba international, Alaba.
Ringo Telecoms | No 8, Addo Avenue, Off Kofo Abayomi Street Apapa Wharf, Lagos.
Digilearn Centre Ltd | 1, Akpoguma Street, Kilo Surulere.
Blue Pyramid Ltd | 696, Lagos Abeokuta Express Way Ijaiye.
Iju Connect Store | 21, Agbado Road, Iju-Ishaga, Lagos.
Isolo Connect Store | 28 Ire Akari Estate Road Isolo.
Marina Connect Store | No 45/47 Marina street, Lagos Island, Lagos.
Communication Facilitator | 64 Ijaye road, Ogba Ikeja.
Innochosen | No 350, Old Ojo road, Alakija, Lagos.
Amber Rose | MOQ, 117, Nigerian Army Cantonment, Ikeja.
Agbara Connect Store | Odofa Bus Stop, Agbara, Lagos/Badagry Expressway.
Akfas, Agbara | 21, Olorunda Street, Oppo Bale, Morogbo, Agbara.
Dynamic Standard | 485 Ikorodu Road, Ile Ile Bustop Ikosi Ketu.
Finet DTP | 29/31 Awolowo Road, Ikeja.
Saravcom DTP | 3, Lagos Road, Opp. Ikorodu Brt Terminus, Ikorodu.
Point Technologies | 6, Simibat Abiola Way Ikeja.
Slot Shop | 1 Medical Road, Computer Village, Ikeja.
Great Cosmology | 94 Mushin Road Isolo.
Ajegunle Connect Store | 39, Bale Adeyemo Street, Boundary Ajegunle.
Cheeah Ltd | 3, Jagunmolu Street Bariga.
MMIA Arrival Connect Store | Murtala Muhammed International Airport Arrival Lounge, Ikeja, Lagos.
Kadick Integrated | Km 5 Nnpc Filling Station,Alhaji Ede Bus Stop,Exp Igando.
Sapphire DTP | 16 Otiga Street, Computer Village, Ikeja.
Ojodu Connect Store | 16 Ogunnusi Road, Ojodu Berger.
Ajao Connect Store | 15 Osolo Way, Ajao Estate, Isolo.
Apapa Connect Store | 1 Commercial Road Eleganza Plaza Apapa Wharf.
Shomolu Connect Store | 58, St. Finbars Road, Opposite Chemist B/Stop Akoka, Lagos.
Nasarawa
Alennsar Infinity Nigeria Ltd | Suite B Kwad Mall Orange market Mararaba.
Cherish Global | Opp ABC Park Keffi road Akwanga.
Andy Best Ventures | Opposite Jempo Hotel, Ado.
Etsu of Karu | Etsu Of Karu Palave, New Karu, Nasarawa.
Lafia Conect Store | Plot 65/68 Jos Road Lafia, Nasarawa State.
MTN Reliance Megalink | No 1 By Ado U-Turn, New Nyanya.
Flash Communication | Shop 176, Ado Junction, New Karu.
Adoyi & Sons | New Nyanya Junction, Opposite Eze Ndigbo Palace, New Karu.
Niger
SoniteNigerY.S.K.B House, Beside old Savanah Bank Building, BCC Road, Bida.
Jocose | HG Complex, Western Byepass, Kpakungu, Minna.
Guyilo | No 8 FMC PLaza Esso Bida Niger State.
Minna Connect Store | Godana House, No. 12 Paiko Road,Minna.
Kontagora Connect Store | Haziz Boutique, Lagos-Kano Road, Kontagora, Niger State.
Suleja Connect Store | Plot 73, Suleiman Barau road, Suleja, Niger State.
Ogun
Jibrin Hassan Shop | Lagos/Kaduna Road, Kagara, Rafi Lga.
Awake Interlink | 45 Ibadan Road, Ijebu Ode.
Badmus International | 4, Miyer street, Mowe.
Ola Ventures | Obas Complex, Ministry of Chieftancy Affairs Oke Imosa.
Ode Remo Outlet | Christ Anglican Church, Ode Remo.
Deborah Communication | Iperu Garage, Ode road, Iperu Remo.
Ikenne Outlet | 31, TAI Solarin road, Ikenne.
Sagamu Connect Store | 10A Akarigbo road, Isale Oko, Sagamu.
Miratel Ltd | 1,Onikoko Road,First Floor Near Tanterlizer ltd Panseke, Abeokuta.
G & P Integrated Concept Ltd | 116 Akute Road, Akute.
Glonat Consult Ltd | 54, Old Abeokuta Road Agege.
Sango Ota Connect Store | 56 Idiroko Road Sango.
Abeokuta Connect Store | 3 Lalubu Street Okelewo Abeokuta.
Ijebu Ode Connect Store | 146 Folagbade Road Opp Mr Bigg's Ijebu Ode.
Ondo
Demmy Global Resources Ltd | 12 Old Ado Owo Road Alagbaka Akure.
Akure Connect Store | Ricabim House, 47 Oba Adesida Road, Akure.
Ondo Connect Store | No 35 Mode Street Yaba road Ondo Town.
Emedi General Services | 40, Broad Street Okitipupa.
Globaldammy Communication & IT Services | 17, Oke Ogun Beside Polaris Bank Owo Ondo State.
Osun
Wolid International Service Ltd | KM 35, Gbongan Ibadan Express road, Osogbo.
Osogbo Connect Store | Plot 456 Iwo Road By Fan Milk, Osogbo.
Takeoff Travels & Tours Nig. Ltd | 40b Ibadan Road, Mayfair, Ile-Ife.
Oyo
MTN Service Centre Ibadan | No 1, Olubadan Avenue, MTN Ibadan Regional Office.
MTN Service Centre Ibadan 2 | Opp NECO Builing, Idi Ape, Agodi gate, Ibadan.
Bodlink | Henry T Motors Bus Stop, Ring Road Ibadan.
Ogbomosho Connect Store | Alice Ogunpeju House, Alata Supermarket Building, Oja Tuntun, Sabo Road, Ogbomoso.
Oyo Connect Store | Adjacent Union Bank, Odo Eran, Owode-Oyo Rd, Owode Area, Oyo Town.
Awake New Dawn | Agape Filling Station Apata Ibadan.
Demmy Global | 2 Opp Nitel Rd, Demmy Global Complex ,Taki Ogbomosho.
SA Adewole Store | Owode Junction Oyo Town.
Ibadan Connect Store | 73, Opposite Firstbank Branch, Iwo Road Ibadan.
Plateau
Jos Connect Store | No 1B Ibrahim Taiwo Road Jos, Plateau.
Alennsar Infinity Nigeria Limited | No 11, Opposite Zenith Bank Ahmadu Bello Way Jos.
Maiburgami Company Ltd | No 69, Adebayo Junction Off Bauchi Road Jos.
Friday Communication | No C1 Secreteriat shop, Langtang North.
Maiburgami | No 69,Adebayo Junction Off Bauchi Road Jos.
Innex Communication | Shop 38/39 Pangtumun Plaza Total Shendam.
Babayo Sadat Communication | Old Motor Park DengiI.
Zak Communication | Shop No 9, Alhaji Kabiru Plaza Opp. Unity bank Wase.
Favour Communication | No 43 Monday Market Pankshin.
Livingspring | No 33, After Eco Bank, Ahmadu bello way, Jos.
G-Best Communication | No 6, Galadimma street Ibi road, Yelwa Shendam.
Jos East LGA | Near Market Square,Jos East Local Government Angware.
Jos 2 Connect Store | No 22 Yakubu Gowon Way, Tilley Gyado Building, Jos South.
Rivers
MTN Service Centre Port Harcourt | 234B, Aba Expressway Opposite Hannah Fast Food, Port Harcourt.
Richson Networks | 50 Airport Road, Rumuodomaya, Rivers State.
Obigbo Connect Store | 34, Location Road Obigbo Besides Rennys Fast Food And Restaurant.
Benjack Transworld Agencies Ltd | Plot 321 Stadium road, Port Harcourt.
Port Harcourt 1 Connect Store | 5 Rumuokwuta Road,Port Harcourt.
Port Harcourt 4 Connect Store | 330 Aba Road Opposite Access Bank close to Oil Mill Junction.
Port Harcourt 2 Connect Store | 67 Aba Road, Port Harcourt.
Port Harcourt 3 Connect Store | s40 Aggrey road, Port harcourt.
J. Nwafada Networks | Browns compound, beside Salvation Ministry, Opobo town.
Raims Communication | 435 Ikwerre road by Kala Police Station.
Glorylight Communication | Umulika Junction, Eberi Omuma.
Israel Communication | 26, Awkuzu Street, Diobu. Port Harcourt.
Uwoman Ltd | Browns Compound, Beside Salvation Ministry, Opobo Town.
Sony Communication | 1 Wimpy Junction Rumuepirikom.
Royal Concept | Shop 7, Chinda Shopping Complex, UST Maingate, Port harcourt.
Ahoada Connect Store | 70, Hospital Road, Opposite Delta Hotels Ltd Beside Pdp Secretariat, Ahoada.
Benson Biz, Andoni | School Road Inyong-Orong, Asarama.
Woji Connect Store | 55 Woji Estate Road Port Harcourt.
Bel Communications & Integrated Services | Plaza Tank Junction Rumukwurushi Ph.
Mobile Phone Shop | Mobile Phoneshop: 4 Rumuokoro Street Off Rumumasi Ph.
Elizabeth Biz | Ayama Street, Bgo Town.
Penzance Nigeria Ltd | 57 Hospital Road, Bonny Island.
Laben Habec Nigeria Ltd | 19 Okporo Road By Rumudara.
Primeview Signals Ltd | 207 Aba Road Rumuola.
Meridek Resources | 118 Aba Road By Garrison Port harcourt.
Bonny Connect Store | No 22 Shell Road. Beside Shell Petroleum Main Gate Bonny.
Callus Miller | Callus Miller Building Okporo Road Off Artillery Port harcourt.
Glaceo Investments | Plot 16 Aba Road, Opposite Shell Residential Area.
High Life Communication | No 1 Eliozu, Ikwerre.
Nediamtrics Biz Center | 70, Ogbunabali, Portharcourt.
Mastas Technologies | No 64 Location Road.
Related post: MTN lumos solar panel (price and everything) in Nigeria.
Sokoto
MTN Service Centre Sokoto | No 6 Sulatan Abubakar Road, Sokoto.
Benjee Sokoto | 32/33 Garba Nadama Road, Opp. Uduth Sokoto.
Musaima Ventures | Sultan Abubakar road, Opp. Specialist Hospital, Sokoto.
Sokoto North Connect Store | Former Stanbic Bank Office, No 2 Maiduguri Road, Sokoto.
Musaima SRA Shop | Sultan Abubakar Road, Opp. Specialist Hospital, Sokoto.
Munifaz DTP | Shop 6/7 Hajiya Halima Motor Park, Sokoto.
Taraba
Emy- V | Kwese House, New Era Junction, Jalingo-Wukari road.
Novelife Service Ltd | 45 Kawuwa Plaza, Mayo gwo bus stop, Jalingo.
Jalingo Connect Store | Jalingo Connect Store Off Hammaruwa Way Jalingo Besedie Brothers Filling Station Jalingo.
Wukari Connect Store | Old Bantaje Road Wukari Opposite Jenkabi Nur/Pri Sch.
Yobe
II Brothers | Adjacent II Brothers connect Gashua, Bade LGA.
Fadar mai gari | Tela Yahaya residence, Gawo, Dumbulwa, Fika LGA, Yobe state.
Emotional Suppliers | Shop 201 Muhammed Idris way Potiskum, Potiskum LGA Yobe state.
Ramadan store | Ngafate quarters, Fika Town, Fika LGA, Yobe state.
Jaiz Communication | No.4. Oppossite Bakery Damaturu.
Rayuwa Communications, Potiskum | No.12 Muhammad Burema Way Potiskum, Yobe State.
I I Brothers DTP Shop | Abbash Shop, Opposite Mama Blessing Restaurant, Gahua.
Zamfara
Amali DTP | Opposite Jaiz Bank, Canteen Daji Road, Gusau.
Tuken New dawn | Suite 11 Zurmi Plaza, Ibo Road, Gusau.
Conclusion
Above in this article are the approved MTN offices where you can visit to for your NIN registration free of charge. For more information, please visit MTN website (source of this post) by clicking here.