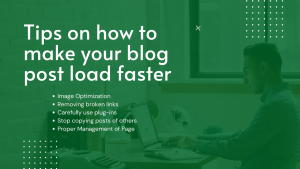 A fast-loading blog will make your website to be user-friendly and as well as increasing your Search Engine Optimization (SEO) rankings. It keeps readers interested in your write-ups because it takes little or no time for the contents to load.
In this article, we discussed a few tips which will help make your blog load faster and more friendly on any device that your readers use.
Tips on how to make your blog posts load faster
1. Image Optimization
As a website owner or blogger, you must make sure that the image you are using in your article does not have a large size.
If it does you should compress the image before using the image in your blog post because the size of your image has an effect on the speed of your website.
However, when compressing make sure that it is clear so that the readers can get and understand the information the image is passing across.
2. Proper Management of Page
The number of images, badges, and social media sharing buttons that you have on your page affect the speed of your website.
Reduce the images, badges, and social media sharing buttons on your homepage, it helps to increase the speed at which your website loads and also make your homepage look organized.
3. Removing broken links
Broken links affect the speed of your website and are the same time are not useful for the purpose they are supposed to serve, always check the links regularly.
You can make use of the broken link checker Plugins on WordPress to always check your links.
4. Carefully use plug-ins
Plug-ins are very useful especially when you don't know any coding skills before you started a blogging business. With the diverse functions of plugins, you can create any type of blog.
They add functionality to the website and at the same time be careful while using them and make to get every useful information about a particular plug-in before making use of it.
ALSO READ: Top benefits of writing high-quality articles
5. Minimize the use of using someone else's content
As much as the third-party content will add more validity to your post, it can have a negative effect on the speed of the website because it takes longer to get the information from the original source before showing it in your post.
A third party content is anything on your post that needs to get its information from somewhere else for example an Instagram post.
6. Keep your website organized
Avoid clumsiness on your website, and remove everything that is not necessary on your website to make the speed faster.
Remove post revisions, comments in the spam queue, and unapproved comments. Don't allow irrelevancies to take up the space.
Hope you found that these tips has helped you know how to make your blog posts load faster . If yes, then please share it with your friends and remember to like our Facebook page or click the bell icon displayed on the screen below for more regular important updates.