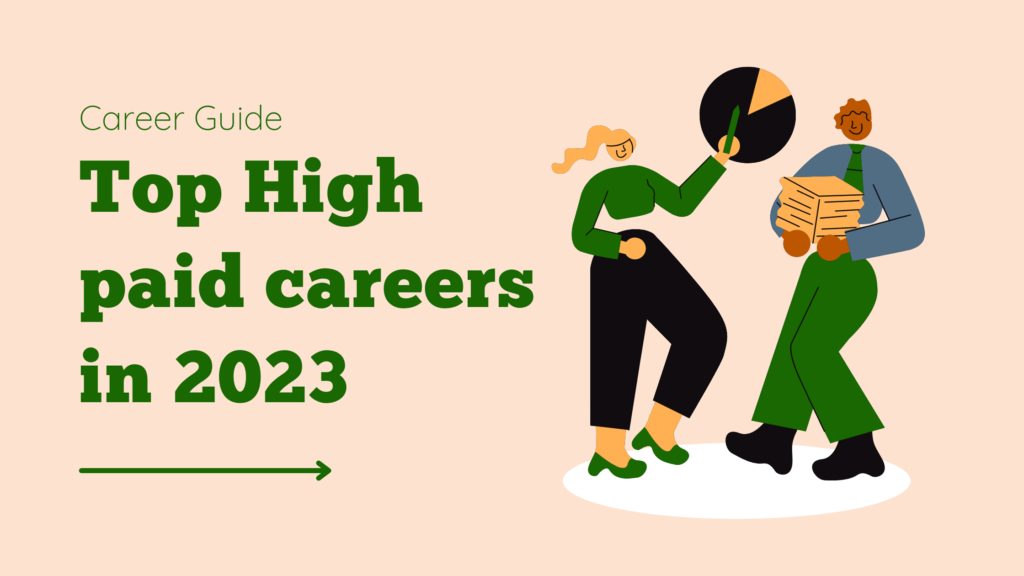 Are you a student or a businessman/woman looking for skills that are very, very in high demand in the future?
We welcome you to the right place as we are going to list and explain to you the top best careers to learn in 2022.
Education is just a liability for making you literate and understanding what and how something goes on. Hence, you are to build your real future from the understanding and literature that education has given you. Everyone is a learner and student.
What you have learned and can be able to practically carry out is yours forever.
I once heard that "instructions end in the examination hall, what that won't end is the knowledge you gained during your studentship".
You should not use an excuse of being a student that you can't learn a career. Even though you are a student or a staff, try learning one or two of an in demanding careers, surely, it will not only help you but also your community, state, nation, or even the world.
Think about the founder of Facebook, Mark Zuckerberg, had it been he given up, how must we have something like Facebook today?
Facebook helps all businesses no matter their types. Churches and Mosques do have a presence on Facebook.
It is very important to learn a career along with anything you do in order to prepare a good landing place for your future. If you are broke, nobody will listen to you.
However, no matter what you think, learn career or not, make sure you are not going to be a problem to society.
One thing we know is that by the time you have understood, it's not what you didn't do well trouble but what you did.
You will then say, "had it been I know, I should have done more" because it is now something you are benefiting from.
Top 20 best careers to learn in 2022
If you are interested to know the top best careers to learn for 2022, then let's start discussing them right away.
Please remember to read to the end and share it with your friends. Now, here are the top best careers for 2022.
Software Developer.
Nurse practitioner.
Data scientist.
Financial manager.
Information security analyst.
Physician assistant.
Marketing management.
Accountant
Engineering.
Statistician.
Lawyer.
Social media manager.
Occupational therapist.
Dental hygienist.
Digital marketing.
Speech-language pathologist.
Financial adviser.
Motivational speaking.
Artificial intelligence specialist.
Relationship expert.
Read this also: stages in life you don't have to miss – motivation moment.
1. Software Developer
Software developers are responsible for designing, developing, installing, testing, and maintaining software systems. Software development is one of the top best careers to learn in 2022.
Professional software developers are the creative minds behind software programs, and they have the technical skills to build software that are helpful in human's daily needs.
2. Nurse practitioner
Nurse practitioners conduct patient assessments and examinations, record medical histories, collect biological samples, and administer medications or treatments.
They order, perform and interpret diagnostic tests such as lab work and x-rays.
Professional Nurse practitioners also diagnose and treat acute and chronic conditions such as diabetes, high blood pressure, infections, and injuries. They prescribe medications and other treatments.
Most importantly, a Nurse practitioner is a good career to learn in 2022. As a very skilled Nurse practitioner, you can manage patients' overall care.
Read this also: Midwifery courses to study in UK and their requirements.
3. Data scientist
Data scientists are experts in managing databases and extracting key information from figures. Most skilled professional data scientists help companies interpret and manage data and solve complex problems using expertise in a variety of data niches.
They generally have a foundation in computer science, modeling, statistics, analytics, and math – coupled with a strong business sense.
They can organize and analyze large portions of data through custom-designed analytical software.
4. Financial manager
Another one of the top best careers to learn or pursue in 2022 is Financial manager. A skilled Financial manager can be able to:
Produce accurate financial reports and information.
Develop cash flow statements.
Project profit.
Manage credit.
Provide advice in making financial decisions.
Direct investments.
Make financial forecasts.
Make a budget for a particular project.
A financial manager is a person who takes care of all the important financial functions of an organization. If you want to go far in this career, you need to obtain an MBA from a prestigious university.
5. Information security analyst
An information security analyst monitors a company's security breaches and protects an organization's network, computer files, and sensitive information. Information security controls are put in place to ensure the confidentiality, integrity, and availability of protected information.
Some of the functions or roles or careers opportunities for Information Security Analysts are:
Protecting the confidentiality of data.
Preserving the integrity of data.
Promote the availability of data for authorized use.
Proactively identify risks and propose viable mitigation steps.
Cultivate a proactive risk management culture.
6. Physician assistant
A physician Assistant, also known as PA conducts physical exams, diagnose and treat illnesses, order and interpret tests, counsel on preventive health care, assist in surgery, and write prescriptions.
Professional assistants are those that must be seen first before visiting a medical doctor for further treatment as they often serve as a patient's main healthcare provider, with people seeing them instead of a doctor.
As part of the training of Physician assistants, they can conduct physical exams, diagnose and treat illnesses, and order and interpret tests.
7. Marketing management
Marketing management is one of the top best careers to learn in 2022. It is important as it helps to stand competent in highly thriving competition in the market.
This also helps to develop strategies to improve profits and reduce the cost of products. Marketing management has become the major source of exchange and transfer of goods.
Opting in a marketing management career will enable you to learn how to:
Sell goods and services and make a profit.
Buy and Assemble products.
Transport goods or products from one country to another country.
Store.
Standardization and Grading.
Financing.
Take risk Taking.
Market Information.
8. Accountant
An accountant is professional personnel who is responsible for keeping and interpreting financial records. They are can be employed to work in a bank or public sector.
An accountant's main responsibilities typically include:
Preparing accounts and tax returns.
Monitoring spending and budgets.
Auditing and analyzing financial performance.
Financial forecasting and risk analysis.
Advising on how to reduce costs and increase profits.
Compiling and presenting financial and budget reports, etc.
As an accountant, you can build your own career if you want to be under someone. There are many opportunities for you. Make sure you study it well in college or university.
9. Engineering
Career opportunities in the field of engineering are very enormous. You can't study engineering courses and not be able to find a career to opt in.
For example, if you study electrical and electronic engineering, you can decide to establish your own power company or become an electrician in your location, country, or the world.
10. Statistician
Being a Statistician, your duties will include gathering numerical data, performing statistical analyses on data, and preparing industry outlooks and forecasts often with the use of mathematical techniques and software.
To become a Statistician, you must have studied Statistics in college or university. Being a well-skilled professional Statistician, you can:
Collect, analyze, and interpret data.
Identify trends and relationships in data.
Design processes for data collection.
Communicate findings to stakeholders.
Advise organizational and business strategy.
Assist the firm or individual in decision-making.
11. Lawyer
A lawyer is the top best career to learn in 2022 and ever. Being a Lawyer, you are to protect the rights of your clients and promote the cause of justice.
To become a Lawyer, you must have to go law school and learn professional courses related to law. Lawyers represent the client's legal interests and try to resolve disputes as effectively as possible
12. Social media manager
Social media management is another career that is good to learn in 2022. You can create for yourself or be employed by a good employer (company) to render social media management services for them.
Being a social media manager in an organization, you'll manage an organization's online presence by developing a strategy, producing good content, analyzing usage data, facilitating customer service, and managing projects and campaigns.
See this also: top best advertising agencies in Lagos for 2022.
13. Occupational therapist
An occupational therapist (OT) is an allied health professional that treats disabled, ill or injured patients with special equipment and the therapeutic use of daily activities.
The career of an occupational therapist is very best. If you are interested and qualified to pursue it, it would be very recommended.
14. Dental hygienist
Dental hygienists work to inform children and adults about how to look after their teeth and gums and carry out some dental procedures.
As a dental hygienist, you can opt in a career of:
Reviewing Dental and Health History.
Screening Patients.
Conducting Dental Cleanings.
Taking Dental X-rays.
Applying Preventive Care.
Teaching Patients Good Dental Hygiene.
Helping Patients Improve and Maintain Good Dental Health.
15. Digital marketing
This year 2022 is the year you should learn digital marketing as a career. Learning a digital marketing career will definitely help you gain new traffic, leads, and sales for your business by reaching people looking for your products and services.
As the name of digital marketing implies, it is the process of marketing your company or other people's company online to prospective leads and high-value consumers.
16. Speech-language pathologist
Speech Language Pathologists (SLPs) play a vital role in inducting new professionals. They are involved with supervising children and students.
Being a professional Speech Language Pathologist, you can work to prevent, assess, diagnose, and treat speech, language, social communication, cognitive-communication, and swallowing disorders in children and adults. Hence, this career is another one of the best careers to learn in 2022.
17. Financial adviser
As a Financial adviser, you can render people or your clients advice on how to manage their money.
Your duties also involve researching the marketplace and recommending the most appropriate products and services available, ensuring that clients are aware of products that best meet their needs, and then securing a sale.
The advice given by a financial adviser can a wholesome financial plan or individual investments made towards a larger financial plan.
To become a professional in this career, you have to understand a client's financial goals and then assist in creating strategies to help them achieve them.
18. Motivational speaking
Motivational or public speaking is another best lucrative career to opt in for 2022. Being a motivational speaker, you can give informative and inspirational speeches to large groups of people.
You can be hired by schools, government agencies, or businesses manager to speak on topics such as achieving financial success, living a healthy lifestyle, or creating a balance between work and lifestyle.
As a motivational speaker, you can travel around the world anytime. The whole world will know you. People will like to hear from you or speak with you.
Read this also: top best motivational speakers in the world (2022).
19. Artificial intelligence specialist
Another lucrative career to learn in 2022 is becoming an Artificial intelligence specialist.
One of the roles of an Artificial Intelligence specialist is to program computers to test hypotheses in relation to how the human mind works, through cognitive simulation.
Learning how various types of technology and tools work in computer software systems will surely enable you to become an Artificial Intelligent Specialist.
20. Relationship expert
While there are different types of relationship experts, the one that is very lucrative and best for you to learn in 2022 is marriage/relationship expert.
Another relationship expert is a business expert who analyzes the relationship between a company's communication strategy, negotiations, and contracts to identify trends that can improve organizational procedures.
A relationship expert career can change you to a position of marriage counselor where you will provide people a safe, neutral place for couples to talk openly about what is disrupting the marriage.
The relationship/marriage counselor is highly skilled at making sure each person fights or discusses fairly, without the sense that one person is bullying the other or dominating the discussion.
Read this also: how to analyze the psychology of a person (16 step-by-step guides).
Conclusion
If you know that this article has helped you know the top best careers to learn in 2022, then please subscribe to our newsletter or follow us on Facebook for more important updates.
Finally, please comment with any questions you may have to make concerning this post via our comment section.