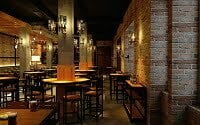 Are you a Moslem stranger in Lagos and searching for the nearest restaurants that you can go to for breaking your fast in this Ramadan? Lagos houses different restaurants but not all of them is suitable for Moslem to break their fast because of some Islamic rules that guide fasting they don't comply.
If you are a Moslem in Lagos and want to break your fast in the restaurant, therestaurants which we are going to discuss here obey the rules that guide fasting in Ramadan. That is, they don't like animals that are forbidden in Islam as their meet, don't sell alcoholic drinks, prostitutes are not there. Their restaurant premise is quite friendly.
Importantly, they finnt play music while is Haram in Islam. And they are also affordable. In Ramadan, it's not allowed to practice or engage in any single part of sin. Instead of going to the restaurant that encourages you to witness what Allah forbids, go to the restaurants discussed here for breaking your fast.
The top best restaurants that we listed and explained here comply with Allah's rules and regulations. In fact, they are a restaurant that most Moslems in Lagos go to for breaking their fast.
Now, the list of top best restaurants in Lagos state for breaking fast in Ramadan are shown and explained below.
Restaurants in Lagos for breaking Ramadan fasting
1. Gurunar's Viceroy
Gurunar's Viceroy is the number of the top best restaurants that you can go for breaking your fast in Ramadan if you are in Lagos. They are located at 33 Akin Adesola Street, Victoria Island, Lagos.
They prepare Asian, Indian food at affordable price. They also prepare vegetable soup and okro that is good developing healthy system.
2. Arabesque
Arabesque Restaurant is located at 225b Etim Inyang Crescent, Lagos. If you are a stranger in Lagos and looking for the best restaurant to break your fast, then this one is good for you.
At Arabesque restaurant Lagos, you can go there to eat, buy from there physically or order it to bring to your doorstep within Lagos.
3. Salma's
Salma's is a fine-dining restaurant serving authentic Lebanese cuisine in Lagos. They sell affordable food and drinks to their Moslem customers.
4. Bungalow
Bungalow restaurant is another one of the top best restaurants in Lagos that is recommended who Moslems who want to break their fast should go. They are located at 9 Adekunle Fajuyi Way, Ikeja GRA.
5. Spurnigeria
Spurnigeria is another restaurant in Lagos. They are located at landmark Building, Isaac John St, Ikeja GRA, Ikeja, Lagos.
Whoever is in charge of the Ikeja location needs to be queried. They have platters that can feed a lot of people and in my opinion their food is one of the cheapest in Lagos.
6. Soulfood.lagos
While the quality of their food can be far better, their portion sizes are commendable and if you want to be food pregnant and you stay in Yaba, this is my top pick.
At SoulFood there's no such thing as too delicious. Sundays are the best days to come in with your family and friends to enjoy, relax and unwind.
7. Xtabelbukaallen
If You find yourself in Allen/Ikeja region and you need a restaurant to break your fast, we'd recommend this spot as their plethora of Nigerian cuisine will hit the spot.
8. Koslagos
Another spot that sells affordable Nigerian dishes with delicious mock tails to wash it down.
9. Delyciafoods
I hear they have special promo's for their muslim customers who are breaking their fast. Might be the most affordable spot on this list.
10. Rubelsandangels
If you are a Moslem and don't have time to cook or you are on a journey or live in Surulere, this would be your second home during fast breaking. I wonder if they still do their buffet. And yeah, their chicken is quite popular in Surulere.