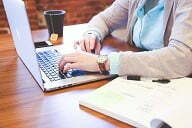 Website has been turned to one of the most important things that every businessman/woman should have. It helps in delivering updates to you customers very quick. If you want, you can also enable your customers order your products or services at their comfort zone.. Want to create a website? Let's do it for you!
Here, we can create a website for your business, talent or career. We can also create a blog for sharing your thoughts and personal experiences to a large number of people via your website.
From that view, there is however a difference between a blog and a website. A blog is the one that is constantly updated with posts videos, images, et (content) while a website doesn't contain a lot of contents and doesn't require regular updates.
In fact, a website can remain for up to three or four years without getting new update and this cannot alter its perfect performance.
Now, which one do you want to create? A website or blog? Any one of your choice, we are here to render you a service to help make it happen very fast. You don't have to own multi thousands of Naira before getting the type of website or blog you have ever been desired.
How to create a website with us?
To make us create a website for you, first, determine the type of website/blog you want to create and the purpose, for example, is it a website for your business and which business' type is that? Or a website for your talent/career and which type of career is that? Is it a music, speaking or writing career? Just simply contact us with these above and we will send you different templates for you to pick out the one you like.
We don't even send the templates to most of the people we have been creating website for and they like our work. Though, if you want us to, we will do.
Click here to contact us with the details and features you desire you website to have. We will handle the rest part of your website including its security, effective smooth and fast running, reaching to the people who will easily engage with you (SEO), etc.
We will code it in such a way that it'll look nice on both mobile and desktop devices. You and everyone that will use your website will like it.
Our price for creating a website
The price for a website/blog differs from type of website to type of website. The price is in direct proportion to your website's features and result you would want to get from it.
Read this also: what do we do at www.fastknowers.com. You can subscribe to our newsletter or follow us Facebook for more important updates.