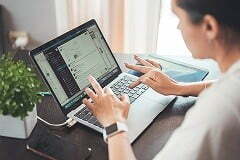 Every marketing industry collapse but digital marketing doesn't. Hence, it's good to opt-in for digital marketing. Anything you are marketing try to make it in digital form in order to have another means of adaptation when the main physical ones become collapsed as a result of the pandemic, fire outbreak, armed robbery, etc.
Being one of the largest cities and the capital city of Oyo state, Ibadan is the best place to learn digital. It is located in the South East Geo political zone of Nigeria. In this article, we will discuss with you the top best digital marketing courses to learn in Ibadan and where you can learn.
If you want to become a digital marketer, then here's the discussion of the top best digital marketing courses in Ibadan for learning in 2022.
Read this also: Access Bank branches in Ibadan (Oyo state) 2022.
Now, let's discuss the top best digital marketing courses to learn in Ibadan this 2022.
Top 40 digital marketing programs to learn in Oyo state
WordPress Website Design
Telemarketing
Affiliate Marketing Program
Complete Digital Marketing
Computer Courses
Computer language coding
Cryptocurrency learning
Data Analysis
Digital Marketing Courses
Email Campaigns
Email Marketing & Automation
Email Marketing Content Marketing
Facebook Ads
Facebook Advertising
Facebook Marketing
Full Digital Marketing
Google Ads
Google Ads marketing
Google My Business Optimization for Local SEO
Graphics Design
Instagram Ads
Instagram Advertising
Instagram Marketing
LinkedIn Marketing
Linkedin Marketing
Online Digital Marketing
Online Marketing Campaigns
Online Marketing Techniques
Programmer
Search Engine Optimization & Analytics
Search Engine Optimization & Marketing
Social Media Marketing
Training Program
Twitter Marketing
Ui/Ux Design
Video editing and recording
Web Design Training
YouTube Marketing
Youtube Ads
Youtube Advertising
Top digital marketing training institutes in Ibadan (2022)
Now, here are the top 10 best institutes to learn digital marketing programs in Ibadan this 2022. They are listed with their respective office address. Please check them below:
Parach Digital Marketing Training Hub | Orogun, Ibadan
Bobo Sammy Digital Marketing Training| Ojoo, Ibadan
Salesway Digital Marketing Training Institute | Agbowo, Ibadan
DEEJOFT CONSULTS | Iwo road, Ibadan
Big Field Digital Academy | Oke road, Ibadan
She Learns Here | Oluyole estate road, Ibadan
Chartered Institute of Marketing Management | beside Joke plaza, Ibadan
Coding School – DEEJOFT | Iwo road, Ibadan
ZEO Digital Academy | Mokola Hill, Ibadan
JobsBridge Digital Marketing Academy | Bodija, Ibadan.