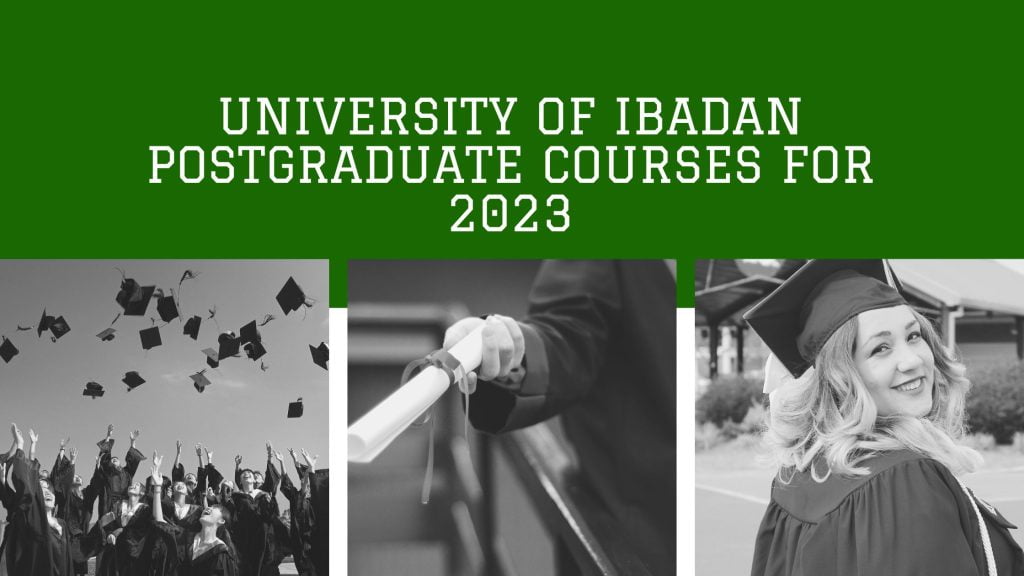 Intending to do your Post Graduate Diploma (PGD) program at the University of Ibadan? If yes, then you may have to know the list of all courses offered at the university of Ibadan School of Postgraduate in 2022.
Post graduate diploma is a certificate that is meant for students who have obtained an HND certificate or for some university graduates before going for their master's program.
See this also: top 30 cheapest prestigious universities in the UK in 2023.
Today, I am going to discuss with you the list of all accredited Postgraduate diplomas, master's, and doctorate courses offered at the University of Ibadan, (UI).
List of all courses offered at the University of Ibadan at the postgraduate level
The general public especially those who want to run the postgraduate program at the University of Ibadan, UI should hereby be informed that the list of all Postgraduate diploma, master, and doctorate courses offered at the institution are now discussed below course by course and faculty by faculty.
1. Faculty of Arts
Islamic Studies
Arabic & Islamic Studies
Archaeology
Anthropology
Classics
English (Literature & Language)
History
Communication & Language Arts
Linguistics & African Languages
Nigeria Languages (Yoruba, Igbo, and Hausa)
French Studies
Translation
Comparative Literature
Cultural Studies
European Studies
Philosophy
Religious Studies and
Theatre Arts
Related article: top state prestigious universities in Nigeria in 2022.
2. Faculty of Science
Archaeology
Anthropology
Botany
Microbiology
Chemistry
Industrial Chemistry
Computer Science
Geography (Physical)
Geology
Mathematics
Physics
Statistics and
Zoology
3. College/Faculty of Medicine
In the faculty of Medicine at the University of Ibadan, you can study any of the courses below at your postgraduate level.
Basic Medical Sciences

Anatomy
Biochemistry
Chemical Pathology
Hematology
Pharmacology & Therapeutics
Physiology

Clinical Sciences

Anesthesia
Nursing
Psychiatry
Pediatrics
Physiotherapy and Surgery
Community Health
Occupational Health
Obstetrics and Gynaecology
Ophthalmology
Dentistry

Public Health

Biostatistics
Epidemiology and Medical Statistics
Epidemiology
Field Epidemiology
Environmental Health
Human Nutrition
Medical Demography
Health Promotion and Education
Population and Reproductive Health Education
Reproductive and Family Health
Health Policy and Management
Health Services Administration
Institute of Child Health
Read this also: list of all accredited Medical schools in Nigeria 2022.
4. Faculty of Pharmacy
Pharmaceutics and Industrial Pharmacy
Pharmaceutical Microbiology
Clinical Pharmacy
Pharmaceutical Chemistry
5. Faculty of Agriculture and Forestry
Crop Protection and Environmental Biology
Agricultural Economics;
Agricultural Extension and Rural Development;
Agricultural Extension;
Rural Sociology;
Rural Communication;
Home Economics;
Agronomy;
Animal Science;
Forest Resources Management;
Wildlife Management and Fisheries Management;
Agricultural Biochemistry and Nutrition.
6. Faculty of Social Sciences
Theatre Arts
Economics;
Geography (Human);
Political Science;
Sociology;
Psychology;
Urban and Regional Planning
7. Faculty of Education
Adult Education
Literacy Training and Development
Educational Management
Guidance and Counselling
Counseling Psychology
Special Education
Library, Archival & Information Studies
Human Kinetics & Health Education
Teacher Education
School Media (Media Resource Management)
G.D.E. Professional Postgraduate Diploma in Teaching in Higher Education (P.G.D.T.H.E.) in the Department of Teacher Education
Postgraduate Diploma in Social Work (Part-Time and FullTime) in the Department of Social Work Institute of Education Part-Time P.G.D.E
Professional PGD in Child Health
8. Faculty of Veterinary Medicine
Veterinary Anatomy;
Veterinary Medicine;
Tropical Veterinary Medicine;
Veterinary Microbiology;
Veterinary Parasitology;
Veterinary Pathology;
Veterinary Physiology;
Veterinary Pharmacology;
Veterinary Surgery, Veterinary Reproduction;
Veterinary Public Health & Preventive Medicine
Read this also: how to apply for part-time admission into any university of your choice
9. Faculty of Technology
Agricultural and Environmental Engineering;
Wood Products Engineering;
Food Technology;
Industrial & Production Engineering;
Petroleum Engineering;
Civil Engineering;
Mechanical Engineering;
Electrical/ Electronics Engineering
Candidates that don't have a first degree in Agricultural Engineering, these candidates will be required to spend an additional two semesters in the program.
Candidates that don't have a first degree in Industrial Engineering, will also be required to spend an additional semester in the program.
Sc. Mechanical Engineering is a three-semester full-time or six-semester part-time program.
10. Faculty of Law
Master of Law (LL.M) Programme
Please share this article with your friends and don't forget to subscribe to our newsletter for more important updates if you know that we have helped you know the list of all courses offered in the University of Ibadan postgraduate program in 2022.
Read this also: Edo University Iyamho scholarship application form and how to apply in 2022.