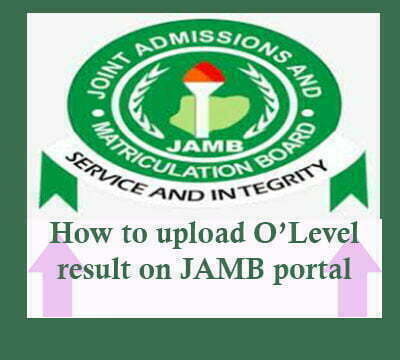 Do you want to know how to upload your o'level result on the JAMB portal or to your profile so that it will enable you to gain admission in this academic session (2022/2023)? This post has got you covered! We will show you all the necessary things to be done step by step.
After JAMB candidates have written their 2022 JAMB examination and checked their scores, now they are now prone to upload their o'level results on their JAMB portal/profile.
Even though it's NECO, NAPTEB, or WAEC you wrote, the step to upload them is the same. And the best news is that in the blink of an eye, everyone can be completely done.
The main reason why you must upload your o'level result on your profile is to let JAMB give you admission. If you have uploaded your result during JAMB registration, you don't need to re-upload it again. This uploading is only meant for awaiting candidates.
Did you score low in JAMB 2022 examination? If so, that doesn't mean you are dull. We have a solution for you. Please read this article to know what to do when you score low in JAMB while you don't gain admission.
It doesn't imply that once a candidate fails he/she will never gain admission in life again. As a matter of fact, there is another chance. No matter how low your score is, don't fail to upload your result.
JAMB doesn't ignore giving admission to candidates. Even though you scored below 120, you will gain access to admission but not with the course you dreamt to study in your dream. In this case, the choice is yours, you can ignore the offer or accept it if you like.
Now, let's show or discuss with you how to upload your o'level results on the JAMB portal or to your profile.
How to upload your o'level results on the JAMB portal in 2022/2023
The existence of the JAMB profile has made life convenient. Candidates will not be far from changing or editing their profile on the JAMB database, including uploading the WAEC and NECO results.
That is to say, you can change your data on the JAMB Profile as many times as you like without being queried
The question that mostly gets asked by 2022 JAMB candidates is "how can i upload my WAEC awaiting result to my jamb profile?". Do not worry! We will show all the required steps to you today.
However, the uploading of WAEC and NECO results is done exactly the way Jamb gives permission for the correction of details in the jamb profile. 
But in this case, the Portal is only made to be made editable for only Jamb agents to upload your WAEC result.
The only way the candidate can upload his or her awaiting WAEC/NECO results to the Jamb portal for 2022 is by going to the JAMB office or approved cbt centers that are nearest to him/her.
You are advised to do the re-uploading or uploading of O-level results to the JAMB portal in any approved cbt centers. Go there and tell them that you want to upload or re-upload your O-level result.
Doing that will make them gladly help you at a cheap price.
This also goes to the candidates of two sittings results, just specify the number of sitting that you had sat and its result correctly.
How to know if your o'level result has been successfully uploaded
The question I usually get asked by JAMB 2022 candidates regarding the uploading of their o'level result is "I went to the nearest approved CBT center in my area to upload my result and I was told that it has been successfully correctly uploaded while I haven't seen any changes in my profile, is it true".
Yes. Your result has been successfully uploaded. Be rest assured as long as you had heard from JAMB CBT center's staff "WE'VE THROUGH, HAVE A NICE DAY!". They are good at what they are doing, and that's they have approved the CBT center's staff.
Recommended: how to learn how to speak correct and fluent English in Nigeria for this year.
Another way to know that your results have been uploaded is that your first-choice chosen school will stop sending you a message to upload your result.
Please note that you don't need to have WAEC original result or certificate before you can upload them on your JAMB portal. Uploading o'level results on the JAMB portal is just to simply input the grades you have into your profile. Your results don't have to be scanned and uploaded.
During the uploading process, be mindful of your registration and examination number. JAMB will also request you to enter the respective years you wrote your o'level exams if you wrote two times.
The appropriate staff that is working in the JAMB office will cross-check every piece of information you upload and determine whether they should give you admission or not.
On the uploading portal, JAMB provides 9 different spaces/columns for you to select your subjects and their respective grades. If you enter incorrect grade, they will find out and you may not gain admission to that academic session.
I hope this article has helped you know how to upload your o'level result on your JAMB profile or JAMB portal. If so, then please share it with your friends and let us know any questions you may have to ask via the comment section.
For more important updates, please subscribe to our newsletter. Have a nice day.