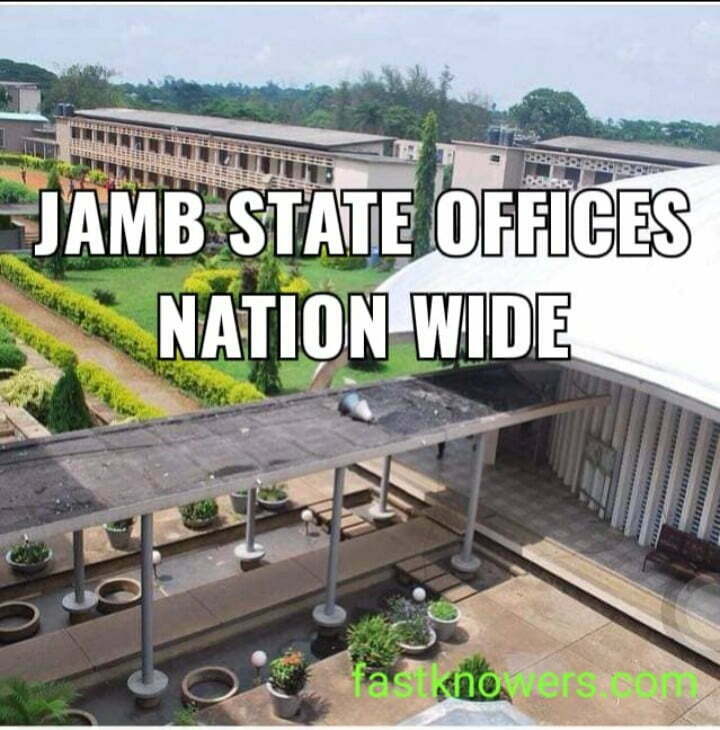 The following are the addresses of all JAMB head offices in every state in Nigeria. First of all, you should know that JAMB office is always found in one place in a state.
Do you want to know all the addresses of Jamb or Jamb head offices? Read this article for every information you may need to be exposed to. Jamb head office is a place where a person who is being offered an admission must go to for changing the institution or anything.
As you have already known the importance of jamb head office, however, that is not our topic of discussion today, but put in mind that JAMB head office is a must-visit place when it's come to resolve some critical issues.
Read this also: how to change the course and institution on your JAMB profile before the commencement of the post UTME examination of your school by yourself with mobile phone.
Addresses Of All JAMB Head Offices In Every State In Nigeria
Below are the addresses of all JAMB head office in every thirty six state in Nigeria:
S/N
STATE
ADDRESS
1
Abia
Ubakala Junction,
Port Harcourt – Enugu Expess way,
Umuahia
2
Adamawa
Former Ministry Of Education, Sir Kashim Ibrahim Way,
Jimeta, Yola,
3
Akwa Ibom
Atiku Abubakar Avenue,
Uyo
4
Anambra
Amawbia Bye-Pass,
Awka
5
Bauchi
Off Ahmodu Bello Way,
Opposite State Treasury
Bauchi
6
Bayelsa
3, Police Headquarters Road,
Yenegoa
7
Benue
Abu King Shuluwa Road, Makurdi
8
Borno
No. 34, Opposite Eagle Round-About, Near Government House P. M. B 1093, Maiduguri
9
Cross River
41, Okoro Agbor Street, Off Marian, Calabar
10
Delta
Okpanam Road, By NTA Juction
P. M. B. 95093,
Asaba
11
Ebonyi
No.1, Amogu Street,
Near Unity square,
Abakaliki
12
Edo
Plot 21B, Ikpokpan Road, G.R.A, P.M.B. 1169, Benin City
13
Ekiti
New lyin Road Beside CBN,
P.M.B. 346
Ado-Ekiti
14
Enugu
No. 22, Annong Street, Ogui New Layout, Off Nkpotiki Junction. Enugu
15
Gombe
Within Ministry of Education Headquaters,
Doctor's Flats,
Buahri Housing Estate,
G. R. A. ,
P. M. B. 133,
Gombe
16
Imo
Okigwe Road, Beside Court of Appeal
P.M.B. 1020,
Owerri
17
Jigawa
3, Police Headquarters Road,
Yenegoa
See this content also: national ID card enrolment centres in Lagos state in 2020 (enroll for your national ID card for free of charge in these centres).
JAMB Head Office And Liaison Centre In Every State In Nigeria
S/N
STATE
ADDRESS
1
Kaduna
Annex Office
79, Tafawa Balewa Way,
P.M.B. 2200, Kaduna
2
Kano
Rumfa College, B.U.K Road, Kano
3
Katsina
Mohammed Dikko Road,Opposite KCK Kofar Sauri,
P.M.B 2144,
Katsina
4
Kebbi
No 1 Justice Usman Mohammed Road Tudun Wada,
Brinin Kebbi
5
Kogi
GP 574, Salau Alima Housing Estate, Phase II, Lokoja
6
Kwara
Oyun Area II, Orin,
Ilorin
7
Lagos
Annex Office
11 Ojora Road, Ikoyi, Lagos
P.M.B. 12748
8
Nasarawa
Former Nasarawa Newsday,
Adjacent TAAL e-Library,
Old Tomato Market Road,
Lafia
9
Niger
Plot 2, (3 Arm Zone) Along Eastern Bye – Pass Maiumbi Road, P.M.B. 189, Minna
10
Ogun
Premises of Ogun State Staff Development Center, Ibrahim Babangida Boulevard, Abeokuta
11
Ondo
Quarters 92, Alagbaka Estate Near C.B.N. Office, Ibb Avenue Akure,
12
Osun
Goverment Technical College Premises, Along Iwo- Ibadan Road, Oshogbo
13
Oyo
Quarters 845, Agodi G.R.A. Opposite Ikoloba Grammar School, P.M.B. 58, Agodi Post Office, Ibadan
14
Plateaus
No. 56, Murtala Mohammed Way,
Jos
15
Rivers
No 9. Ozuzu close, Off manilla Pepple Street Port Harcourt
16
Sokoto
3rd Floor, Block 19, Shehu kangiwa secretariat, Sokoto
Jamb Liaison Office And National Headquarter In Nigeria
Jamb liaison offices and national headquarters across every state in Nigeria are listed and explained below:
Read this also: frequency of all radio Nigeria stations in every state in Nigeria and their FM names.
S/N
STATE
ADDRESS
TYPE
1
FCT
P.M.B 189, Garki, Bwari, Abuja
National Headquarter
2
FCT
4B254-6/264-8, 2nd Floor, Annex II Federal Secretariat Complex, Shehu Shagari Way, Abuja
Liaison Office
3
Lagos
Annex Office
11 Ojora Road, Ikoyi, Lagos
P.M.B. 12748
National Headquarter
4
Kaduna
Annex Office
79, Tafawa Balewa Way,
P.M.B. 2200, Kaduna
National Headquarter
5
FCT
19 Karaye Street,
Off Amurie Omanze Street,
Off Ladoke Akintola Boulevard,
Garki, Abuja
Liaison Office
Conclusion
If you liked this article, please share it with your friends and remember to follow us on Facebook or Twitter for more important updates.
Any point you're confused in this content, please don't hesitate to comment with your question.
See this also: approved JAMB CBT centres for JAMB 2021 registration and examination in every thirty-six (36) state in Nigeria.
Finally, if you know that this article has helped you know addresses of all Jamb head offices, then share it with your friends, please..