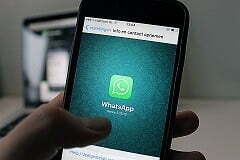 Have you just gotten someone number and you would like to add him or her on WhatsApp? How can you add someone on WhatsApp using iPhone? Here, we will show you how to add someone on WhatsApp using iPhone or Android step by step.
WhatsApp is a messaging application software for desktop and mobile device especially iPhone and Android. If you want to chat with some on WhatsApp, simply use iPhone. Chatting on WhatsApp using iPhone is fast and convenient.
How to add someone on WhatsApp on iPhone and Android
Open "WhatsApp" from the home screen of your smartphone.
Tap on the "new chat" icon located at the top-right corner of the screen.
Tap on "New Contact" in order to manually input the details.
Now, enter the phone number and other details and tap "Save"
Finally, if the contact you're adding has a WhatsApp account, it will be indicated right below the phone number once you've typed it out.
After everything, you can delete a contact from your phone's address book, but you can't delete a contact from WhatsApp.
Alternatively, please check the guides below:
Press Contacts on the apps menu on your phone.
Press New contact or New.
At this point, you'll need to select if you want to save the contact to Phone memory or SIM memory.
Enter the contact's name and phone number > press SAVE.
The contact should automatically populate in your WhatsApp contact list.
If the contact doesn't appear when viewing your contact list on WhatsApp, then open WhatsApp, press New chat > Options > Reload contacts.
Reference: WhatsApp frequently asked questions' page. Click here to visit for more guide.
Read this also: First bank loan (how to apply and their requirements).
If you know that this article has helped you know how to add someone's number on WhatsApp iPhone or Android, then please share it with your friends and remember to subscribe to our newsletter or follow us on Facebook for more important updates.