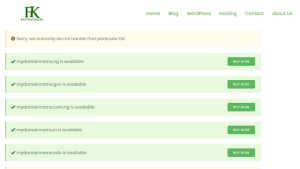 Since the birth of the internet, the online and real worlds have become increasingly intertwined. Most purchasers now conduct all of their online transactions, so it makes sense for firms to move their items online.
The market has adjusted so much that if you want your company to flourish, your development strategy must include a plan to establish a solid online presence. And it's a given that the simplest method to develop an online presence is to choose a  domain name to reflect your company.
However, a 20-character-long domain name with needless numerals and symbols will be difficult for customers to remember. Therefore, your company's online strategy must prioritize a distinctive domain name that will capture clients' attention and stay in their hearts.
To aid you to search for an available domain name that will improve your online visibility, we've compiled a list of helpful tips that'll assist you in choosing the appropriate domain name from any domain name generator or naming agency. Let's begin.
4 easy steps to selecting outstanding domain names
1. Ensure That it is Brandable
Brandable domain names are premium domain names best suited for your business. They are Exact Match Domains (EMDs) that reflect your business just as effectively as a brand name does to your market.
In general, the most efficient domain names are most suited for the businesses they represent. And if you want to boost the value and effect of your domain name in the online world, the best way to go about it is to choose a brandable domain name derived from your company name.
Premium domain names will allow customers to find your company online simply by hearing its name. And they also act as platforms for future internet branding activities such as advertisements and newsletters.
2. Make Sure it's Brief and Interesting
Be sure to prioritize a domain name that is brief, short, and memorable. These qualities give premium domain names their characteristic simplicity and ease of use when it comes to surfing the web and using it as a resource. They make for perfect web addresses that clients can input without errors.
Brief domain names with three to five characters, on the other hand, are some of the most difficult to obtain because the bulk of these phrases has already been taken. However, you can occasionally find them on sale on domain marketplaces, but often at outrageous prices.
3. Confirm That it has a TLD (Top-Level Domain) Extension
When deciding on a domain name extension, consider its familiarity with your clientele. Top-level domains ending in '.com,' '.org,' and '.net' are often regarded as strong domains because, despite the growth of other domain extensions, these extensions remain the most well-known and highly acknowledged in the market.
And although the Domain Name Association says the overall number of new domain extensions has increased 145% in recent years to over 1500, unless otherwise stated, your visitors will generally presume your site ends in '.com,' '.net,' or '.org' and will go to that web address.
However, the fact that the few listed above are the most popular doesn't imply that you should not use any other domain extension. If you are unable to get a .com domain, you could still utilize country-code extensions like '.us' as well as new TLD extensions such as '.io' and '.co' 
4. Make Good Use of Keywords
Integrating market keywords into your domain name is a tried-and-true means of quickly providing extra information about your business and product to your target market.
Keywords are phrases relating to your industry. For instance, if you're starting a tourism business, you could use industry keywords "like a holiday" that relate to your niche. 
Keyword-based domain names are great because they are SEO-friendly and can increase the accessibility of your domain by improving organic traffic and click rates.
Unfortunately, keyword-rich domain names also offer certain disadvantages as they tend to limit your company to a specific market or specialty, making it harder for your company to expand into other areas and advance freely.
This can become a big hindrance to your future growth. So, while selecting a domain name for your business, consider whether you want it to be keyword-based.
Bonus tip
How can you search for an available domain name, you asked right? Here is the answer!!
Equip your brand with a premium domain
Equipping your brand with a premium domain that is suitable for your business can be demanding, but we're confident that these tips have provided you with the knowledge you need to select the ideal one for your firm. So hurry and buy your powerful domain name while it's still available to start getting the benefits.
You can use our domain name checker to find a domain name for your company or brand.
We at Fastknowers have reviewed more than 2 thousand names and curated a collection of the best available names on the web. We are also one of the best companies that teach novices tricks, tips, and how to create a website from scratch.
If you know that this article has helped you know the tips on how to search for an available domain name, then please share it with your friends.