If you are searching the internet about how to start a blog. Then your searches have ended. In this post, I will show you the top factors that bloggers do consider before buying a domain and hosting. There are a lot of factors that a blogger may consider before buying a domain.
Here are some key factors that you would need to consider before or when buying a domain name and hosting account.
#1. Purpose of the blog
The motivation behind any creativity is why. If anything you do doesn't have a "Why", you would likely not be successful in it. Many successful bloggers started their blogs with a purpose.
There are many topics/niches to explore. Some of the most popular niches are; entertainment and fun, networking/tech, business, education, journalism, etc.
While there are different niches to explore, note that you are very good at what you blog about. For example, start a tech blog if you have specifications, features, and qualities of computers, phones, etc.
#2. Domain name
Another factor that bloggers do consider before they buy a domain and hosting is the name they will give to it. When it's come to giving a name to your blog, it's important to consider a few things.
First, think about your brand and the name you will use. For example, if the purpose of starting a blog is the selling of products or services, make sure to give it a distinctive name.
However, if your goal is simply to share thoughts with people without worrying about how much money you'll make, then you can easily find memorable phrases that might not really be necessary.
#3. Hosting feature
When choosing a domain name, bloggers should deeply consider how much storage and bandwidth they need if they are going to need to store lots of images and videos, or just basic text files.
They also consider the type of email address that they will acquire from their hosting registrar since using their personal email addresses scare people away from doing business with them.
#4. Comparing the prices and packages
Another factor that bloggers do consider when they want to buy a domain/hosting is the price and packages of the company. Every blogger loves quality products/services but it's not all of us like to pay a price for them.
If you are starting out, please consider buying at least 65% of the best packages from the best and most reputable companies like Namecheap, Bluehost, GoDaddy, etc.
A reputable domain/hosting registrars have features that you would use directly and indirectly, for example, security features that prevent your website from hackers, an SSL certificate that proves to search engine like Google that your website is recommended for people to use their credit card and password on, etc.
It is also very recommended to check the renewal price.
#5. Technical support
Technical support of the domain/hosting company is a very important factor for everyone who wants to create a blog. Because no matter how tech-savvy you are, you would definitely need help anytime you encounter problems with your website.
Your web hosting company should provide 24/7 support for you. Hence, consider looking for a company that has different communication channels such as email, chat, and phone calls.
The more knowledgeable the customer care service staff of the hosting company, the better as they are the only ones who will assist you with any problem that arises on your site.
#6. Security and speed
Security is a priority for bloggers. Most bloggers can never be too careful, as hackers are always trying to get their personal information or sensitive data like passwords or credit card numbers.
Speed is another important consideration when choosing a host for your site. Search Engine Optimization (SEO).
#7. Review
If you are planning to start a blog, you need to make sure that the hosting company you will choose is reliable. A good hosting company is one that has a good reputation.
The same goes for reviews from other bloggers, who can give you an idea of what their experience has been like.
Please note that the price of a domain and hosting provider is not the only factor to consider. You may have to pay more for a good domain and hosting provider, but it's worth it if they provide you with what you need.
For example, if you are looking for a good domain name that will contain lots of traffic then it will cost you more money.
Conclusion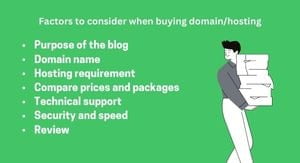 There are lots of factors to consider when buying a domain and hosting. The best domain and hosting provider may not be the cheapest, but it is important to look at all aspects before making your decision.
Hope we've shown you some factors that bloggers consider when buying a domain and hosting. Before we end this article, let's ask; which company do you think is ideal to register your domain and hosting? Feel free to read the best USA companies we handpicked that would be recommended to buy hosting and domain from.