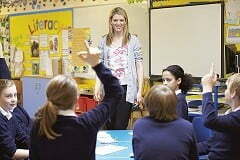 Is it education you studied in the college? That can show that you like to pursue teaching career, isn't it? Here, we will discuss top professional courses for all aspiring teachers like you. Please let's read this article till the end and remember to share it with our friends.
It is a big dream to become a teacher or lecturer because you can also do other things while you are teaching students. The best part is you would have enough time to do something for yourself during holiday or excursion.
There is no other career that is interested than being a teacher or lecturer. To become a certified teacher, you have to undergo some professional courses. Note that you must first have a degree or higher national diploma in education.
Now, let's look at top best professional courses for aspiring teachers in 2022.
Top best professional courses for teachers (2022)
1. Early Childhood Montessori Diploma
This programme is based in Lagos established in 2016 for the award of International Montessori Diploma. The teachers training course is accredited by Montessori Accreditation Council for Teacher Education (MACTE) based in the USA, and it prepares adult teachers in Nigeria for international Montessori education.
The centre of this teacher professional course has produced many graduates since 2016. Adult learners can register for either Full time (8 months) or part-time (11 months) programme.
Read this also: how to apply for international passport in Nigeria.
2. The Cambridge International Education (CIE)
In Teaching and Learning a program that's certified by Cambridge and runs for 5 months. It is a teachers training course in Nigeria that can be taken by teachers in both private and public schools.
The CIE certificate is issued at the end of the course.
Aside from the 5 months program, we also have various short professional courses for teachers in Nigeria. The short courses are designed to provide excellent training in key fundamental areas of effective teaching and learning.
This training course is specially designed for school leaders, including heads of schools, school owners, and management staff. The course can be completed within four to five months, and at the end, the Cambridge International (CIE) Certificate in Educational Leadership is award to participants.
3. Thinking School Nigeria (TSN)
Thinking School Nigeria (TSN) is the first licensed school by Thinking Matters to train schools that wish to become Thinking Schools in Nigeria and Ghana. The pathways to becoming a Thinking school is a journey of 18 months and five sessions of eight days of on-site training.
To achieve its main goal of delivering quality education to students, a school needs well-trained and qualified teaching and non-teaching staff. So, aside from rendering professional courses for teachers in Nigeria, through our employee training and talent management service, we give assistant to schools managing their workforce.
4. IGCSE
The International General Certificate of Secondary Education (IGCSE) was developed by University of Cambridge International Examinations for the purposes of recognizing prior attainment.
By obtaining an IGCSE certificate, you can even be employed by government to teach pupils and students in primary school and secondary school, respectively.
See this also: top best professional courses in Nigerian university.
Things to learn to become a teacher in Nigeria
If you are desiring to become a teacher in Nigeria, below are the things to learn or certificates to obtain:
First, attend primary school
After attending primary school, then attend secondary school and obtain any of the following certificate.

Grade II Teachers' Certificate (TC-II)
Pivotal Teachers' Certificate (PTC)
West African School Certificate (WASC)
National Business and Technical Examination Board (NABTEB) Certificate
Higher Islamic Studies Certificate (HISC)
National Examination Council (NECO)
General Certificate Examination (GCE)

If you can, attend National Teachers Institute (NTI)
Obtain Bachelor's Degree In Education
Obtain your Post-Graduate Diploma in Education (PGDE)
Conclusion
If you know that this article has helped you know top professional courses for aspiring teachers, then please share it with your friends and remember to subscribe to our newsletter or follow us on Facebook for more important updates.
Reference(s):
---
Page title: How To Become A Teacher Through Different Qualifications in Nigeria | Site name: Super Prof | date retrieved: 25th April 2022.
www.greenspring.com | URL: https://greenspringstrainingcollege.com/ | date retrieved: 20th April 2022.