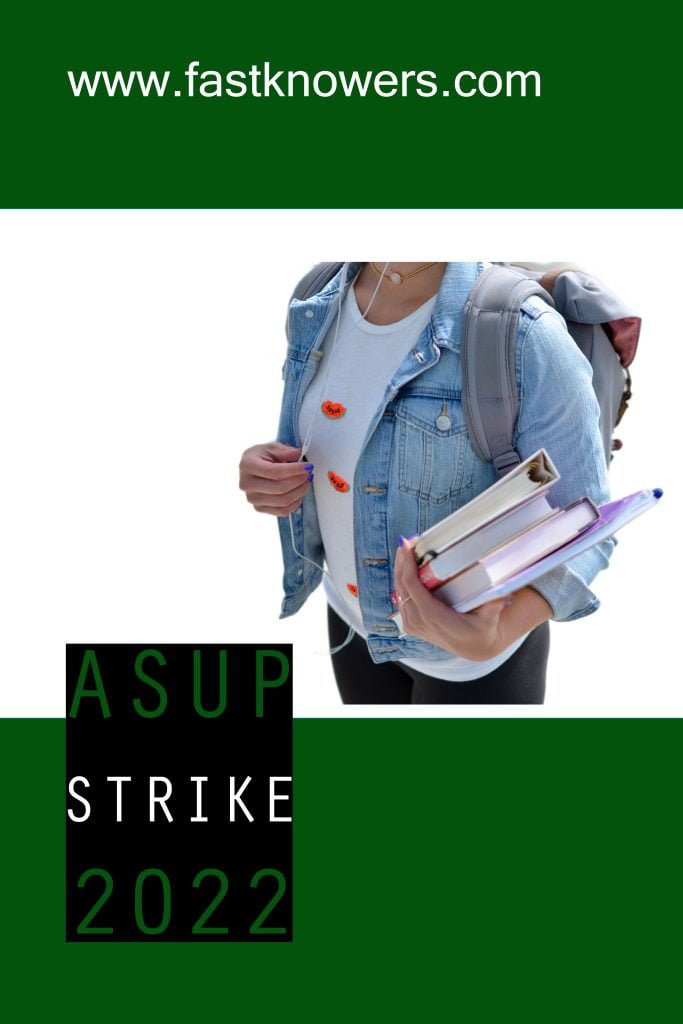 Are you a Polytechnic student and searching for the latest news about ASUP strike? Here, we will discuss with you latest news update about ASUP strike for today in 2022.
There is difference between ASUP and ASUU. The latter one belongs to university which can also be referred to as Academic Staff Union of University. These two bodies are a union of staffs and lecturers working in a Nigerian tertiary institution.
ASUP simply means Academic Staff Union of Polytechnics. It manages education systems in Nigerian polytechnic.
The main purpose of founding ASUU and ASUP is:
To advance, promote and demand proper conditions of service for their members.
To provide and maintain such service(s) that is/are of benefit and assistance to their members.
And to advance and promote the education and training of their members.
They organize meeting to decide about the decision of government. They decide to go on strike if government is maltreating them or is not paying them their salary.
In other word, they also plan or discuss in the meeting what government want to give them, for example, distribution of books to their academic library. ASUP has the right to request government about what they lack in their institution.
ASUP latest update about strike in 2022
In this 2022, they have been a news that ASUP will soon embark strike, will soon embark strike, though the school is smoothly running. This confuses you, right? Let me tell you the matter of fact behind this issue.
As usual, before ASUP embark strike, they must first notify government the reason of their embarkation at least two months to the commencement. If government fail to rectify their issue or complaint before the date they stipulated, then strike would automatically start.
Since March 2022, ASUP has been announcing that they would embark strike if federal government fail to provide their demand, pay their salary before one month and half notice grace period and that date is going to be on 16th May 2022.
However, the Guardian Newspaper has on Thursday being 12th May 2022 that the Academic Staff Union of Polytechnics (ASUP) has said it will commence a two-week strike from May 16, 2022.
ASUP, in a statement released on Wednesday, said it took the decision after an emergency National Executive Council meeting held on Wednesday. Read it here (external link).
This means that all polytechnics operating in Nigeria such as Ogun State Institute of Technology, Igbesa, Ogun State, (OGITECH), Federal Polytechnic Idah, Federal Polytechnic Ilaro, Kogi State Polytechnic, Lokoja, and others will embark strike as decided by ASUP.
Hope you have found an answer to your search "Is ASUP going on strike tomorrow"? Any Poly in Nigeria that fail to go on strike will face stiff penalty from ASUP.
Now, let's list the name of polytechnics that are under ASUP.
Schools under ASUP
It is good to know the schools or polytechnics under ASUP. As we have earlier said, all polytechnics and mono-technics in Nigeria go on strike if ASUP instruct. However, the only category of polytechnics that are not under ASUP are some private polytechnics.
Here is the list of schools under ASUP:
Ogun State Institute of Technology, Igbesa, Ogun State, (OGITECH).
Federal Polytechnic, Ukana.
Moshood Abiola Polytechnic (MAPOLY)
Bayelsa State College of Health Technology, Otuogidi.
Federal Polytechnic, Oko.
Kwara State Polytechnic
Agu Romanus Sunday. Enugu State Polytechnic, Iwollo.
Akwa Ibom State Polytechnic, Ikot-Osurua.
To know more about the list of polytechnics that are under ASUP, you are recommended to read:
If you know that this article is helped, please share it with your friends to let them know latest news about ASUP strike update 2022.