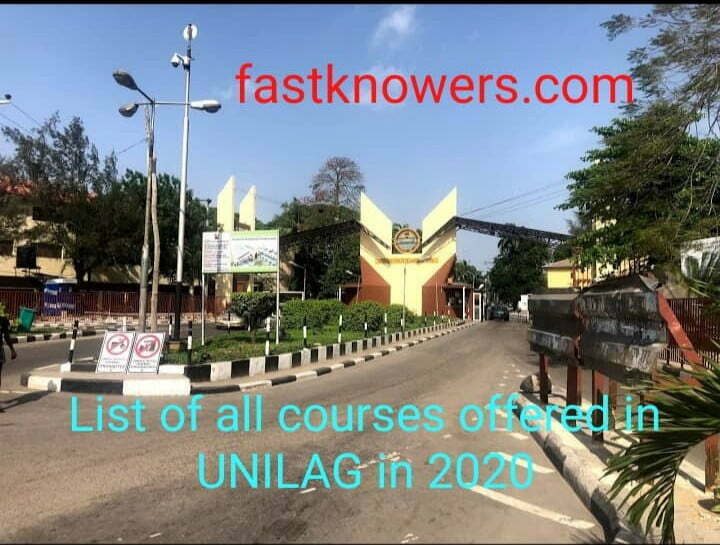 If you want to study your dream course in UNILAG, then don't stop. In fact, UNILAG offers your dream course. You will in this article know all the courses that are offered in University of Lagos in 2020 for both undergraduate and postgraduate students.
It's no longer a news that UNILAG is one of a very competitive high instititutions in Nigeria. Thus, it offeres many different courses and departments in its academic services.
Meanwhile, prospective student of University of Lagos must have scored a minimum of 200 points in JAMB examination and scored very decent in UNILAG post UTME examination before he/she can be considered for gaining admission into University of Lagos.
Read this also: how to study for a very long hours in the night for an examination and pass very well.
With 240 points, applicants may not gain admission to study competitive courses like:
Full List Of Courses Offered In University Of Lagos In 2020 For Undergraduate And Postgraduate Students
If you're very curious to know the full list of all courses and departments offered in University of Lagos, then below are the answers.
A. List of faculties offered in University of Lagos:
ARTS
SCIENCES
EDUCATION
ENGINEERING
ENVIRONMENTAL SCIENCES
LAW
MEDICINE
PHARMACY
SCIENCE
SOCIAL SCIENCES
List Of All Faculties And Courses Offered In University of Lagos In 2020
Below are the faculties and their respective courses offered in UNILAG in 2020:
B. List of all courses offered in University of Lagos:
1. Faculty Of Science
Biochemistry
Botany
Cell Biology & Genetics
Chemistry
Computer Science
Fisheries
Geology
Geophysics
Marine biology
Mathematics
Microbiology
Physics
Zoology
2. Faculty Of Social Sciences
Economics
Geography
Mass Communication
Political Science
Psychology
Social Work
Sociology
3. Faculty Of Management Sciences
Accounting
Actuarial Science
Business Administration
Finance
Insurance
I.R.P.M
4. Faculty Of Environmental Sciences
Architecture
Building
Estate Management
Quantity Surveying
Urban and Regional Planning
5. Faculty Of Education
Adult Education
Economics Education
Education Business
Christian Religious Studies Education
Education Islammic Religious Studies
Igbo Education
Education English
Early Childhood Education
Education Yoruba
French Education
Education History
Geography Education
Educational Administration
Educational Foundations
Human Kinetics & Health Education
Education Biology
Chemistry Education
Education Home Economics
Integrated Science Education
Education Mathematics
Physics Education
Education Technology
Read this also: Faculties Offered In COE Minna (Niger State College Of Education) In 2021
6. Faculty Of Pharmacy
7. Faculty Of Arts
Creative Arts
English Language
French
Russian
History & Strategic studies
Linguistic Igbo
Linguistic Yoruba
Chinese
Philosophy
8. Faculty Of Engineering
Chemical & Petroleum Engineering
Civil & Environmental Engineering
Computer Engineering
Electrical & Electronics Engineering
Mechanical Engineering
Metallurgical & Materials Engineering
Petroleum & Gas Engineering
Surveying & Geoinformatics Engineering
Systems Engineering
9. Faculty Of Law
10. Faculty Of Medicine
Nursing
Medicine & Surgery
Physiotherapy
Radiography
Medical & Laboratory Science
Pharmacology
Physiology
Dentistry
Read this also: correct JAMB subject combination for all courses and faculties in Nigeria in 2020-2021.
Conclusion of full list of all departments and faculties offered in UNILAG in 2020 and further reading
If you want to study your dream course in University of Lagos, then that is a very good idea. However, you should tight your belt very well.
Why should you tight your belt? It's because University of Lagos is very competitive. Every body wants to study or wants his/her study there.
To Gain admission with your dream course in University of Lagos, note these things:
Note: no any money should be paid in order to gain admission apart from the Post UTME registration fee (N2, 000.0).
If you've found this article helpful, please like our Facebook page, follow us on Twitter and join our newsletter purposely to get informed about important updates henceforth.
Also, if it can help your friends, please share it to them. It won't cost you anything but means a lot to us!
Read this also: 20 universities in Nigeria that are best to study Pharmacy in 2020.