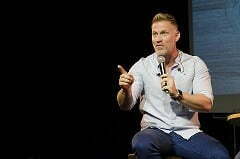 Are you a public speaker and like to own your own website? Or are you designing a website for public speaker and lokking for the best WordPress theme to install on the site? Here, we shall discuss with you top best free and paid WordPress themes for public speakers 2022.
In our previous guides, we discussed how you can create any type of website of your choice without coding but just simply by installing the right plugins. Today, we will show the importance of WordPress themes and how you can install and activate the right one for public speaker website.
Themes are a great tool for establishing an online presence and making your website appear in the best way you have been dreaming of. Perhaps, even though you've never been a coder in your life, WordPress themes will allow you easily set up a website and customize it the way you like.
In an easily understanding way, in the field of designing, theme is a tool that changes the layout and design of your website. Hence, WordPress themes customize the appearance of your site, including the layout, typography, color, and other design elements.
Being an open-source software/website site builder, WordPress is the most used platform for creating authors, writers, speaker, etc. website. It gives people the flexibility and freedom to build their website and grow their speaking profile to connect with their listeners.
Read this also: top motivational speakers in the world 2022.
Now, let's start to explain top best WordPress themes for motivational speakers' website for 2022.
1. Eistruttore
If you want to show people that you're capable of speaking at the biggest events or delivering premium coaching services to high-end clients, then this official WordPress theme, Eistruttore, is sure to help you as it has high-quality design. The main focus of Eistruttore is providing you with a platform to promote yourself online and highlight your best qualities to your target audience.
The Eistruttore has a pre-built templates that can give you lots of space to explain exactly how you can help your clients or provide value as a speaker in order to increase your chances of securing as many bookings as possible.
If you want corporate event organizers to book your speaking service at their event, then install and activate Eistruttore theme on your website because of its business-focused style.
2. LifeGuide
Another best plugins we have to recommend to you as a public speaker is LifeGuide. Do you when it comes to accepting bookings online, you can also make use of the Booked plugin included in LifeGuide?
Hence, as a result of this, you can enable a fully-featured online booking system on your WordPress website if you are using LifeGuide WordPress theme. If you do decide to enable this theme, you can accept booking requests online with ease, as well as respond to them with very little effort.
Displaying your availability online is also straightforward with the LifeGuide public speaker theme. All the different aspects of this theme are covered by the documentation, hence, if you're new to creating this type of website, then you should be able to find answers to your questions.
3. Rosaleen
Rosaleen is another best WordPress theme for motivational or public speaker because it was being fully edited with Elementor and compacted with several popular plugins; WooCommerce, Essential Grid, WP Recipe Maker, etc.
Additionally, Rosaleen WordPress speakers theme comes equipped with 12 blog styles, inner page templates, custom fonts, sticky menus, and one-click demo importing for added convenience.
4. Coaching
Coaching is one of the best WordPress themes for installing on speakers website. If you are using it as a motivational speaker, you'll find a selection of different website demos that all work well for self-promotion. So whether you're a coach looking for new clients or a public speaker who needs a professional-looking website, Coaching theme might have a pre-built demo that's suitable for your project.
However, regardless of which of the Coaching demos you choose, you can easily display a list of your upcoming speaking engagements on your website as well as publish your credentials in an attractive format that can help you land more bookings from your visitors. If a visitor does want to make an inquiry about your services or availability, the Coaching demos all contain online forms that will deliver their messages straight to your inbox.
5. DotLife
As a public speaker, DotLife is one of the trusted themes that you can install on your WordPress website. It's fair to say that DotLife is one of the best multi-purpose WordPress speaker themes.
The demos in the DotLife theme package are just as well suited to displaying online courses as they are promoting your capabilities as a speaker.
Hence, whether you want to deliver your message in person at events like a conference, or you want to connect with your target audience through online courses, DotLife is the theme you must have it installed on your site.
6. Everlead
If you want to promote yourself and your public speaking services online, then this theme (Everlead) is the best theme to help you launch your website. Everlead is aimed at life coaches and public speakers currently having six main website demos that you can use as the foundation for your own site.
Among the options is a stylish pre-built speaker website that should provide you with everything needed to connect with your target audience and market yourself as an expert in your field.
Additionally, Everlead theme has been built specifically to integrate with the Events Calendar WordPress plugin, hence, you can easily manage and publish your speaking engagements on your website for all to see. It also comes with the premium Booked appointment booking plugin, giving you a way to accept booking inquiries through your website.
Other useful tools in the package include the premium WPBakery Page Builder and Slider Revolution plugins that will help you customize your website and create new content for it. These tools, combined with the theme options control panel, make it easy to stamp your personality on your speaker website without much effort at all.
7. BeTop
BeTop is a newly coded WordPress theme for speakers. It does include eight distinct website demos, some are better suited to promoting your speaker services online than others, for example, the health coach and motivational speaker demos should be good options.
Perhaps, as this is a flexible theme, you can quickly edit the pre-built content of the demos to make them better suited to your goals. This theme has been designed to take full advantage of the powerful Elementor page builder plugin, you can open up all of the templates and layouts in this drag-and-drop visual editor.
BeTop is full of useful templates and layouts to help you build a professional public speaker website with WordPress. As a result of these features and the other functionality of this theme, you can just as easily promote your services as you can accept bookings online for your speaking services.
8. Divi
Divi WordPress theme is a complete design framework that allows you to design speaker's website from the ground level to an advance level designed by Elegant Themes. It is also one of the best free WordPress themes that can be used for coaching aspiring public speakers.
You can pay a 1-time payment of $249 to get lifetime access and updates from Divi theme and also get access to hundreds of free layouts and packs that are recommended for creating motivational speaker's website. Divi theme also has a $89 plan for year.
Read this also: top best ways to make money from your blog or website for 2022.
Conclusion
Theme is a tool that can be used to design a website. If you are using good theme, the appearance of your website will look awesome to your visitors and it also enhances your website's performance.
If you know that this article has helped you know the name and more information about top best WordPress themes for public speakers this 2022, then please share it with your friends and remember to subscribe to our newsletter or follow us on Facebook for more important updates.
My question for you; what theme are you currently using on your WordPress speaker's website now and how is your experience with it? Please let's know your answer via the comment section.