Do you like to know the name of all female who are the entrepreneurs and currently a CEO of some commercial banks in Nigeria. In this post today, I will show you the list of all banks Nigeria which female is their CEO or managing director.
In Nigeria, if you presently describe 2021 as the year of entrepreneurship woman, we will not get you wrong. This year alone, about four females have assumed the top position as Managing Directors/Chief Executive Officers of different commercial banks in Nigeria.
In 2021 as well, Dr Ngozi Okonjo-Iweala became the first female to head the World Trade Organisation.
List of all banks in Nigeria which female is their CEO
The following are the name and list of all commercial banks in Nigeria which female entrepreneur is their CEO:
Lotus Bank ➮ Mrs. Kafilat Araoye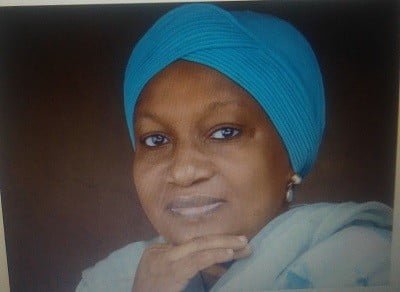 The newest and third Non-Interest Bank (NIB) in the country, LOTUS Bank obtained its regional license from the Central Bank of Nigeria (CBN) in May 2021 as a commercial bank.
Lotus Bank commenced operations from its flagship branch in Victoria Island on July 7, 2021, with a strong digital orientation.
Mrs. Kafilat Araoye is the MD/ and CEO of Lotus Bank, a financial institution which has recently received a non-interest banking license by the Central Bank of Nigeria (CBN) in May 2021.
Araoye's 25 years banking experience includes risk management, human resources, business development, strategy, payments, international and domestic operations among others.
Her three decades banking career started at GT Bank in 1990 when she joined as the Pioneer Head of Personnel unit. She held other positions like Manager of International TradeSupport, Deputy Manager Foreign Operations, Deputy General Manager and Group Head of Settlements. The last position she held in GT Bank was the General Manager & Group Head of Human Resources.
She left GT Bank in 2015 to join an Outsourcing and Management Consulting firm, as Director.
Lotus bank describes itself as being deeply rooted in ethical banking and committed to deepening financial inclusion and broadening the array of non-interest products available to the banked, unbanked, and under-banked population.
Read this also list of top 196 OAU notable alumni and their careers
SunTrust Bank Nigeria Limited ➮ Mrs. Halima Buba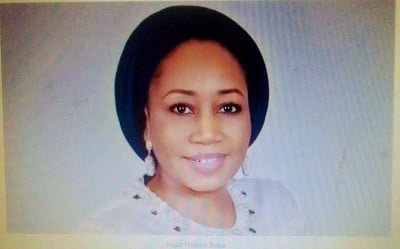 The year 2021 opened with the announcement of Halima Buba as the new MD/CEO of SunTrust Bank. Buba has over 20 years banking experience across several banks including Allstates Trust Bank, Zenith Bank, Inland Bank Plc, Oceanic Bank Plc and Ecobank Nigeria Limited.
Buba holds a Bachelor Degree in Business Management, and an MBA from the University of Maiduguri. She has participated in the Lagos Business School senior management programme, and is a fellow of the Institute of Management Consultants and a senior honorary member of the Chartered Institute of Bankers.
Halima Buba sits on the board of Directors of the Nigerian Sovereign Investment Authority (NSIA) and Anchoria Asset Management Company Limited.
Unity Bank PLC ➮ Mrs. Oluwatomi Somefun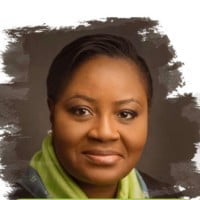 Tomi Somefun began her journey as the MD/CEO of Unity Bank in August 2015 after a career stretching 26 years across corporate banking, treasury & investment banking, retail, and commercial banking operations.
Somefun bagged her first degree in English Education from the Obafemi Awolowo University. She also attended the executive and management trainings at the Columbia Business School, INSEAD and the Harvard Business School (HBS).
She is a member of the Chartered Institute of Bankers of Nigeria (CIBN), the Institute of Directors (IOD), and Bank Directors Association of Nigeria (BDAN). She has also served on several boards, including quoted and unquoted companies.
Citibank Nigeria Limited ➮ Mrs. Ireti Samuel-Ogbu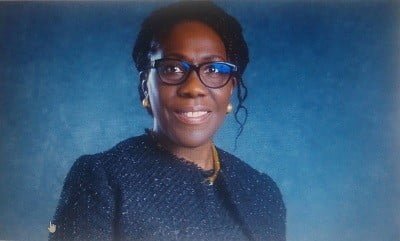 Ireti Samuel-Ogbu became the first female MD/CEO of Citibank Nigeria, a subsidiary of the Citigroup in September 2020. Her 32-year career has seen hold various positions in CitiGroup. She was the Head of Cash Management in Africa and Managing director of payments and receivables, treasury and trade solutions (TTS) for Europe, Middle East and Africa (EMEA) at Citi's Institutional Clients Group (ICG) based in London, UK.
She has served in London, South Africa, and Nigeria as well holding positions such as relationship management with Global Subsidiaries Group and the Public Sector Banking Team, as well as TTS sales, corporate finance.
Ireti got her first degree in Accounting and Finance from Middlesex University and a Masters from the University of Bradford, both in the United Kingdom.
Fidelity Bank PLC ➮ Mrs. Nneka Onyeali-Ikpe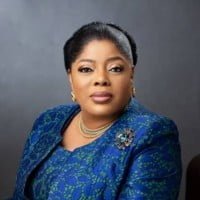 Onyeali-Ikpe became the MD/CEO of Fidelity Bank on January 1, 2021, also making her the first female MD of the bank in nearly 35 years.
She has spent about five years in Fidelity Bank since she joined in 2015. She held the position of Executive Director for Lagos and south-west directorate, overseeing the bank's business in the six states that make up the southwest region of the bank.
Nneka Onyeali-Ikpe bagged a Bachelor of Laws (LLB) degree from the University of Nigeria (UNN), and a Master of Laws (LLM) degree from Kings College, London.
She has participated in several executive trainings in global institutions including the Harvard Business School; The Wharton School University of Pennsylvania; INSEAD School of Business; Chicago Booth School of Business; London Business School and IMD.
Related famous female Nigerian gospel singer, Ada Ehi songs in 2021 – best gospel songs in Nigeria
First City Monument Bank PLC ➮ Mrs. Yemisi Edun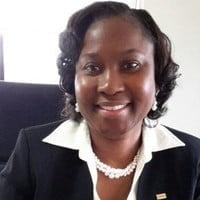 Mrs. Yemisi Edun was recently appointed to head the bank after a progressive 34-years+ career, 20 of which were spent in FCMB.
Edun started her career in 1987 with Akintola Williams Deloitte, a member firm of Deloitte Touché Tohmatsu. Here, her focus was on Corporate Finance activities and she audited Banks and Other Financial Institutions.
She joined FCMB in year 2000 as Divisional Head of Internal Audit and Control before assuming the position of Executive Director/Chief Financial Officer of the Bank.
Mrs. Yemisi Edun got her first degree in Chemistry from the University of Ife, Ile-Ife in 1985; and then went to the United Kingdom to get a Master's degree in International Accounting and Finance from the University of Liverpool.
She is a Fellow of the Institute of Chartered Accountants of Nigeria and a Certified Financial Analyst CFA® Charter holder; Associate Member of the Chartered Institute of Stockbrokers; Associate Member of the Institute of Taxation of Nigeria; a Member of Information Systems Audit and Control, U.S.A; and a Certified Information Systems Auditor.
She was first appointed in January 2021 to hold forte for Adam Nuru, the former CEO during some investigations. Her appointment as MD/CEO was confirmed in July 2021.
Guaranty Trust Bank PLC ➮ Mrs Miriam Olusanya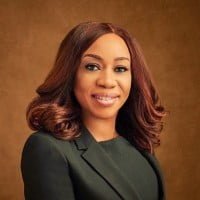 Mrs Miriam Olusanya a female entrepreneur and also the first female MD and CEO of GTBank after over 3 decades.
She succeeded Segun Agbaje, the now retired CEO. She has spent 23 years plus with GTBank.
Olusanya has a first degree in Pharmacy from the University of Ibadan, and a Master of Business Administration (MBA), from the University of Liverpool, united Kingdom.
She teamed up with GTBank as an executive trainee in 1998, and worked her way up the ladder to become Executive Director before her recent appointment as a CEO.
FSDH Merchant Bank ➮ Mrs. Bukola Smith
Bukola Smith succeeded Hamda Ambah in April 2021 as the Managing Director of FSDH Merchant Bank, a subsidiary of the FSDH group. Smith has 28 years of experience in the banking industry, with membership of high-ranking institutes in the financial sector. She is a Fellow of the Institute of Chartered Accountants of Nigeria (ICAN), Honorary Member of the Chartered Institute of Bankers, and an Associate Member, Certified Institute of Pensions (Nigeria). She has also held other key positions in other companies.
Before FSDH Merchant Bank, she joined FCMB in 2006 and served in various capacities including the Executive Director, Business Development where she was responsible for the bank's 200 branches across Nigeria.
She was the brain behind the FCMB Women in Business Desk (branded SheVentures) which supports female entrepreneurs, as well as the FCMB Trustees and FCMB Custody, both of which broke even in the first year of operations.
Bukola Smith has a Bachelor's degree in Economics from the University of Lagos, and MBA from the Alliance Manchester Business School, University of Manchester.
Conclusion
If you know that this article has helped you know the list, name and more important information about the female who are the CEO of some commercial banks in Nigeria, then please share it with your friends and remember to subscribe to our newsletter for more updates from us.
Read this also: some notable and important dates in Nigeria to remember