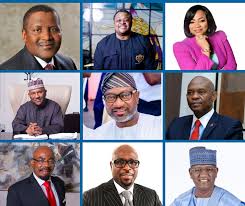 Today's article will show you the list and more information of top 16 successful entrepreneurs in Nigeria in 2021 and their current occupation or what they produce and net-worth.
In Nigeria for now, who is the richest entrepreneur? Between Dangote and Otedola, who is the most successful entrepreneur? Do you want to know the list of top entrepreneurs in Nigeria? If you do, then continue reading!!
The list and explanation of top 16 rated and most successful entrepreneurs in Nigeria are discussed below with their occupation or detailed discussion of what they produce.
Related article: list of all commercial banks in Nigeria and their current CEO.
Successful entrepreneurs in Nigeria and what they produce
Aliko Dangote
Aliko Dangote with a net worth of over $12 billion in 2018, he is the richest entrepreneur in Nigeria and Africa at large. He was born on the 10th of April 1957.
The main sources of income of Aliko Dangote are sugar and cement. As a matter of fact, he is the owner of the 'Dangote Group' which is now the largest cement and sugar producer in Africa.
Tony Elumelu
Tony Onyemaechi Elumelu is a Nigerian economist, entrepreneur, and philanthropist.
He is the chairman of Heirs Holdings, the United Bank for Africa, Transcorp and founder of The Tony Elumelu Foundation.
Elumelu holds the Nigerian national honors, Member of the Order of the Federal Republic (MFR) and Commander of the Order of the Niger (CON).
Godwin Maduka
Godwin Maduka (born 1959), is a Nigerian-American doctor, businessman and philanthropist. He is the founder of Las Vegas Pain Institute and Medical Center.
Cletus Ibeto
Cletus Madubugwu Ibeto is a Nigerian businessman from the industrial city of Nnewi.
He is head of The Ibeto Group, the largest business enterprise from Nnewi, a city unique for its entrepreneurial spirit.
Abasiama Idaresit
Abasiama Idaresit is a Nigeria-born technology entrepreneur and founder and CEO of Wild Fusion Limited.
He is the founder of a digital marketing agency (Wild Fusion Limited) with offices in Nigeria, Ghana, and Kenya.
In 2013, Forbes Magazine named him as one of the top Ten African Internet Millionaires To Watch.
See also: list of all accredited MTN offices in Lagos state.
Linda Ikeji
Linda Ifeoma Ikeji is a Nigerian blogger, writer, entrepreneur and former model. She is known for her blog and controversial publications online.
Dele Momodu
Chief Dele Momodu is a Nigerian journalist/publisher, businessman, and motivational speaker.
He is the CEO and publisher of Ovation International, a magazine that has given publicity to people from all over the world, mainly in Africa. In 2015, he officially launched Ovation TV and subsequently launched an online newspaper called The Boss.
Momodu has received hundreds of awards and honors for his work in the world of business, politics, literature, the music industry and the fashion industry.
He writes a weekly column called "PENdulum", published every Saturday on the back page of Thisday newspaper.
His articles are praised for highlighting issues in Nigeria, as well as discussing popular topics, current events and notable people, often in a polemic/critical style.
Ben Murray
Benedict Murray is a Nigerian business magnate and politician. He is the founder of Silverbird Group.
He is a member of the People's Democratic Party, PDP. In 2015, he was elected to be a Senator representing Bayelsa East Senatorial District in Bayelsa state Nigeria.
Read this also: list of all senatorial districts in Nigeria and their current Senators in 2021.
Jason Njoku
Jason Chukwuma Njoku (born 11 December 1980) is a British-Nigerian businessman. He is the co-founder and CEO of iROKOtv, a video-on-demand service for Nigerian movies.
Jason was born and raised in Deptford, South East London, and His mother raised him and his three sisters and brother by herself, whilst working a full-time job in the National Health Service.
He attended school in London, then moved to a village in Nigeria from the age of 12 – 15.
After he returned to Nigeria from London, he attended college to complete his A-Levels before gaining admission at The University of Manchester where he read Chemistry.
Stella Chinyelu
Stella Chinyelu Okoli is a Nigerian pharmacist, philanthropist and entrepreneur.
She is the founder and current Chief Executive Officer of Emzor pharmaceutical manufacturing company founded in 1977.
Seun Osewa
Oluwaseun Temitope Osewa (aka, Seun Osewa) is a Nigerian internet entrepreneur. He is the founder of Nairaland, a popular internet forum launched in March 2005, which was projected as the biggest African forum by Forbes.
YNaija rated him as one of the most innovative Nigerians in technology industry. He was also listed among T.I.N Magazine's top 10 most influential Nigerian online entrepreneurs in 2015.
Oba Otudeko
Oba Otudeko is a Nigerian businessman who serves as the founder and chairman of the Honeywell Group.
He was a former chairman of FBN Holdings and founder of the Oba Otudeko Foundation.
As of June 2017, his estimated net worth was US$550 million.
Jim Ovia
Jim James Ovia (born November 4, 1951) is a Nigerian businessman, a native of Agbor in Delta State. He founded Zenith Bank in 1990.
Ovia gained a master's degree in Business Administration from the University of Louisiana, Monroe, Louisiana, USA in 1979 and a B.Sc. degree in Business Administration from Southern University, Baton Rouge, Louisiana, USA (1977). He is also an Alumnus of Harvard Business School.
Jim Ovia is one of the top 17 successful entrepreneurs in Nigeria and he is the founder and CEO of Zenith bank. At Zenith bank, every body know what they do. Jim and his teams just simply do produce banking services for Nigeria.
Mike Adenuga
Michael Adeniyi Adenuga (born 29th of April 1953) is a Nigerian billionaire businessman and the second richest man in Nigeria.
According to the recently released Forbes list in 2018, Mike Adenuga's net worth as of 11th March 2018 was estimated to be $4.2 billion and he is the third richest person in Africa.
Adenuga, Nigeria's second richest man, built his fortune in telecom and oil production. His mobile phone network, Globacom, is the second largest operator in Nigeria, with 57 million subscribers presently.
He has oil company, Conoil which currently operates in 6 different oil blocks in the Niger Delta.
Related article: top best skills which you can acquire in Nigeria for this year.
Femi Otedola
Femi Otedola (born on November 4, 1962) is a Nigerian businessman, entrepreneur, philanthropist, and chairman of Forte Oil PLC, an importer of fuel products.
Femi Otedola is the son of former Lagos State Governor, Michael Otedola.
According to Forbes in 2018, his net-worth in that year was estimated to be $2 billion.
Otedola is also the founder of Zenon Petroleum and Gas Ltd, and the owner of a number of other businesses across shipping, real estate and finance.
He has recently invested in power generation as part of the liberalization of the sector in Nigeria.
Abdul Samad Rabiu.
Abdul Samad Isyaku Rabiu (born on 4 August 1960) is a Nigerian businessman and the founder of BUA Group, a Nigerian conglomerate active in sugar refining, cement production, real estate, logistics, and port operations.
According to Forbes, his net-worth in 2016 was estimated to be $1.1 billion.
In January 2016, BUA Group agreed to sell its flour milling and pasta making businesses to Olam Group of Singapore for $275 million.
Rabiu is the son of a businessman, Khalifah Isyaku Rabiu. He inherited land from his father and set up his own business in 1988, importing rice, sugar and edible oils as well as iron and steel rods.
On July 7, 2020, Forbes estimated Abdul Samad's wealth at $3.2 billion and counted him 716th in the global billionaire's club.
Folorunso Alakija.
Folorunso Alakija (born 15 of July 1951) is a Nigerian billionaire businesswoman, one of the richest African women, and one of the richest black women in the world.
In 2014, she temporarily unseated Oprah Winfrey as the richest entrepreneur woman of African descent in the world.
According to Forbes, her net-worth as of 11th March 2018 was estimated to be $1.7 billion.
Folorunsho Alakija is vice chair of Famfa Oil, a Nigerian oil exploration company with a stake in Agbami Oilfield, a prolific offshore asset.
Famfa Oil's partners include Chevron and Petrobras.
Alakija's first company was a fashion label whose customers included the wife of former Nigerian president, Ibrahim Babangida.
Conclusion
If you know that this article has helped you know the list of top 16 successful entrepreneurs in Nigeria in 2021 with their net-worth and what they produce, please share it with your friends and remember to subscribe to our newsletter for more important related updates.
Read this also: name of all current female Senators in Nigeria in 2021.
I hope this article has shown you top 16 successful entrepreneurs in Nigeria for this year and what they produce? Please use the comment box below and let me know how you feel while reading it. Please remember to like my Facebook page for more important info.