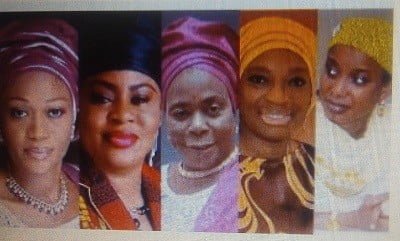 Nigeria consists 109 Senators across every thirty six state in the country. Each state provides three Senators to represent them in House of Assembly at the national level, Abuja. This page will show you the name of all current female Senators in Nigeria in 2022.
The name, history and more important information of all current female politicians who are now a Senators in some senatorial zones in Nigeria in 2022 are listed and narrated below:
List of all current female Senators in Nigeria in 2022
Oluremi Tinubu
Oluremi Tinubu was born on 21st September 1960 in Ogun State, Nigeria. She is the former first lady of Lagos State and currently a Senator of Lagos Central Senatorial District at the Nigerian National Assembly. She is a member of the All Progressives Congress (APC) political party.
Senator Oluremi Tinubu gained her National Certificate of Education (NCE) in Botany and Zoology from Adeyemi College of Education and then further did B.S. in Education in Obafemi Awolowo University, Ile-Ife, Osun state.
Being a peace-minded Senator, in March 2021, she proposed a bill to reform the Nigerian Postal Service (NIPOST) to make it a more viable entity. She also received the award for the most impactful female senator at The Guardian organized International Women's Day Summit 2021.
Akon Eyakenyi
Senator Akon Etim Eyakenyi was born on 24 February 1960 in Urue-Offong/Oruko, Nigeria. She is a Nigerian politician and a businesswoman. She is the current senator representing Akwa Ibom south senatorial district in Akwa Ibom State.
In 1983, Senator Akon enrolled into the University of Calabar and earned Nigerian Certificate in Education (NCE) in 1986. Then in 1990, she obtained a Bachelor of Education (B.Ed) degree from the University of Calabar.
Senator Akon Eyakenyi had obtained a Master of Education (M.Ed) and Doctor of Philosophy (Ph.D) in Curriculum Education in 2010 and 2014 respectively.
She was elected into the senate during the 2019 general elections of Nigeria. She won with a total votes of 122,412. Before being elected into the senate, she was the former Minister of Lands, Housing and Urban Development during the regime of President Goodluck Ebele Jonathan.
Aishatu Ahmed Dahiru
Aishatu Ahmed Dahiru is a Nigerian senator of the All Progressives Congress, APC representing Adamawa Central senatorial district in the 9th Assembly.
She was born in 1971 and she went to UK for her university education where she obtained a Higher National Diploma in Electrical Engineering at the University of Southampton. She is currently the Chairwoman of the Senate Committee on Sustainable Development Goals.
She was formerly a member of the House of Representatives representing Yola North/Yola South/Girei federal constituency as a member of the People's Democratic Party in the 7th Assembly (2011–2015).
Read this list of all Ahmadu Bello University Zaria who are now a politician.
Rose Oko
Rose Okoji Oko is a Nigerian politician and senator. She was a Member of the Federal House of Representatives from the People's Democratic Party (PDP), representing Yala/Ogoja Federal Constituency in Nigeria's 7th National Assembly.
Senator Rose Okoji Oko was elected into office as the first female representative from her constituency in June 2011 and sat as Deputy Chairman House Committee on Education.
She was the Senator representing the people of Cross River North Senatorial District. Meanwhile, she was elected into office as the first female representative from her Senatorial District in June 2015.
Uche Ekwunife
Uche Lilian Ekwunife was born on 12 January 1970. She is a Nigerian politician and a member of the 9th Nigerian Senate representing the people of Anambra Central Senatorial District of Anambra State and she is known as one of the current female senators in the House of assembly in Nigeria in 2022 and that is why her name is here.
Ekwunife stood for Anambra governorship election twice unsuccessfully. She was elected as a representative in 2007 for Anambra's Anaocha/Njikoka/Dunukofia constituency. She was one of 11 women elected in 2007 who were re-elected in 2011 when the lower house was nearly 95% male. 
Betty Apiafi
Betty Jocelyne Okagua – Apiafi was born on 19 February 1962. She is a Nigerian politician, economist, retired banker and educationist.
Senator Apiafi was elected to the Nigerian Senate to represent Rivers West Senatorial District in 2019. She has also served as a Member of House of Representatives for Abua/Odual-Ahoada East Federal Constituency of Rivers State since 2007. She is a member of the People's Democratic Party (PDP).
She earned a bachelor's degree in Economics from University of Port Harcourt and a master's degree from Rivers State University of Science and Technology.
Senator Betty is one of the 9 current female Senators in Nigeria in 2022, hence her name has appeared here.
Read this list of all banks that female is their CEO in Nigeria
Stella Oduah
In 2015, Stella Oduah was elected to the Nigerian Senate to represent Anambra North Senatorial District.
Senator Oduah was born to Igwe D.O. Oduah of Akili-Ozizor, Ogbaru L.G.A. in Anambra State on January 5, 1962. Oduah-Ogiemwonyi gained her Bachelors and Masters Degree in Financial Accounting and Business Administration respectively) in United State of America. She returned to Nigeria in 1983 and joined the Nigerian National Petroleum Corporation (NNPC).
In 1992, she left the NNPC to establish the Sea Petroleum & Gas Company Limited (SPG), an independent marketer of petroleum products in Nigeria.
Senator Stella Oduah is a married woman and her husband is the former Minister for Works, Engr. Chris Ogiemwonyi.
Binta Garba
Binta Garba was born on 17 April, 1996. She is a Nigerian politician, businesswoman and administrator currently representing Adamawa North Senatorial District of Adamawa State since 2015.
Presently, Binta Garba is one of the current female Senators in Nigeria in 2022, thus, her name has appeared here. Please continue reading for more important information about her.
Between 1975 and 1981, Senator Binta Garba attended Army Children School, New Cantonment D, Hayin Banki, Kaduna. She then further proceeded for her Secondary School Education and obtained her (GCE/WAEC 'O' Level) in Government Day School, Kurmin Mashi, Kaduna South, Kaduna, between 1981 and 1987.
She attended Kaduna Polytechnic and obtained Ordinary National Diploma (OND in Marketing) in 1990 and Higher National Diploma in Marketing in 1997).
In 2004, she went to Harvard Kennedy School of Government – Harvard University (Public Financial Management). She holds two Diplomas in Theology from the Bible School of Church Growth and Practical Ministry, and Matthew Owujaye's Ministry, Kaduna.
Senator Binta Garba is now a holder Honorary Doctorate Degree certificate in Theology from Smith Christian University, Miami, Florida.
She has served as Chairperson, Adamawa State chapter of All Progressives Congress and she is now the first female State Chairperson of a registered major political party in Nigeria.
Senator Binta Masi Garba started her political career in the year 1998 in Kaduna, Nigeria. Before that, she worked with the New Nigeria Newspapers as an advert officer, the year she was due for a promotion she was not given due to gender inequality.
Alhaja Monsurat Sunmonu
Alhaja Monsurat Sunmonu is a Nigerian politician who served as a Senator in Oyo State. She represented Oyo Central Senatorial District, having won the election held on 28 March 2015.
Senator Sunmonu was the Chair of the Senate Committee on Foreign Affairs. Prior to becoming a Senator she was the Speaker of the Oyo State House of Assembly, Nigeria.
While in the House of Assembly, she was the member representing Oyo East and Oyo West Local Governments. She became the first female Speaker in the history of Oyo State on 10 June 2011.
On 26 April 2011 Senator Monsurat Sunmonu contested on the platform of the now defunct Action Congress of Nigeria (ACN) for the Oyo East and Oyo West seat in the House of Assembly.
Finishing with 25,091 votes, she won the election, winning all 20 available Wards in her constituency ahead of the then People's Democratic Party (PDP) incumbent, Moroof Atilola who scored 10,949 votes; Accord Nigeria party candidate, Muideen Olagunju with 10,636 votes and MPPP candidate, Bimbo Aleshinloye with 2,274 votes.
Other candidates in the election were Saheed Adejare of the CPC who scored 756, Adetokunbo Ajayi of NCP scoring 297, Olaniran Abiodun of Labour Party with 46 and Awesu Tsaiwo of ANPP who scored 43 votes.
Conclusion
If you know that this article has helped you know the list, history and name of all female politicians in Nigeria who are now a current Senators in some senatorial zones of the state, please share it with your friends and don't forget to subscribe to our newsletter for more updates from us.
Read this also top 9 best loan apps in Nigeria to use to apply for a loan very fast