The admission list of Ambrose Alli University or AAU Ekpoma for 2020 is finally out. Please continue reading in order to know whether you are being admitted.
We'll also teach you how to accept it or reject it on your JAMB profile if you don't want to study the course you are being admitted with.
That is, if institution offered you an admission that doesn't mean you have fully admitted, you can either reject it, if you don't like it or accept it, if you are satisfied with the course they admitted you with.
Back to our topic, AAU admission list refers to the portal which contains the names of successessful candidates that have been offered an admission by both school and JAMB in this year (2020).
Recommended for you: UNIBEN Post UTME Application Form For 2020/2021 Is Out (Eligibilities & How To Register)
Now you may be wondering how to know if your name is among the thousa of name in AAU admission list portal, right?
That is what I am going to show you here. Please stay tuned!!
How To Check The Admission List Of Ambrose Alli University (AAU), Ekpoma 2020 With Phone By Your Self
For checking whether you are being successfully admitted into Ambrose Alli University is now easier than before.
Now, you don't need to transport from your current location to university's notice board just only to check whether your name is among the list of admitted applicants.
What you should do to check it, you asked? Then follow the steps below to check it.
Go to AAU Ekpoma admission list checking portal by clicking here
Fill in your JAMB registration number and surname as requested in the required columns
Also, verify that you are not a robot by marking the provided small bracket next to the text " I'm not a robot"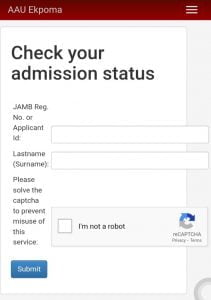 Finally, click on Submit to access your admission status.
If your name is already in the admission list, you would see a congratulatory message on the screen following the course you were being given to study in AAU.
See also: How To Study For Jamb Examination When It Is In Advance (I.e, 2 Weeks)
Now, let's us go to show you how to accept or reject it on your JAMB profile.
AAU Admission List 2020 (How To Accept/Reject AAU Admission On JAMB Portal)
Visit the jamb portal by visiting here
Click on "Create e-facility Account/Login"
A page will be displayed to you.
Then enter your email address and Password and
Finally click Login.
From the list of menus, then click on Check UTME/DE Admission Status on CAPS
You will be redirected to JAMB CAPS portal.
Your details including Jamb score, institution, date of birth and admission status will be displayed to you.
After that, then click accept the admission tab
Or click reject the admission to reject it.
Note: after step 7, you will need to use large screen device (laptop or desktop). Although if you have not got such device, you can still proceed with your phone by switching desktop view.
Please click (https://fastknowers.com/how-to-turn-your-mobile-devices-screen-to-a-desktop-screen-on-all-web-browsers/) to know how to switch off your phone screen size to desktop screen size.
How have you found this article, has it sounded great? Let me know how you feel using the comment box and then share it with your friends.
Finally, please like and follow us on Facebook or Twitter