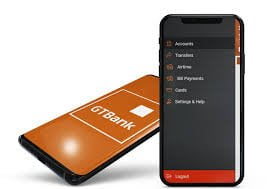 Using GTBank mobile app, you can do almost everything yourself, now, how can you download and register GTBank mobile app on your device very fast without making mistake?
In this article, I will show you step by step guides of how to install and activate GTBank Mobile/GTWorld application on your mobile device.
With Guaranty Trust Bank (GTB) mobile app and its online banking site, www.gtb.com, you don't need to visit the bank's branch before carrying out some credible financial transactions.
Most importantly, GTBank mobile app is quick, fast, secure and seamless channel which can be used 24/7 to transfer fund from your account to another person's account, buy airtime or data by dialing a USSD code, check your account balance, etc.
How to register GTBank mobile app on your phone
The following guides are the step by step instructions on how to download and activate GTBank app on your mobile phone:
Open application store on your smart phone (e.g. play store for android or App store for ios)
Search for "GTBank mobile app" and install
After intalling it, open the application
Swipe to "Let's get started"
Enter Internet Banking User ID/Email and password and click login to proceed
Select "Yes, authorize this device" to permit using this application on your mobile device
Select your preferred transaction authentication method (PIN or Token)
For PIN, click "PIN"
Click "I agree" to the term of use
Complete the displayed form with the correct details
Click Continue
For Token, click "Token"
Enter the OTP sent to your registered phone number or email address with the bank
Click Continue
Read this also: list of all approved Microfinance banks in Nigeria and their locations.
For security reason, you are advised to safeguard your pin and password.
In case you forget your pin or password, kindly visit Gtbank website at www.gtbank.com and follow the steps below:
Locate the Internet Banking tab and click on the login button
Enter your user ID and select the "Forgot your Password" link.
You will be directed to the Password reminder page.
Enter the answer to your secret question and select the continue button.
GTBank internet banking registration process
To access the GTBank Internet Banking Services, you must have your login details (User ID and Password). For more information, visit their website at http://www.gtbank.com/.
Please note that your account was automatically profiled for this service at the time of bank account opening and must have sent to you via email.
If you have unluckily not received your login details, then visit www.gtbank.com and click on the REGISTER button on the internet banking tab or dial *737*6*5# from your registered phone number with the bank.
It is very important to note that the Password must be changed within 2 hours of making your password changing request.
GTBank mobile app download for ios and android
To start benefiting what GTBank app has using your phone, you have to download the version that is compatible with your device.
Now, to download GTBank app on your ios or apple mobile phone, click here or if you want to download it on your android phone, then click here and download from Google play store.
How to change GTBank mobile app password
To change your GTBank default password to one that you can easily remember, simply follow the procedures below and change it:
1. Sign in to your account and click the "Self-Service" link in the left navigation bar
2. Locate the "Change your Password" menu and click on it
3. Key in your default/current Password and input a new Password thereafter
4. Re-enter the new Password and click "submit" button.
5. A confirmation page will then indicate whether the change was successful.
Note that if you have been locked out as a result of 3 unsuccessful login attempts, you must call contact center (GTConnect) on 0700 GTCONNECT (0700 482666328), 234-1-4480000, 08029002900 or 08039003900 to speak to an Agent.
See this also: how to contact Zenith bank customer care very fast (step by step).
How to make a transaction using GTBank mobile app
To transfer/send fund to another person or other of your account using your GTBank mobile app, simply follow the steps below:
Open/launch the mobile app
Click on "Transfers" button.
Select the account from where the transaction would be carried out.
Choose the destination bank/financial institution where you are sending the funds to.
Fill in the details (Account n umber and name) of the beneficiary. Once you enter the account number, the app will automatically look out for the owner of the account and display the name (if valid).
Enter the amount you are sending and also, add a short note or description (optional but important when you're paying for something).
You'll be shown an overview of the transaction you're about to carry out for a proper review.
Enter your PIN once you've confirmed the informatgion is correct and then tap on the "Transfer" button to complete the transaction.
If you know that this article has helped you know how to download and register GTBank mobile app on your device, please share it with your friends and remember to subscribe to our newsletter for more important updates.
Read this also: list of all GT bank branches and their sort code in Nigeria.