Do you want to know how dedicated hosting works? In our last articles, we explained the meaning of shared hosting.
Today, we shall show you a clear explanation of dedicated hosting with examples and also compare it with other hosting plans like shared hosting, VPS, and cloud hosting.
And importantly, you will also know the price and how to buy dedicated hosting for your website after you have known that it's right for you by reading this article.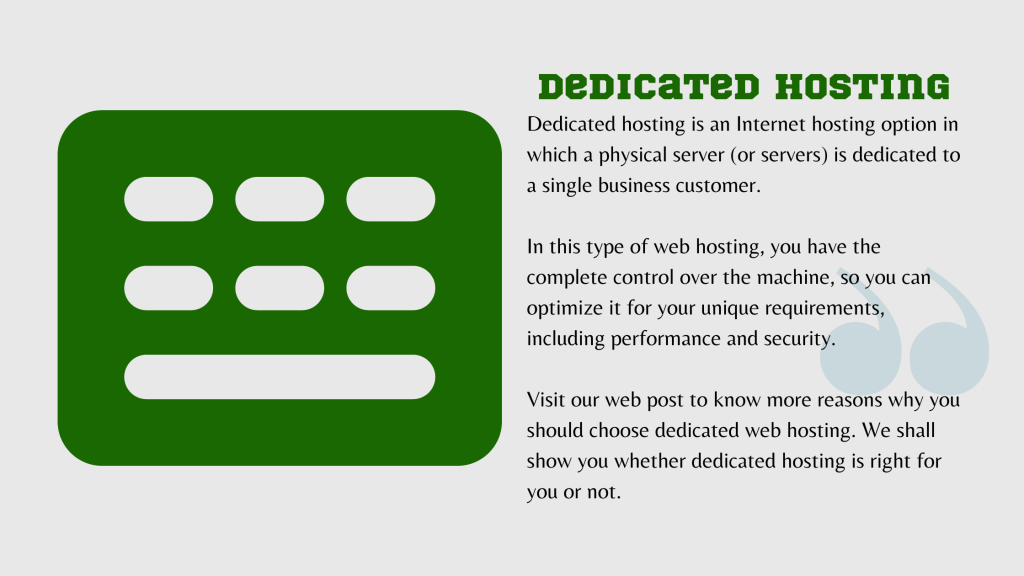 Dedicated hosting is a type of web hosting plan that as its name implies, dedicates a server, or manages to host the entire server of its users and will not be shared with anyone else.
It can also be defined as a term used to describe web hosting packages that provide a dedicated server with dedicated resources to a single client.
Dedicated hosting plans are ideal for WordPress websites with very large numbers of visitors. Many WordPress hosting service providers offer Dedicated Hosting plans along with shared and VPS hosting plans.
In a shared hosting plan, people share a server with many other peoples. While in the VPS hosting plan the clients are sharing a machine but not the resources with other people on the same server.
However, on dedicated hosting plans, people lease a whole server with all of its resources. Many reputable web hosting companies offer different packages of dedicated hosting plans.
Note that the price for purchasing a dedicated hosting plan differs depending on the web host companies and your choice of hardware and resource allocation.
From this brief explanation, hope you have known that dedicated hosting plans are ideal for large organizations or websites with much higher traffic because you get full control of the server which allows them to configure it to meet their own needs.
Most importantly, the dedicated plans also come in managed and unmanaged forms where the hosting center can manage the server for the client in case of any problems.
The Managed server plans of dedicated hosting are generally more expensive.
Price of dedicated hosting
The pricing of dedicated hosting is influenced by the number of resources you need such as bandwidth, storage space, and amount of RAM, amongst other things.
Additional expenses for dedicated servers also include the software packages needed to run the server. Such software can include licensing for Windows, if desired, cPanel, if desired, and other paid software.
Free alternatives to most of the paid software packages are available but are not generally preferred due to issues with the stability of the software.

The screenshot above shows the dedicated hosting plans' price and their term. The dedicated hosting plans of some web host companies are built on OpenStack, a scalable cloud OS.
Regardless of any dedicated hosting plan you buy, the company you bought it from will provide you with the installation of WHM, an enhanced installation of cPanel for managing resources, our custom Domain Manager, and Server Management tools.
Best company to buy dedicated hosting plan from
Before we show you the best company that you can buy dedicated hosting from, in the first place, know what to look for in a dedicated hosting plan.
Hope you have already known the features of dedicated hosting as it helps you get full access to your server. But here are the additional things to look out for:
The type of Central Processing Unit (CPU)
How many CPU cores are included
The amount of Random Access Memory (RAM) the server has
The amount of storage space provided
How much bandwidth the server can support
The number of dedicated IP addresses it has
What Operating System (OS) does the server use.
Happily, our recommended web host companies offer all these features. They will even give you a special discount when you buy from them now.
Note: we're recommending them because we are one of the big users of them and other users recommend them too. 
FastComet (www.fastcomet.com)
HostMarda (www.hostmarda.com).
1. FastComet
Fastcomet is one of the biggest names in the hosting market overall. It provides multiple types of server hosting plans, ranging from basic shared servers,  VPS, and Cloud to dedicated hosting.
When it comes to dedicated plans, Fastcomet presently offers four tiers, starting at $97.3o per month.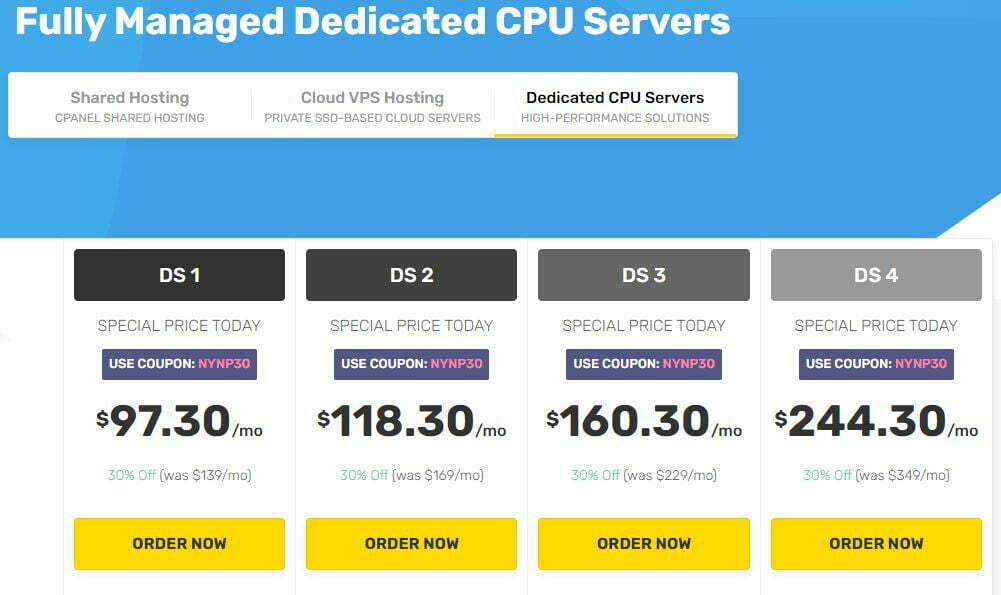 Every tier includes a free SSL certificate, a domain name, a custom cPanel dashboard, and multiple dedicated IP addresses.
Here's what you get with the Standard dedicated server plan, in terms of hardware:
CPU: 4-core CPU clocked at 2.3 GHz
RAM: 4 GB
Bandwidth: 5 TB
Storage: 500 GB
Dedicated IP addresses: 3
FastComet was named one of our best WordPress web hosts in 2022, due to its good price-to-performance ratio.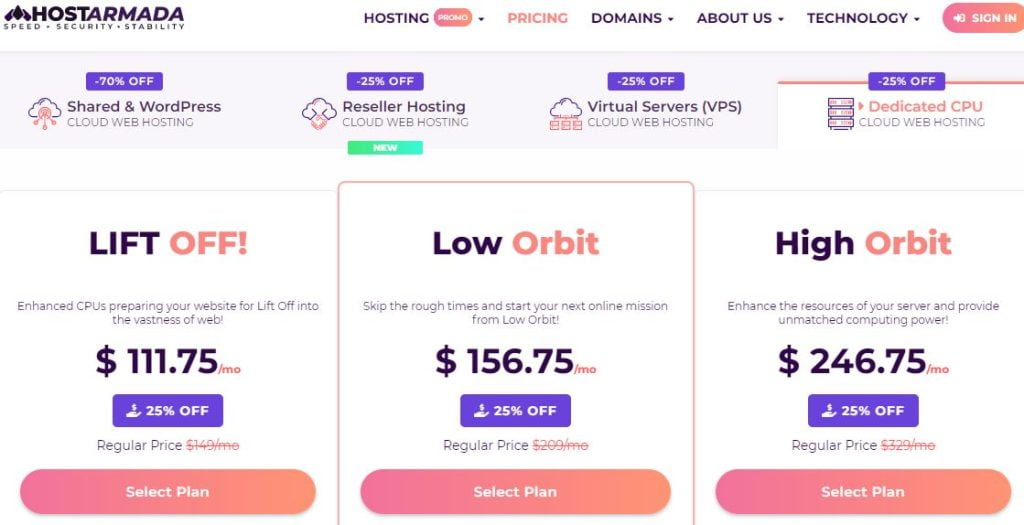 HostMarda may not be as well known to you as some of the other hosts. However, it offers fantastic dedicated hosting plans including other plans such as shared hosting, VPS, and cloud hosting.
They provide three different tiers of dedicated managed servers named LIFT-OFF!, LOW Orbit, and High orbit which cost $111.75, $156.75 and $246.75, respectively by the time of writing this article.
If you sign up for the Low Orit dedicated server plan, you'll get:
CPU: 4-core CPU clocked at 3.9 GHz
RAM: 32 GB
Bandwidth: 5 TB
Storage: 2×240 GB
Dedicated IP addresses: 1
Frequently Asked Questions
We've helped hundreds of people purchase a dedicated hosting plan for their websites, hence we have gathered enough questions we frequently get asked by them. Explore them below maybe the answer of the question you may want to ask is included.
Yes, of course! Once you have bought a dedicated hosting plan from any web host company, they will provide you with all the tools you needed for optimal control of your Dedicated CPU Server solutions.
Yes, you can! A Dedicated Hosting plan of any company comes with unlimited website transfers if you can provide your root level of access to your previous web hosting provider.
One of the most distinctive differences between Virtual Private Servers (VPS) is that VPS shares the underlying physical hardware with other VPS while Dedicated CPU Servers, on the other hand, have fully dedicated CPU cores and memory that are 100% available and isolated from any other servers. 
Yes. Many web host companies offer a money-back guarantee for all hosting plans including the Dedicated plan. In case you are not happy with it after purchase, you are able to cancel and they will give you a full refund of the hosting fee.
As a matter of fact, a dedicated hosting plan can be expensive. Though, it is worth it if you're going to be having so many files on your website. If you need to buy a dedicated plan, you might opt for one of the best-dedicated server hosting providers you can find!
Hope this article has helped you know what a dedicated is, whether you should use it or not, and their plans and pricing. Please reach out to us with any questions you may have. 
For more updates, like our Facebook page or subscribe to our newsletter.