Do you want to know what the meaning of Shared hosting is?
As a beginner, you may get confused about the term "shared hosting" especially when you want to host a website.
In this article, we shall show you the meaning of shared hosting to help you know if it's right for you or not.
Now, let's start.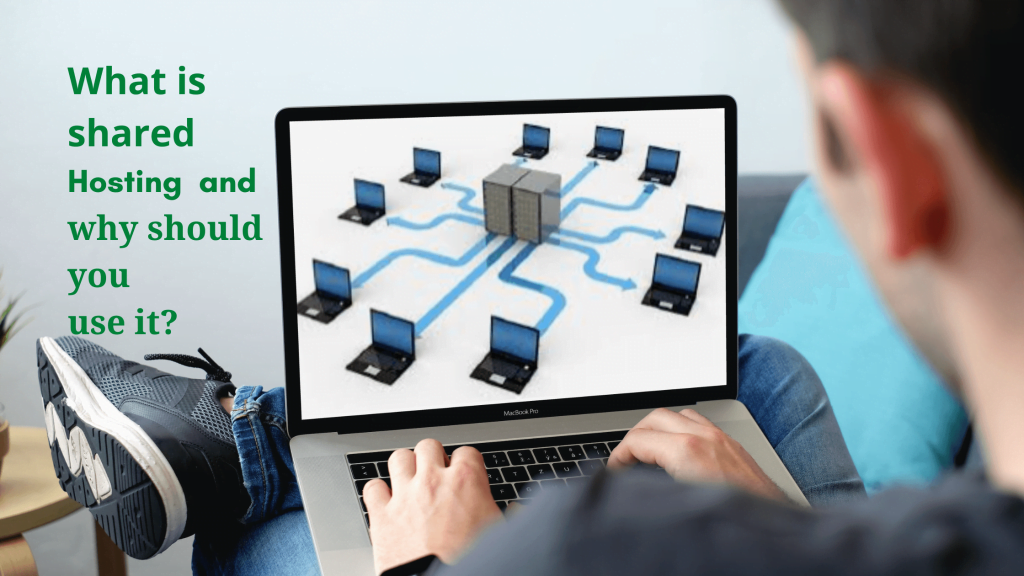 Shared Hosting is a type of web hosting plan for WordPress users where different websites share the resources of a large web server.  If you are registering a domain or buying a host to start a small website, shared hosting is a good option to start with.
There are many web hosting companies that sell their least shared hosting plan at the price of $3.95 or less per month to the maximum of $9.95 per month.
Shared web hosting plans are by far the cheapest and most affordable than other web hosting plans such as VPS or a Dedicated server.
Due to their low cost, shared web hosting plans are considered ideal for small businesses, blogs, and portfolio websites. Most beginners don't need anything more than shared web hosting.
If you are starting up a business, it is good to keep your costs low. Shared hosting is good to start off your website with. Because the offers which the advanced web hosting has may not be useful to your current business. You may not have branches in different locations, sub-niches, staffs, etc.
For example, if your business operates in different territories, nations or communities like Coca Cola, you may have domain names for each of territories, e.g., territoynameyourcomapyname.com, subnichenameyourcompanyname.com, etc. as an addon domain. You may see our expert guide on how to add an addon domain via cPanel to web hosting.
However, by the time of writing this guide, depending on the company you buy a shared hosting from (particularly Namecheap), you can add at least three sub-domains. You may see our expert guide for more about Namecheap hosting and domain and how to buy it.
If it is because of custom email address you may want to buy a more expensive web hosting, most shared hosting registrars allows you to create up to thirty (30) custom email addresses which are enough for start up companies. From this custom email address offer they give you, you can create a custom email address for different sections of your company, example, [email protected], [email protected], [email protected], etc. You may see our guide on how to create a custom email address for your website via cPanel step-by-step.
Despite the fact that the price of shared hosting is too low which makes it seem unworthy to some new start off companies for their websites, some shared hosting registrars such as Namecheap, FastComet, BlueHost, etc. offer their customers to create up to thirty sub-domain without busying domain. Sub-domain is explained as subdomain.yourcompanyname.com, for example, blog.yourcompanyname.com. 
But note that for a sub-domain to work, you need to create it to via cPanel. You will also need to install WordPress on it. That is to say that your sub-domain can have different style from your primary domain. For more expert guide, you may see our expert guide on how to install WordPress on a sub-domain via cPanel. Or watch the video below for how to create a sub-domain and install WordPress on it step-by-step.
I hear some start off say that they want to buy web hosting that is higher than shared hosting because of support service from their hosting registrar. I like to address that it doesn't matter the plan of hosting plan you buy from company before they give you support. Once you have bought their service, it is their right to help you anytime you need.
If you know that you are a beginner, find a role model (website that guides beginners about website creation) like Fastknowers and buy your web hosting from a reputable company. You may subscribe to Fastknowers newsletter for regular important updates.
As a web designer, I recommend shared hosting  as an optimal choice to meet your needs while keeping costs in check. Should your website grow significantly in the future, we can explore more advanced hosting options.
Now, are you wondering why shared hosting is so cheap? Well by having multiple sites on the same server, web hosting companies can simply provide the service at a much more affordable rate.
After all, shared hosting offers a cost-effective, user-friendly, and scalable solution for website owners. If you're just starting, choose shared hosting. Most web hosting registrars offer shared hosting. You may see top best shared WordPress hosting companies in 2023 below.
For example, if you rent a house by yourself, you are responsible for paying all the rent. If you have roommates, then you split the rent amongst everyone which makes the amount owed by each person to be a lot lower.
Now, as you are looking for a company to buy shared hosting from, make sure you will get a cPanel because without cPanel, you will can't add feature such as custom email address, sub-domain, add-on domain, etc. You may see our expert step-by-step guide on how to get a cPanel in this article.
Read this also: what is the meaning of VPS hosting (step-by-step)?
Hope this article has helped you know what shared hosting is and why you should use it as a start off due to its lowest price.
If you know this guide has helped you today, then please subscribe to my YouTube channel and Fastknowers newsletter for more updates. You can also find me on Facebook.