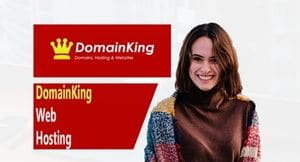 DomainKing is one of the most recommended hosting and domain name registration companies accredited by the Nigerian Internet Registration Agency (NIRA). They have been in the hosting business for many years.
This article will discuss with you Domainking hosting promo codes including their reviews, plans, and pricing, how to install WordPress from Chanel, and many more.
We will also talk about how to host your domain name on DomainKing.
Hope the topics that we are going to discuss have seemed to interest you. If yes, then let's start now.
How to host a domain name on DomainKing
To host your domain name on DomainKing, first of all, visit their website at www.domainking.ng and select any type of web hosting of your choice by clicking the "Hosting" tab.
It is very important to note that the type of plan you will select determines the type of your business. At DomainKing, there are different types of Webhosting.
Most importantly, any of their hosting plans provide you with different features.
The last price of their WordPress hosting is N2, 500 per month. This plan is good for beginners who want to start their website with no knowledge of WordPress.
Read these also:
1. List of country code top-level domain extensions this 2022.
2. Top best things to learn these days.
To buy DomainKing hosting plan, click "Order Now" at the bottom of every plan and description to add the package to your chart. Creating a profile on their website first before you start is good but not necessary.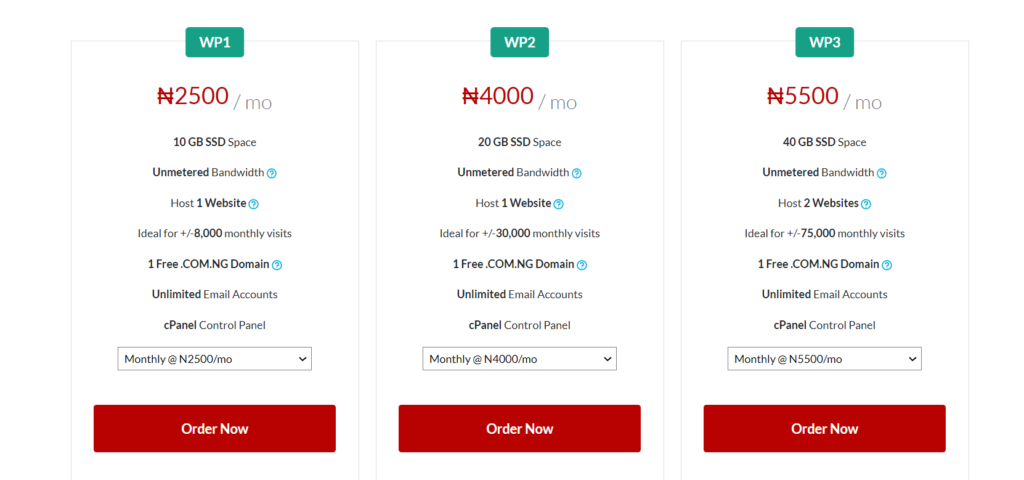 In the next page, you will be provided with a space where you have to enter the domain name and its extension (the last thing after a complete website URL, for example, .com, .ng, .org, etc. which you want to buy.
If you own a domain that is already hosted by another company, the chance is there for you to transfer it to DomainKing.
After entering the domain name of your choice, click the "Check" button to check whether the domain is available or not.

If it's available, then scroll down and click "Continue" to take you to the checkout page.
Don't worry if the domain name of your choice is not available as you will automatically be suggested with the related domain.
Before you click "Continue" click the "Add to Cart" button. Please note that if you forget to click "Add to Cart", the "Continue" button will not be clickable.
Now, review your order and select "Billing Cycle" in order to select the number of years for which you want to order your hosting plan and click "Continue".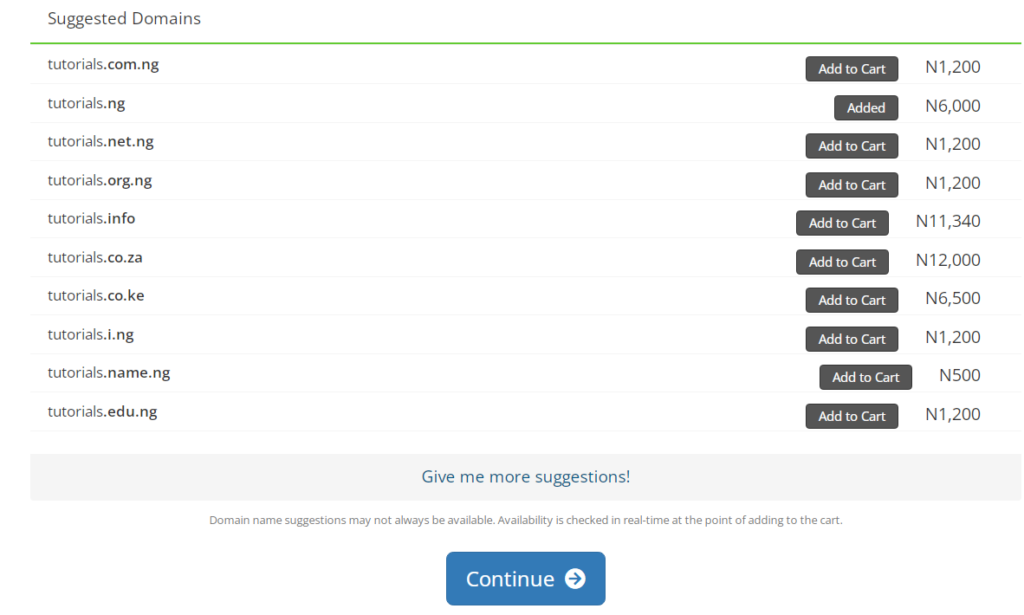 There are four (4) different periods involved on the checkout page; one month, three months, six months, and one year. The type of period you select will determine the number of payments you would pay. We advise you to select one year plan for a huge discount.
You will also see all features you will have after purchasing your hosting plan. If you are interested, then click "Checkout". This page is also meant for you to enter your promo code if you have any available one.
By clicking "Continue", you will be transferred to the next page where you will be asked to register a profile with DomainKing.NG.
The requirements needed to register a DomainKing profile include your name, address, phone number and email address.
If you have created a profile with them, you don't have to create another account.
Click "Already Registered?" to send you to the login page where you would enter your username and password.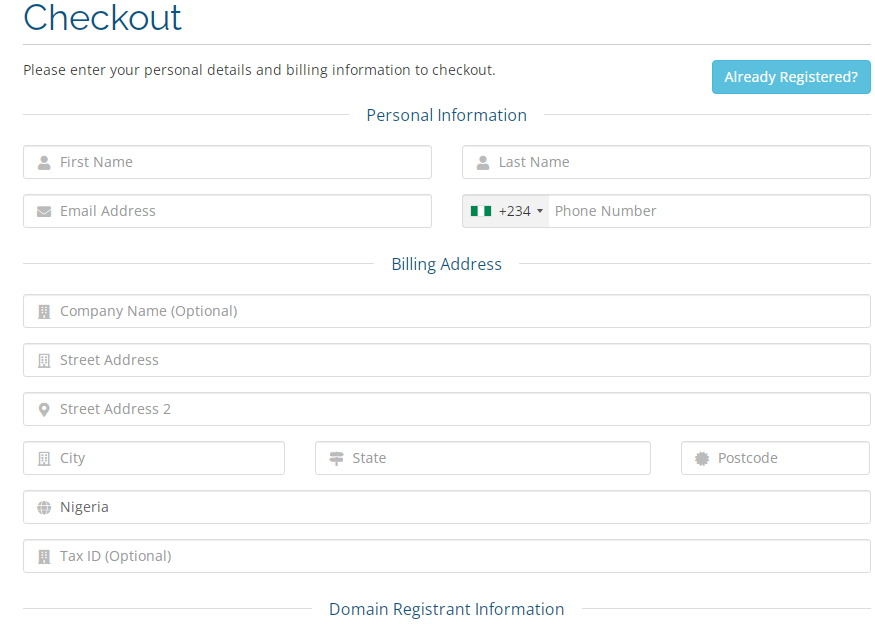 Another step now is payment. There are three or more payments methods involved. You can pay with Flutterwave, Paypal, bank transfer, etc.
After selecting your preferred payment method, check the box beside "I have read and agree to the Terms of Service".
Last but not the least, click "Complete". Now, log in to your email address to know your Hosting Account Information including your CPanel & FTP login details.
How to login to your Cpanel on DomainKing
The Cpanel is a type of account which every webmaster must have. Your domain name and hosting registrar can't control the layout, design, and function of your Cpanel. Your Cpanel enables you to control the way you want your website.
There are two methods to use to login into your Cpanel. The first method is through Cpanel website and the second method is through your DomainKing dashboard. Let's explain them one by one.
Note: the first method requires your username and password. Please login to your email address check for the message from DomianKing with the subject "New Hosting Account Information" to know your Cpanel and FTP login details.
If you can't find it, don't worry as the second method won't require a login.
Method 1:
To log in to your Cpanel account via the Cpanel website, visit www.yourdomain.com:2082 or www.yourdomain.com/cpanel. Now, enter your Cpanel username and password and click the "Login" tab.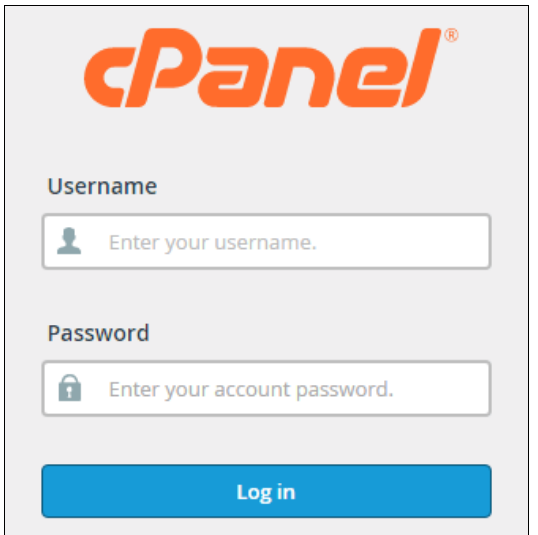 Method 2:
The method is used when you forget your cPanel login details. To log in now via your DomainKing dashboard (profile), log in to DomainKing, and click "Login to Cpanel/WHM". Now, wait for some seconds as you would shortly automatically logged in to your Cpanel account.
Advice: be careful about who you share your Cpanel login detail with. It is the brain of your website.
Your cpanel can be used to manage your emails, domains, databases and to upload the content of your website on the server.
Is DomainKing web hosting legit
Yes. DomainKing hosting Limited is legit to host or buy the domain name of any type of website you want to develop. They are reviewev by different trusted companies.