Namecheap is a United States-based hosting and domain registrar. I created this article to guide people who are searching for reviews, pricing, and plans of it.
So, after reading this expert review, you will know every detail about Namecheap domain and hosting.
If you are deciding to create a website or blog, Namecheap is one of the best companies to get you started.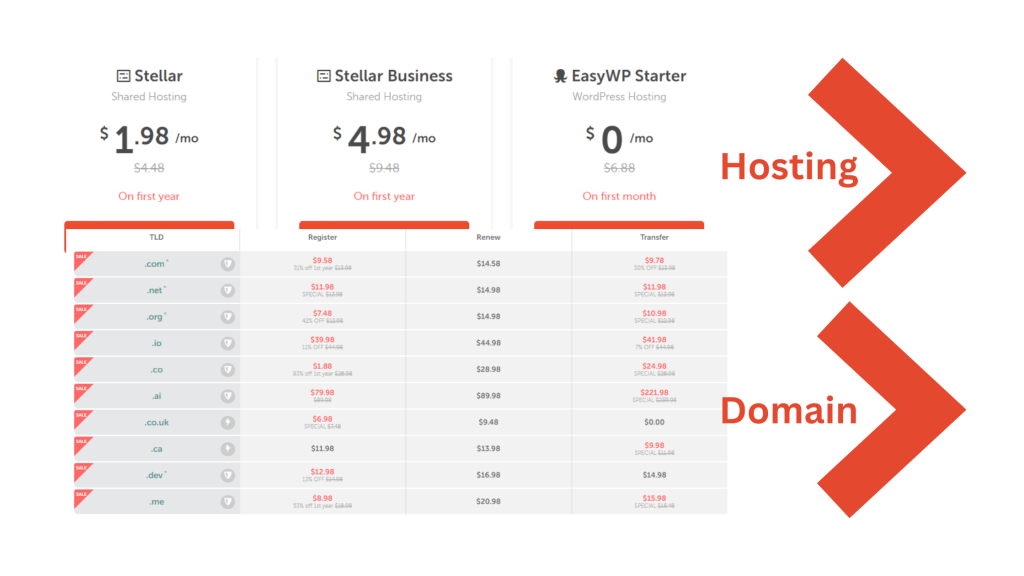 Even though you have hosted your website with another company, their shared hosting plan is extremely affordable which you can think to transfer your hosting to.
In their priority to make beginners' lives easier, they provide a professional user-friendly cPanel and support teams.
At the end of this article, you will also find the frequently asked questions you may have about Namecheap hosting. 
We recommend Namecheap services to you because we directly or indirectly use their services. From domain purchase, SSL certificate to secure a website, and website hosting to custom email addresses, Namecheap is the best.
Now, let's get started with a deep review of Namecheap.
If you would like to purchase a Namecheap hosting package, this guide is just for you.
Please follow these simple steps to purchase a hosting plan.
Step 2. Click on the Hosting tab.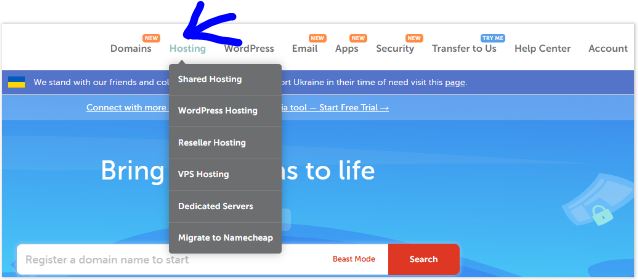 Step 3. Choose the service/package you want, the billing cycle (monthly or yearly), and datacenter location (US, UK, or EU) and click the Get Started button: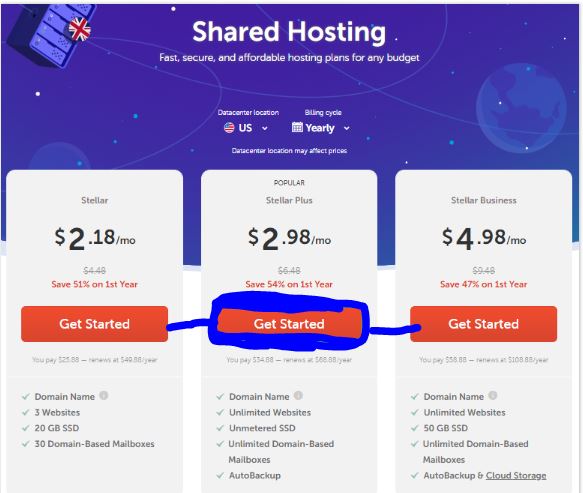 Step 4. Search the domain: Once the plan is selected, you will be redirected to the Domain Name Connection page:
Now, you have the ability to connect an already existing domain (Namecheap or third-party) or register a new one.
The New Domain Name option provides a possibility to search for a new domain on that step or connect a domain that might be already present in one's Shopping cart.
NOTE: The Already in Cart option will be greyed out and not clickable if there is no domain in the Cart.
If you choose the New Purchase option, the domain selection will be within one page.

Type the domain into the Search field and then select one of the offered domains or click View All TLDs to select one of them.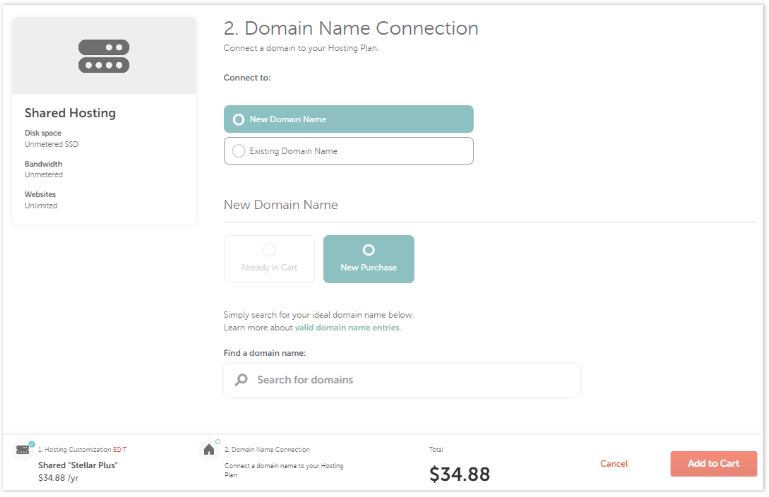 Step 5. Click Connect To Hosting to proceed: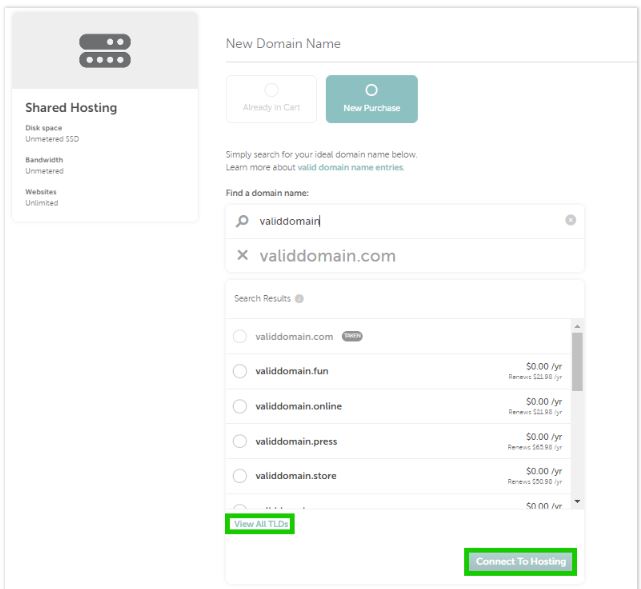 In case you decide to change the hosting billing cycle to a monthly one, the price for the domain will be changed. In this case, you will get the corresponding warning: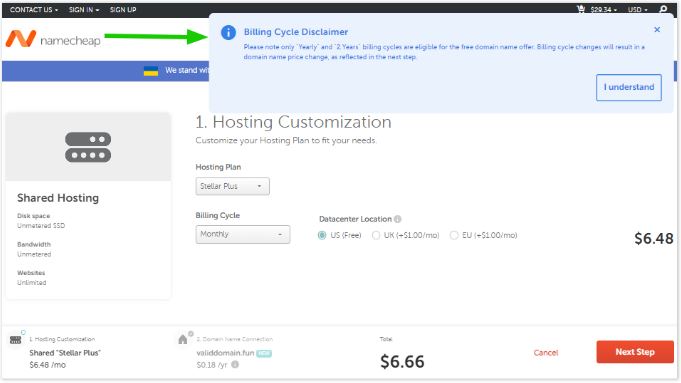 If you have added one or more domains to the Shopping Cart and want to have one of them as the main domain for their hosting, you can use the Already in Cart option.
If there are two or more domains, you will be able to choose which of the domains should be the main domain for the hosting package:
Step 6. Adding to cart. After the domain and a hosting package are added, you can proceed with the purchase clicking on the Add to Cart button: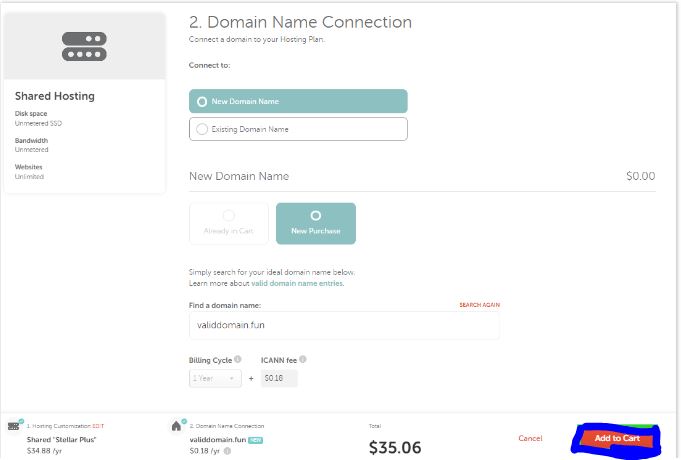 Step 7. Confirm order: On the next step, you can review your order details and apply a coupon if you have one. Click on Confirm Order to proceed to the checkout: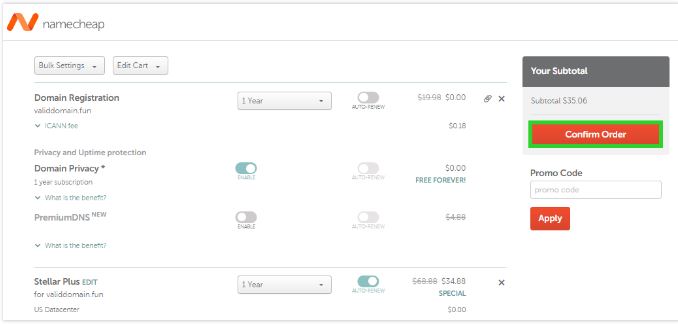 Step 8. Select payment method: Once done, choose the payment method for your hosting package. You can choose one of three payment methods – Credit Card, Paypal or Account Funds: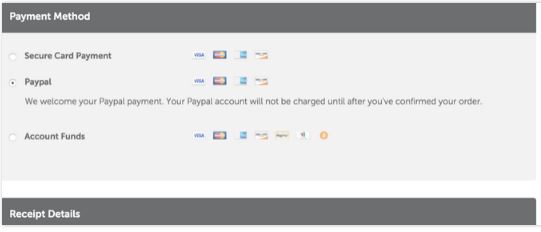 Step 9. Accept terms and conditions: On the next page, you will see the final order listing and will need to agree to the Namecheap Terms and Agreements. When ready, click on Pay Now:

If it is the Shared hosting plan you chose, then your account (website) will be activated instantly, however, in some cases, it might take 30 – 60 minutes.

To know if your account is activated, Namecheap's system will automatically send Hosting Welcome Email containing all your account's login details, settings, and instructions.
Frequently asked questions
Below are the frequent questions and answers about Namecheap domain and hosting
Hope this article has helped you know everything about Namecheap domain and hosting and how you can buy it. Please subscribe to my YouTube channel for more updates. You can also find me on Facebook.