Are you a beginner looking for where you can learn digital marketing? In this guide, we shall show you where to learn digital marketing for free.
Digital marketing is a skill that the majority of people are learning. Because it's a business that helps in the 21st century. Most businesses that happen to run without an online presence in the olden days have started using the internet to sell their products and service.
The fact about digital marketing is if you don't do it, you may get out of business by gradually losing sales and customers. If you want to start learning digital marketing, this article is meant for you.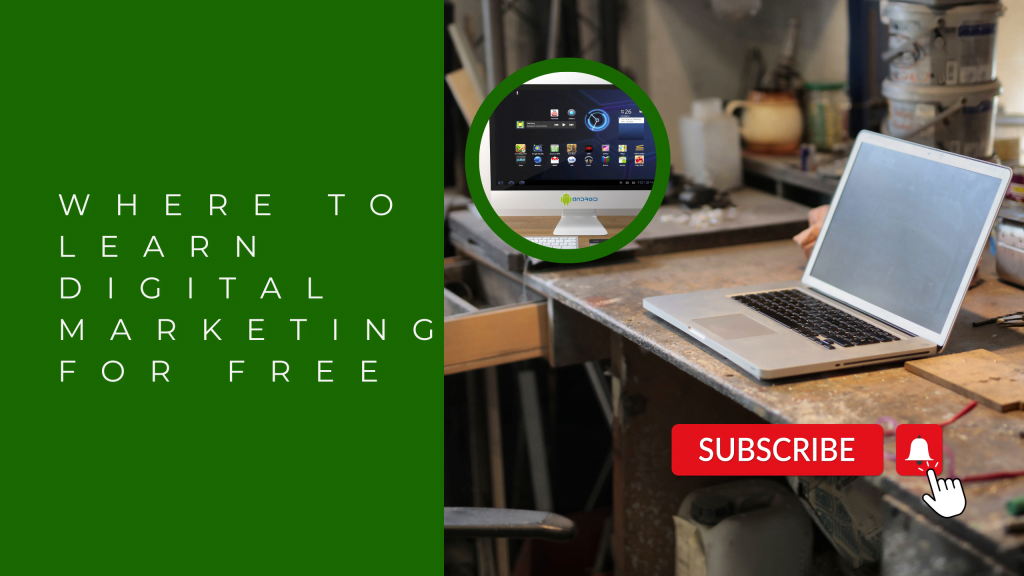 Where to learn digital marketing
We shall not only show you where you can learn digital marketing but also how to learn, what you need to learn, why you should learn, who can teach you, etc. And most importantly, all of the guides in this article are free.
Now, let's start.
If you are a beginner, the best place to learn digital marketing is online using your computer or phone by taking online courses. And as you're learning, you would be practicing as practice brings perfect.
The rate of seeing results from the effort you put in toward your digital marketing isn't quick. Although, it's simple but not easy. Most importantly, if you rightly do it, it would pay off in a fold.
We created this article to show you in kind of appreciation the tools, how, and where we learned digital marketing when we started out. Perhaps, we're still learning from those places and using their tools and services to date.
If you are searching for how you can learn digital marketing, and how you can scale up your digital marketing business to earn more revenue by increasing the number of your leads all for free step-by-step, then this blog post is for you.
How to learn digital marketing for free
We were like you before, and that is why we are revealing all the free tools and resources you need to learn digital marketing step-by-step.
To learn digital marketing or start-up digital marketing business, here are the free tools you need and their description.
Tools to learn digital marketing
1. Keyword research tool
Keywords are what people enter into their web browsers to find what they feel, solve their problems, buy the products and services they want, etc. In any type of marketing, you're involved, you must have what people type to find your products or service.
For example, if you're managing a Hotel in Lagos, then the keywords that your customers are likely to search for to find you are "best hotel in Lagos with low price", "best hotel in Lagos with the professional customer care", "hotels in Lagos that has better car pack", etc.
Why you need keyword research tools as a digital marketer is to get help on how you can find out the keyword that people are typing in their web browsers to find out their needs.
You can do it manually by scaling your business goal, but you can achieve the result very faster and more efficiently. Hence, there are many tools online that you can use to help you with keyword research about your marketing, products, and services. We started using them when we were new to digital marketing and we're still using them now.
We are not the only ones that use them. Hence, you may find other ones in some places but as far as this article is concerned, our own view is different. You may also see our guide on how to do keyword research for your blog post.
Now, here are the best tools for keyword research for a beginner digital marketer.
AnswerThePublic
H-supertools
SEMrush
Ahrefs Keyword Explorer
Moz
1. AnswerThePublic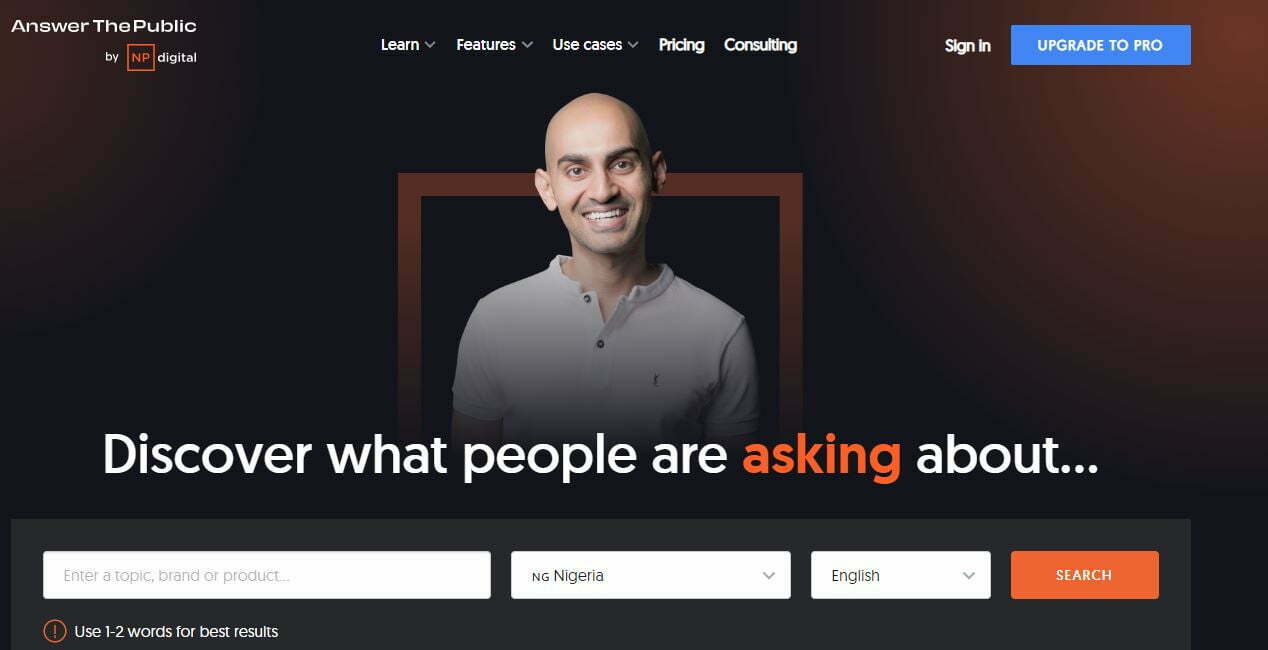 AnswerThePublic is a great tool for keyword research. The best part of it is it helps you find the keywords that people are typing on their web browser within the last 24 hours. You can select the country you want to find what people there are searching for it and also the language.
This tool owned and managed by Neil Patel digital LLC. It's a lot of features that make it easy to use. If you want to know more about it, you can read our full review here or visit AnswerThePublic.com to start using it now.
2. H-supertools
Are you a product manufacturer and service provider looking for how do keyword research for your website and blog so that you can rank for the keywords people search for that concerns about your product on their web browser?
Instead of guessing the keyword which people are searching for on web browser, you should use free keyword research tool like H-supertoolsIf yes, then look no further than the free Keyword Research Tool by H-Supertools.
H-supertools is completely free, easy-to-use, and highly accurate. The keyword finder of H-supertools uses Google Autosuggestions to generate a list of related keywords for you. If you follow create a content for the keyword which you have researched, you will make traffic (people) come to your website or blog.
Being the alternative to Google Keyword Planner, Ahrefs Keyword Explorer, SEMrush, because the data directly comes from Google. Read more on H-supertools keyword research tool by visiting www.h-supertools.com.
Don't worry about the payment because it's not compulsory to create an account before you can use it to generate keyword idea. Is it not amazing and a tons of time saver?
If you want to perform keyword research on H-super tools, simply go to Keyword Research Tool and use it! The only thing that differentiates H-super tools from other keyword research tools is the display ads that are running on it for now. You may see our expert guide on how to make money with Adsense on a WordPress blog.
3. SEMrush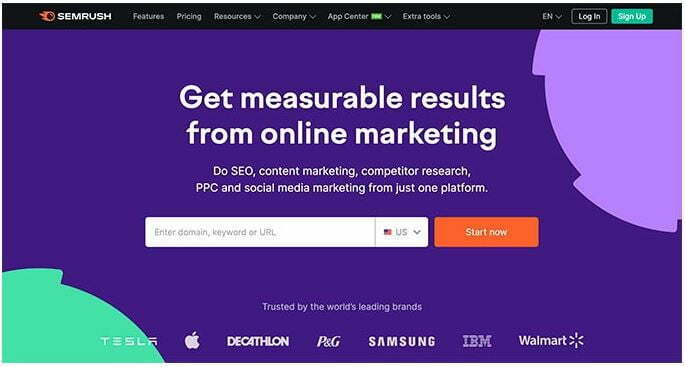 Another great keyword research tool that allows you to find keywords for your blog or website products and services by their search volume, CPC, traffic volume and etc. is SEMrush. You can also see how many people are linking to your blog/website as well as find out where they come from using your Google Analytics account.
To use SEMrush, you need to enter your target keywords into their search bar and get instant results. They have both free and paid account for their customers. If your website/blog ranking is your priority, you should consider creating a paid account with them. However, you can still be able to upgrade when your business starts growing.
You can visit their website at www.semrush.com. You may also see our guide how on How to do keyword research for your blog post using all of the tools listed above.
4. Ahrefs Keyword Explorer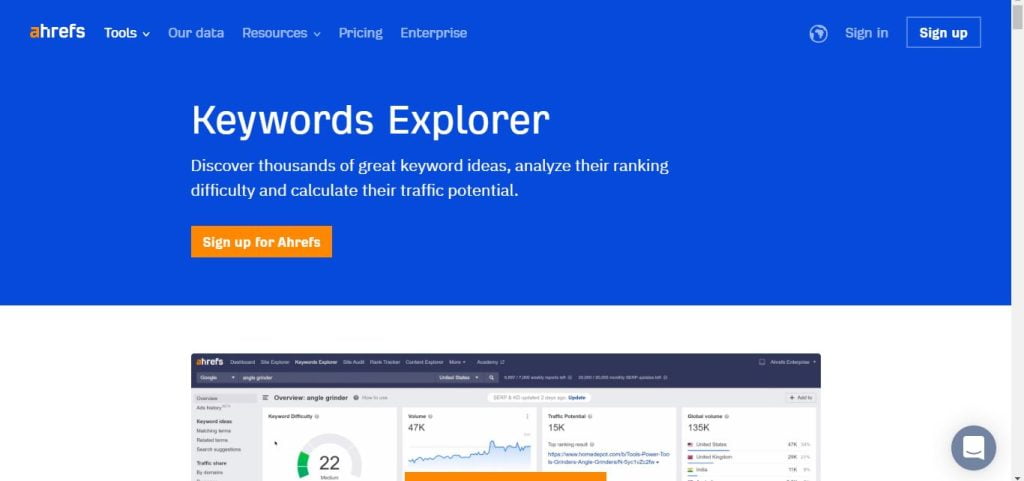 EAhrefs Keyword Explorer is not only a tool that helps you do keyword research but also analyze your website's backlink profile, link profile, keyword density and much more.
This tool is good if you want to know whether there are any errors on your site. The best part about Ahrefs Keyword Explorer is it easy to create an account for free. They have some features in their free plan which are pro features of some keyword research tools explained below.
You can visit the Ahrefs Keyword Explorer page on their website at https://ahrefs.com/keywords-explorer. to know more.
5. Moz Keyword Researcher

Moz Keyword Researcher can help you perform keyword research and also analyze data about your competitors' ranking on search results pages (SERPs).
You can enjoy one month for free trial to carry out keyword research and content idea when you create an account on MOZ. To use this feature, you need to visit the MOZ keyword research tool page on their website at www.moz.com/products/pro/keyword-research.
Hope this article has helped you know where you can learn digital marketing for free. There are many tools out there that you can use to get started. You may see our expert guide on the top 21 SEO checklists for WordPress website managers.
If you know that this article has helped you know the tools that you can use to learn keyword research for digital marketing, please share it with your friends, subscribe to our newsletter and our YouTube channel for more updates. You can also find me on Facebook.