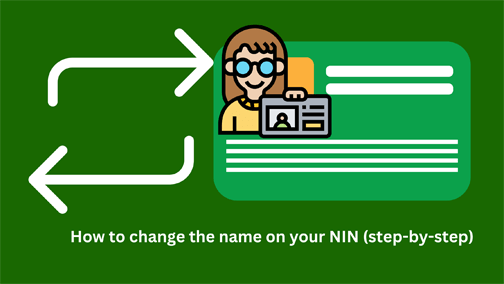 One of the bad bad experiences that one can have is a mistake in having the wrong name(s) on your national ID card. Though NIMC has found a way you can correct your name by yourself using a phone or computer. Read more on their website.
Did you unknowingly wrongly enter your name when enrolling for your Nation ID card or NIN? Or have you just changed your mind to change the name on your NIN? Anyway, in this article, we have the solutions of how to re-correct or change the name(s) on your NIN card. Now, we're going to explain to you step by step.
As a national ID card cannot be enrolled more than one time in a person's life, some people who made mistake(s) when applying are now wondering so much about how they can correct them.
Some people are asking; how can I change my middle name? My surname was spelled wrongly, how can I correct it? Or some may ask; my date is wrongly written on my National ID card, please what are the ways to correct it?
Note: this article will only discuss how you can change the name on your National ID card. For more information on how to change your date of birth, read this guide from the NIN portal/website.
How you can change the name on your NIN
As a matter of fact, every detail about yourself that you entered while applying for a national ID card is changeable. Perhaps, some of those who collect big money in order to help people change the data on their national ID cards are likely demanding people's money.
In fact, there are some changeable details on your NIN that are free of charge while others require a little processing fee.
How to edit/change the details of your NIN online
Yes. You can edit any detail of your NIN on the NIMC database but you have to pay some fees. However, as for your information, the following details are changeable (can be edited) on your national ID card with a small amount of processing fee.
Names
Date of Birth
Addresses
Phone Number
Place of Birth – State
LGA you were born
Place of Birth – Country (if different from Nigeria)
Your state of origin
Place of Origin – Town, Village
Place of Origin – LGA
Father's NIN
Your father's Town, Village of Origin
Father's State of Origin
Father's LGA of Origin
Mother's NIN
Mother's Town, Village of Origin
Your mother's State of Origin
Mother's LGA of Origin
Any of the details listed above can be modified or changed on your national ID card with the processing fee of five hundred Naira, N500 except the change of date of birth with a processing fee of fifteen thousand Naira, N15, 000.
Read this also: top best digital marketing training institutes in Lagos (2022).
Steps to change the name(s) on your national ID card
To successfully change the name on your national ID card, you must pay a processing fee of N500 (five hundred Naira) to the National Identity Management Commission, NIMC by going to any commercial bank in Nigeria or with your phone.
Don't worry, we'll show you how to pay NIMC for changing the name on your national ID card with your phone or laptop shortly. Please keep reading!
Thus, make sure you have got the following for proof of changing the name on your NIN:
Sworn Affidavit
Newspaper Extract
Marriage Certificate (in cases of marriage).
Read other requirements/required documents
Then below are the procedures of how to change the name(s) on a national ID card:
National Identification Number name modification
Walk into the enrolment Centre with a supporting document (including an application letter).
You will be issued a data modification form to fill out.
Applicant data modification forms will be vetted by a NIMC Official to crosscheck the information filled on the form against the supporting documentation provided.
Note: Applicants who cannot read nor write should come along with a person who can do the form filling for them.
Your pre-filled information will be inputted on the NIMC Software by a NIMC enrolment officer.
The enrolment officer will ask you to double-check his/her information using the applicant monitor to check for errors.
If you're satisfied with your demographic information, then your biometrics will be captured subsequently.
After completing the enrolment, a Transaction ID Slip will be issued to you as evidence of the transaction.
The former NIN Slip will be retained by the enrolment officer if the modified data will affect details on the NIN slip.
The applicant will be requested to come back for the NIN within 2-5 working days or more, as it is subjected to the speed of the network.
A new National Identification Number Slip having the same NIN will be issued to you after processing.
Procedures for changing the name and other details on NIN
How much does it cost to change your name, date of birth, and other details on your National ID card or NIN? The cost is five hundred Naira and here is how to pay for it. To pay to NIMC for changing the name(s) and other details on the national ID card, use the procedures below.
Not that NIMC only receives payment via Remita and below are the guidelines of how to pay with a mobile phone or laptop.
Step 1:
A. Visit the Remita website to initiate the payment.
Step 2:
B. Click on the option 'Pay Bills'.
Step 3:
C. Who do You want to Pay?
D. Then type in 'National Identity Management Commission.
E. Name of Service/Purpose, then choose 'Modification of Name'
F. Amount to Pay, don't worry about that. However, the amount to pay will be generated by the system automatically.
G. Type your full name in the payer's name column
H. Enter your telephone number as the payer's phone
I. Tick the 'I am not a robot reCAPTCHA checkbox and click on the stated selection of images before clicking on the 'Verify' button.
Step 4:
J. Click on the 'Submit' tab to ͞proceed to payment.
K. A new page which is the invoice will come up and display your RRR (Remita Retrieval Reference) code at the top of the page.
L. Print the invoice and take note of your RRR because it's unique.
Step 5:
M. Choose any payment method convenient for you as listed below:
Card (to pay with your smartphone or laptop with a debit card)
Bank Branch (Go into any bank with your RRR code and pay)
USSD
Internet Banking (to use your bank's internet banking)
Wallet
Conclusion
If you liked this article, please like our Facebook page or subscribe to our newsletter for more updates about important articles related to this from us.
Also, comment with any error or difficulty thing you expect while changing the name on your national ID card.
Finally, share this article with your friends to help us develop.