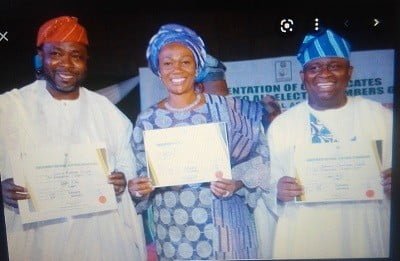 Every state in Nigeria provide 3 people to represent them at the national level, house of assembly which is also known as senatorial district. In today's article, I will show with you all 3 senatorial districts in Lagos state and their current Senators.
The 3 senatorial districts in Lagos state are:
Lagos Central
Lagos East and
Lagos West
Read also Name of top 9 best female politicians who are a Senators in Nigeria 2022.
Senators of all 3 senatorial district zones in Lagos state in 2021
Now, the name, history and more information about the current Senators of all senatorial districts in Lagos state in 2021 are discussed below step by step:
LAGOS CENTRAL
Oluremi Tinubu is the former first lady of Lagos State and currently a Senator representing Lagos Central Senatorial District at the Nigerian National Assembly.
Senator Tinubu gained a B.S. in Education from the University of Ife, and a National Certificate of Education in Botany and Zoology from the Adeyemi College of Education.
She started her educational career at Our lady of apostles secondary school, Ijebu-Ode where she obtained her WASSCE in 1979 and obtained PGD from The Redeemed Christian bible college in 2010.
She is now a member of the All Progressives Congress (APC) political party.
Senator Oluremi Tinubu was the first lady of Lagos State when her husband, Bola Tinubu, was elected as governor. As first lady, she established the New Era Foundation, dedicated to establishing centres for "all round development of young ones and promote public awareness on environmental health and community service.
LAGOS EAST
Mukhail Adetokunbo Abiru, popularly called as Tokunbo Abiru, is a Nigerian Banker and Politician. He is the currnent Senator representing Lagos East Senatorial district at the 9th Nigerian National Assembly.
On August 24, 2020, Tokunbo Abiru resigned from Polaris Bank and contest Lagos East senatorial election under the political party of All Progressives Congress, APC.
After the successful election, he was elected as the Senator of Lagos East Senatorial district in a bye-election on December 5, 2020.
Senator Tokunbo Abiru is an indigene of Ikorodu Lagos state and is a quiet but acknowledged philanthropist who has contributed consistently and immensely to poverty alleviation, empowerment and community development in different parts of Lagos State.
Remember to read list of all current Nigerian Senators in 2021.
LAGOS WEST
Senator Solomon Olamilekan Adeola is a Nigerian politician who is currently serving as the Senator of Lagos West senatorial district.
From 2011 to 2015, he was the Chairman of House of Representatives Committee on Public Accounts. He is also a chartered accountant and a member of the Association of Accounting Technicians (AAT).
The active Senator of Lagos west senatorial district, Senator Adeola grew up in Alimosho where he began his education at state Primary School in Alimosho, Lagos. He proceeded to Community Grammar School, Akowonjo, Lagos for his secondary education. Then he went to Ondo State Polytechnic where he gained his Higher National Diploma (HND) certificate in Accounting.
Senator Adeola was elected to the Federal Legislature to represent Alimosho Federal Constituency at the Nigerian House of Representatives in 2011.
Following his decision to join politics, Adeola was nominated and won the primary of the then ruling Action Congress of Nigeria and was elected as a member to represent Alimosho State Constituency 2 at the Lagos State House of Assembly from 2003 to 2007, and again from 2007 to 2011.
Conclusion
If you know that this article has helped you know the name of the Senators of all 3 senatorial districts in Lagos state, please share it with your friends and remember to subscribe to our newsletter for more important updates from us.
Read this also: list of all commercial banks in Nigeria and their current CEO.