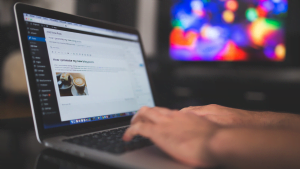 When it's come to making a blog Google friendly, it's different writing a blog post. If you make your blog Google friendly, you would assume your blog posts ranking high on Google.
One of the most important goals for every blogger is that their blog posts are visible and their websites become most visited. I'm here to help you achieve that feat in these 8 tips of mine which will make your blog google friendly.
8 tips to make a Google-friendly blog
1. Keyword Research:  The first step in writing a blog friendly article for google is to thoroughly search for keywords. You have to search for the appropriate words that the audience  wants, or are researching on in order to be more visible and to spike their interest to read your blog.
The keywords  have to be added to your headings, page titles, meta description and URL's to make it more visible.
2. Think before you write: After researching on the keyword to write you have to Find the truth and write about the truth. Because an idea popped into your head is not enough reason for you to write, think deeply about what you want to write and carry out proper research on the topic before you begin to write.
Don't just write with proper structuring of your blog. Make sure it is arranged from the introduction to body and conclusion. Make use of symbols correctly and don't forget that paragraphs are important in your work.
3. Optimize the length of your article: Your article should not be unnecessarily long, remember when people get quality from your content they can share the link to others which will increase the visits to the site.
The minimum word for article is 300 words, make sure every of your words counts and you are giving out good quality. It`s always better to keep it short so as to guess right and kiss the right methodology.  
ALSO READ: GOOGLE ADS CAMPAIGN AND HOW TO CREATE IT
4. Proper use of Images: Pay serious attention to the type of images that you will be using in your blog posts. Make sure every image correlates with what you are writing and it brings life to your content.
Good graphic design attractive audiences to click on your blog, another way of making your blog google friendly is by alt or focused keyword to the uploaded image.
5. Using of Internal Links: It`s advised to add an internal link to each blogs. i.e,  If you have written contents that are similar to the one you are posting, simply put the link in the blog post you are writing so that your audience can click on it to get more value and to increase the visibility of other blog post that you've made.
6. Let others proofread your blog post: Give your contents out to others after writing it for them to read through so that they can give their contributions and comments.
It's an added advantage if you have a professional in the field you are working on to give it to them to read through so you can get quality inputs from them and make sure you note every of their comments and contribution to work on them.
7. Regularly Contents Update: You have to keep your blog alive!.  Don't post a blog today and the next time you are posting is in 2 weeks.
For your blog to be Google friendly you have to let quality contents keep flowing in your website. You have to be consistent but that does not mean you should just write. Remember the second point "THINK BEFORE YOU WRITE" and keep your writing simple.
8. Make your website mobile friendly: for your blog to be Google friendly, you have to do everything you can to ensure your website loads speed is faster both on laptops and mobile device.
It will help you to have more audience because with just a click your audience is able to access your writings and it does not take longer time, the maximum loading speed should not be more 5 seconds.
In Conclusion
If you strictly follow these 8 amazing tips of mine stated above you will see mind blowing results on your blog post being Google friendly.