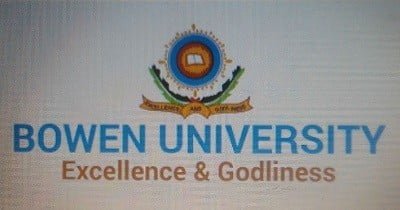 Bowen university is one of the oldest private institutions of higher education in Nigeria, established in 2001 by the Nigerian Baptist Convention (NBC). This page will show with you the list and requirements of all courses offered in Bowen university.
The list of all 42 approved courses offered in Bowen University are listed below step by step.
Microbiology
Pure and Applied Biology
Biochemistry
Industrial Chemistry
Mathematics
Statistics
Physics
Bachelor of Agriculture (B.Agric.)
Food Science and Technology
Electrical/Electronics Engineering
Mechatronics Engineering
Extension and Social Engineering (SAFE).
Accounting
Banking and Finance
Business Administration
Industrial Relations and Personnel Management
Economics
Sociology
Political Science
International Relations
Music
Theatre Arts
English language
History and International Studies
Religious Studies
Law
Anatomy
Physiology
Science/Medicine and Bachelor of Surgery
Nursing Science
Physiotherapy
Public Health
Medical Laboratory Science
Nutrition and Dietetics
Computer Science
Mass Communication
Communication Arts
Cyber Security
Software Engineering
Information Technology
Architecture
Surveying and Geo-informatics
Conclusion
If you know that this article has helped you know the list of all courses offered in Bowen university and their requirements, please share it with your friends and subscribe to our newsletter for more important information.
READ this also: list of all courses offered in UNILORIN in 2021 for all faculties.