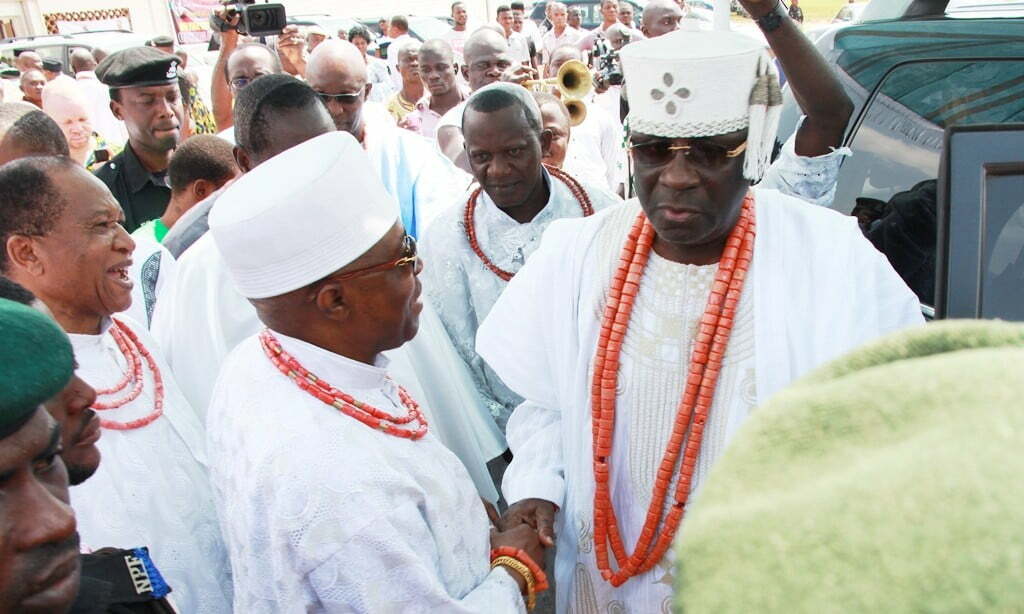 In Lagos state and other Yoruba land at large, their traditional ruler is known as Oba. I hope you are interested to know the list of all Oba of Lagos state from past years till this date? If yes, then continue reading as that is what I am going to discuss through out in this page!!
The Yoruba land traditional ruler, Oba is a lifetime kingship which if a person is positioned will never be replaced until his death.
List of all past and present Oba of Lagos state
From past, past years (decades), Lagos state has 22 different people who ruled as an Oba.
---
Read these also:

1. Top biggest manufacturing companies in Lagos (2022).
2. List of all accredited MTN offices in Lagos state.
3. Driving schools in Lagos (listed, compared & their fees) in 2022.
4. 3 senatorial districts in Lagos state and their current Senators.
---
The list of name of all past Oba of Lagos and the year of their kingship is listed below:
Ashipa | 1682-1716
Ado | 1716–1755
Gabaro

 | 1755–1760

Akinsemoyin | 1760-1775
Eletu Kekere | 1775 – 1780
Ologun Kutere | 1780-1801/1803
Adele Ajosun | 1811-1821
Oṣinlokun Ajan | 1821–1829
Idewu Ojulari | 1829–1832/1835 
Adele Ajosun | 1835-1837
Oluwole  | 1837-1841
Akitoye (1841-1845
Kosoko | 1845–1851
Akitoye | 1851-1853
Dosunmu | 1853–1885
Oyekan I | 1885–1900
Eshugbayi Eleko | 1901-1925
Ibikunle Akitoye | 1925–1928
Sanusi Olusi | 1928–1931
Eshugbayi Eleko | 1931-1932
Falolu Dosunmu | 1932–1949
Adeniji Adele | 1949–1964
Adeyinka Oyekan II | 1965–2003
Rilwan Akiolu | 2003– present.
Current Oba of Lagos
RILWAN AKIOLU (2003 TILL DATE).
The current or present Oba of Lagos is Chief RILWAN AKIOLU ordained as a traditional ruler sine 2003 TILL DATE). He was born in 1943, he is an alumnus of Ansar-Ud-Deen College and a graduate of Law from the University of Lagos.
At the time when Chief Oba RILWAN AKIOLU is not ordained as a traditional ruler, he was an officer of the Nigeria Police Force for 32 years, becoming an Assistant Inspector-General of Police in 1999.
He has remained committed to clarifying issues concerning the original occupants of Lagos, the place of Isale Eko and the monarchy in the history of Lagos, and answering questions about the language and customs of its people.
Past Lagos traditional rulers and their biography
The list and biography of every past Oba of Lagos is as discussed below one by one.
Adeyinka Oyekan II (1965-2003)
The grandson of Oba Oyekan I, he was the first king to be crowned post-independence and he enjoyed a long reign. An alumnus of Methodist Boys' High School, King's College, and Yaba College of Higher Education, he was a pharmacist, Christian, and former Sunday School Teacher.
Adeniji Adele a.k.a Adele II (1949-64)
Born in 1893, he was the grandson of Oba Adele I and the great grandson of Ologun Kutere. He was an alumnus of Holy Trinity Primary School and CMS Grammar School. A former surveyor in the colonial service, he was the last Oba of Lagos before independence in 1960.
He was politically active in the fight for independence and was a member of Awolowo's 'Egbe Omo Oduduwa', supporting the Nigerian Youth Movement in opposition to Azikiwe's and Herbert Macaulay's NCNC/NNDP.
The descendants of the House of Dosunmu contested his ascension to the throne. However, the Privy Council of England upheld his right to the throne in 1957, and he remained on the throne until his death in 1964.
Falolu Dosunmu (1932-1949)
Of the house of Dosunmu, he was a fisherman whose election as king was a rushed affair contested by Sanusi Olusi, who sought reinstatement after the death of Oba Eleko. Between the government and the chiefs' majority votes, his kingship was affirmed.
Olusi then proceeded to undermine him by insisting on the use of the royal insignia, dress, and manner. Oba Falolu sought the intervention of Governor Cameron who ordered Sanusi Olusi to stop.
Oba Falolu resisted the idea of taking his directives from the commissioner, showing deference to British officers, or meeting the commissioner at his office.
He also instituted the practice of documenting native laws, customs, and meetings concerning the kingship of Lagos. He worked to strengthen the influence of the throne until his death in 1949.
Sanusi Olusi (1928-1932)
The great grandson of Ologun Kutere, he was a trader and the first Muslim Oba of Lagos. He had contested the throne of Lagos three years prior but lost to his predecessor.
Ibikunle Akitoye (1925-1928)
The grandson of Oba Akitoye, he was elected king after the deposition and exile of Oba Eshugbayi Eleko. He was a western-educated Christian, an alumnus of CMS Grammar School, and President of the United Native Africa Church.
Owing to the reason behind the deposition of his predecessor, the people rejected him as king and agitated for the return of Eleko, attacking him in 1926.
By 1928, Eleko's advocates scored a major victory with the Privy Council of England advising that he apply for a writ of Habeas Corpus.
Knowing the implication of this development, Akitoye sought proof of this decision. Upon confirmation, he reportedly loaded his revolver and drank a lot when he returned home. He died the following day.
Esugbayi Eleko (1901-1925 and 1931-1932)
The son of Dosunmu and brother of his predecessor, Oyekan I, he was a symbol of the indigenous-colonial struggle between the British colonial government and traditional systems in Nigeria; the beginning of the eventual struggle for independence.
He protested the water tax levy imposed by the colonial government for the introduction of pipe-borne water, on the grounds that it was a necessity for only the Europeans and should therefore be funded by them.
He also clashed with the government over the administration of his traditional and political powers in appointing four Muslim leaders at the Central Mosque, without seeking government approval.
He then fought legal battles with the British government over his deposition and deportation from Lagos to Oyo owing to his tacit support for Herbert Macaulay's anti-colonial actions and utterances, a fiasco referred to as the 'Eleko Affair'.
This deportation put an end to his first reign leading to the installation of two other kings while he was in exile. When legal proceedings began to look favourable for Oba Eleko, and agitations for his return from exile became insistent, the then incoming Governor Cameron decided to settle with him out of court. With this victory, he returned to the palace in 1931 where he remained until his death in October 1932.
Oyekan 1 (1885 – 1900)
The son of Dosunmu, he ascended the throne a month after his father's death in 1885. It was in his time that the political and financial strength of the throne experienced even greater decline than was experienced by his father.
Despite being known for his gentle disposition, he still managed to acquire an enemy; Apena Ajasa. This haunted him for the rest of his reign, leading to a decline in his influence among some powerful chiefs including Apena.
His annual income from the British government also dropped to £200 from £1,000, before peaking at £400. He reigned for fifteen years, and died in 1900.
Dosunmu (1853-1885)
The son of Akitoye, he succeeded his father as Oba and was a first cousin to his father's predecessor the second time around.
He was also the first Oba in our list to accede to the throne after Lagos had officially become a British colony and, in a break from tradition, was appointed by the British Consul Campbell. In 1861, he was compelled to cede Lagos to the British government. From then, he received an annual income from the British government to the tune of £1,000 according to the treaty signed by his father, Akitoye, in return for giving up rights to custom duties and unrestricted trade.
Like his father, Akitoye, he contended with Kosoko for much of his reign. This inherited rivalry greatly contributed to a decline in his political and financial power. He died in 1885.
Kosoko (1845-1851)
The son of Osinlokun, he was the nephew of his predecessor. He was deposed by the British government and replaced with his uncle whom he had ousted earlier. This was due to his support of slave trade as opposed to his uncle who sought to end it.
After Akitoye won the final war over the throne with the help of the British government, Kosoko fled to Epe, where he continued to make trouble for Akitoye by having his men abduct people from their farms.
He eventually resorted to more subtle ways of undermining Lagos under the reign of the next king, Oba Dosunmu, through an agreement with the British representative, Consul Campbell. The Treaty of Epe, signed in 1854, gave him the means to flourish economically while Dosunmu began to experience a decline both politically and economically.
Enjoying a close friendship with Governor Glover, he continued to increase in wealth with fewer restrictions to trade than his rival. Kosoko lived a long, albeit turbulent life, and died in 1872.
In conclusion, Kosoko was one of the past Oba of Lagos in our list who ruled from 1845-1851.
---
Read these also:

1. How many local governments are in Lagos state (list & explain).

2. National Identification Number (NIN) registration centers in Lagos state in 2022.

3. Jamb cbt centers in Lagos state for 2022 (approved ones).

4. List of all Professors currently in OAU for all faculties.
---
Akitoye (1841-1845 and 1851-1853)
One of the sons of Ologunkutere, he had a unique place in the line of succession. He reigned twice and, thus, was an uncle to his predecessor and first successor, and father to his second successor.
He sought to end slave trade and was strongly opposed and eventually deposed by the people in Lagos who had stakes in the trade. His successful dethronement came about through the collusion of those slave traders with his first successor, Kosoko. Kosoko was his nephew and the rightful successor to the throne.
However, he had been in exile upon the death of the former king, Oluwole. Upon Akitoye's accession to the throne, he naively sought to bring Kosoko back to the kingdom against the advice of his loyal chiefs, among whom was Eletu Odibo, the chief kingmaker. This would prove to be a costly mistake.
Kosoko plagued him all through his reign, fighting him with the aid of his loyal men until he had to flee to Ijebu.
Kosoko ordered his men to bring back the head of Akitoye, but they couldn't bring themselves to murder their king, paying him homage instead. They reported to Kosoko that they had been cast into a trance by him and had thus allowed him free passage.
Akitoye sought the help of the British powers who, by this time, had been slowly making colonies of the neighbouring lands. With their backing and superior military strength, he ousted Kosoko in 1851 and reclaimed his throne. He then signed a treaty with the British government, putting an end to slave trade.
Oluwole (1834-1841)
The son of Adele, he was a first cousin to his predecessor. He also died without a son. His accession to the throne was the outcome of a feud between his first cousin who was the rightful heir, and the kingmaker called Eletu Odibo.
The kingmaker chose Oluwole as king instead of Kosoko by switching hands from left to right and vice versa, contrary to instructions, during the consultation of the oracle.
He died in 1841 and was succeeded by his uncle, Oba Akitoye.
Idewu Ojulari (1819)
The son of Osinlokun, Ojulari's reign was short—shy of two years—and his end was ignominious. Said to have been peace loving and not given to oppression, he had the fatal flaw of being stingy towards his chiefs in addition to not having a child.
The lack of children to succeed him became a tool in the hands of the elders even though their true grouse was with his frugality. Word reached him of the elders' talk of him being an unfit king because he had no children to succeed him. Recognizing the danger in such talk going about, he made overtures of generosity to the elders. But it was too late.
They would not be appeased and sent word to the Oba of Benin of their vote of no confidence in his kingship. The Oba then sent him a skull and a sword to choose how to end his life. The skull signified suicide, and the sword signified war. He could have ignored both options and gone on exile, but he took poison instead and died.
Osinlokun (1780)
One of the sons of Ologun Kutere, he was one of the brothers of his predecessor. Osinlokun was an Oba of Lagos in 1780 in our list. Note: he didn't rule for a long years, hence, he died in the same year he ordained.
Adele 1 (1775)
Adele's brother, Osinlokun, was the rightful heir to the throne of their father, but Adele was crowned king because he had been his father's favourite and enjoyed the favour of the elders.
The love of the elders waxed cold eventually as they came to resent changes in Adele's mode of government. They considered his children's introduction of the Egun fetish masquerade as beneath the dignity of the royal household.
Adele himself also grew to be insecure concerning Osinlokun's legitimate claim to the throne, and he waged war against his brother.
Osinlokun in turn, stirred up trouble for him by secretly instigating the people of Iwere to fight Adele and prevent him from successfully carrying the body of their father, Ologun Kutere, to Benin for burial.
Capitalizing on the rivalry between the brothers, the elders eventually ousted Adele and replaced him with Osinlokun. He waged war against his brother upon catching wind of the elders' plans, but was defeated and exiled in Badagry. He spent the rest of his days in Badagry, becoming their Paramount Chief and helping them win their battles.
Ologun Kutere (1749-1775)
He was the matrilineal nephew of his predecessor, Eletu Kekere. During his reign, trade grew, extending to the Ijebus who brought in their foodstuff and palm produce to exchange with the Portuguese slave traders for spirits and tobacco, among other commodities.
With part of his name, Ologun, meaning 'War Chief', he displayed great military strength, subduing rebellion from the people of Iddo Island when they refused to pay tributes. While he was regarded as a good and kind-hearted king in some quarters due to the relative peacefulness of his reign, he was regarded as tyrannical in others, and his power, absolute.
He consolidated on the influence of Lagos as expanded by his predecessor, Akinsemoyin, as well as the close relationship with Badagry. He once averted a war on Badagry declared by the King of Dahomey in present-day Benin Republic, by appeasing the latter with gifts through his emissaries.
In the list, Ologun Kutere fathered many children, including Akiolu, the ancestor of the present Oba of Lagos, all the subsequent Obas of Lagos have descended directly from Ologun Kutere's lineage.
Eletu Kekere (1749)
The son of Gabaro, he acceded to the throne after the death of his predecessor, Akinsemoyin. His reign was short and he died without issue.
Akinsemoyin (1704-1749)
One of the sons of Ado, he was the brother of his predecessor. He had sons but none of them would succeed him; instead, a nephew born of his sister succeeded him.
The Iga Idunganran was built in his time, and roofed with tiles received as gifts from the Portuguese slave traders.
During the reign of his predecessor and brother, they fell out over Gabaro's decision to elevate the sons of the Olofin to the status of chiefs and give them absolute power over their land.
In the course of the dispute, Akinsemoyin was banished to Apa (Modern day Badagry), where he grew acquainted with Portuguese and Brazilian slave traders. After Gabaro's death, he returned to Eko and ascended the throne in 1704. Because of his good relations with the Portuguese slave dealers in Badagry, he invited them to Eko.
This led to the establishment of slave trade in Eko. Trade began to flourish with the exchange of other goods such as palm oil and palm kernels for gunpowder, salt, and spirit, amongst others.
Lagos became a renowned trade centre attracting people from neighbouring lands and countries. The influence of Akinsemoyin extended to nearby Badagry as well, with both monarchs forming an attachment that extended to their descendants.
He died in 1749 and was buried in Benin.
Gabaro (1669-1704)
The son of Ado, the first king, he persuaded the Idejos, sons of Olofin, to allow him move his seat of power from Iddo Island to Isale Eko. He achieved his father's dream of settling in the meeting hall on Aromire's pepper farm, now known as 'Iga Idunganran'.
He also made his subjects pay annual tributes to the Oba of Benin.  It was during his reign that the Idejos emerged as White Cap Chiefs, giving them authority and power over all the land they had claimed. He made them a class of chiefs similar to the silk hat chiefs of the Benin kingdom.
His brother, Akinsemoyin, did not approve of his actions and protested loudly, thus gaining a reputation for tyranny and obstinacy.
Ado (1630-1669)
Ado was the first king of Lagos; he was the son of Asipa who was appointed to govern the land by the Oba of Benin. He had successors through all three of his children, male and female. Ido Island was so named because of him. It was formerly called 'the house of Olofin'.
It was during his reign that the Olofin's children decided to build a meeting hall on Aromire's pepper farm in Eko. He ruled from his base in Iddo Island and exacted tributes from Olofin's sons, for payment to the Oba of Benin.
He had planned to move his seat of power from Ido Island to Isale Eko, but passed on before he could realize this plan.
Conclusion
If you that this article has helped you know the list and biography of all Oba (traditional rulers) of Lagos state, then please share it with your friends and remember to subscribe to our newsletter for more important updates.
Read these also:
I hope we have helped you know the list of all Oba or traditional rulers of Lagos? Please let's know how you feel via the comment section!!