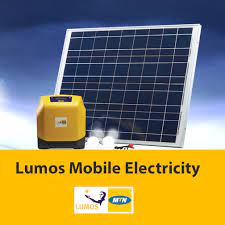 Do you want to own a solar panel? Here, we will discuss MTN lumos solar panel, how to get it and its current price in Nigeria. Lumos is a solar panel invented by MTN.
In Nigeria, power supply is not regular, hence, hospitals, industries, shops, etc. that require power for their work and project have now started using solar panel to provide them the electricity. No matter who you are and what you do or want to buy Sola panel for, MTN has got you covered with their lumos solar panel.
Sometimes, if NEPA bring light, it can be used to do anything while their bill keeps rising every month by month. They are good at failing person to do what you suppose to do in the right time.
MTN lumos solar panel is one of the best solar panel systems in Nigeria. It can power any type of and electronic device like television, AC, freezer, baker, etc. In fact, MTN lumos solar panel provide electricity in such a way that he restore and transformer produce.
Features and specifications of MTN lumos solar panel
The MTN lumos solar panel generate the minimum of 80W. Some notable features of MTN sola panel are:
The kit works as a hybrid solar inverter system. Though it can only be charged through solar panels, it is still able to store energy produced through the solar panel in an in-built battery for subsequent use to maximize self-consumption.
Average charge time is six (6) hours.
The warranty period is 5 years. During the warranty period Lumos/MTN will provide free maintenance for the panel and IDU only. (MTN/Lumos does not offer repair service on accessories including the inverter).
After five years (or 1800 paid days), Lumos and MTN concede ownership of the kit to the owners.
Unlike fuel generators, it does not produce any fumes and is noiseless.
It is designed to be incorporated into home spaces.
It comes in the iconic MTN yellow color.
With the help of a controller or a DC-DC converter, it produces power in a pure sine wave form that is safe for appliances.
MTN Mobile Electricity is great for businesses that require energy just for lighting, fans or charging their phones and laptops. It converts voltage from DC to AC.
Price for buying MTN lumos solar
6 thousand Naira to 30 thousand Naira.
To start using the MTN solar panel, you have to pay a 28,000 Naira. This figure includes 22,000 Naira setup fee and first month subscription of 6,000 Naira. Once you make the initial payment, you are given the full kit.
After that, you will then be required to pay for an MTN Mobile Electricity Subscription plan. You can choose the monthly plan which is 6,000 Naira per month or any of the other plans.
MTN Nigeria's in partnership with Lumos, founder of PayGo off-grid Solar Home Systems in order to deliver safe, reliable and affordable power/electricity to millions of households and businesses in Nigeria.
See this also: code to check MTN number in Nigeria (step by step guide).
The table below shows the subscription plan, price and code to subscribe for MTN lumos solar panel.
MTN lumos subscription plans and their price 2022
| Plan validity | Price | Subscription Code |
| --- | --- | --- |
| 1 Day | ₦300 (300 NGN per Day) | SMS 1 to 317 |
| 3 Day | ₦800 (266.7 NGN per Day) | SMS 3 to 317 |
| 5 Days | ₦1300 (260 NGN per Day) | SMS 5 to 317 |
| 7 Day | ₦1,800 (257.1 NGN per Day) | SMS 7 to 317 |
| 10 Days | ₦2300 (230 NGN per Day) | SMS 10 to 317 |
| 20 Days | ₦4300 (215 NGN per Day) | SMS 20 to 317 |
| 30 Days | ₦5400 (180 NGN per Day) | Text 30 to 317 |
| 60 Day | ₦10,000 (166.7 NGN per Day) | SMS 60 to 317 |
| 90 Days | ₦14,000 (155.6 NGN per Day) | SMS 90 to 317 |
| 180 Days | ₦26,000 (144.4 NGN per Day) | Text 180 to 317 |
| 365 Days | ₦51,000 (139.7 NGN per Day) | SMS 365 to 317 |
| 1800 Days | ₦240,000 (133.3 NGN per Day) | SMS 1800 to 317 |
If you are a householder or business center owner, then MTN Mobile Electricity is for you. This also makes it possible for the addition of a 60W DC to AC converter that enables you connect devices like a fan, small TV, or laptop in addition to normal DC devices like the LED bulb, radio, and mobile phone/tablet charging.
You can send an SMS to 317 or call Customer Service on 0800 444 0444 to learn more about the payment options that you can use to pay to MTN for subscribing for your own lumos solar panel.
Read this also: how to activate MTN roaming in Nigeria when travelling abroad.
MTN lumos capacity and appliances
The MTN Lumos kit has an output capacity of about 60W. It is thus able to power AC appliances whose output capacities total about 50W; it can carry DC appliances up to 100W. It can carry at least one ceiling fan, a decoder, a laptop, LED and LCD Televisions, radios, etc.
Unluckily, it cannot power tube televisions, desktop computers, washing machines, microwaves, deep freezers, electric cookers, water heaters, ceiling fans, blenders air conditioners and other high-capacity appliances.
However, a typical MTN lumos solar panel's kit consists of the following:
An 80W single solar panel unit with cables and connectors.
A 300Wh Lumos solar inverter.
Two bright LED bulbs.
Two USB ports (5V DC/2.1A).
Four DC output jacks (12V/2A).
Two car cigarette sockets (12V/8A).
A 60W inverter.
A DC-DC converter.
An in-built battery for self-consumption.
To buy MTN lumos solar panel, you have to go to the MTN selected shops and centres across Nigeria or you can just order it online. To subscribe for MTN lumos solar panel, simply send an SMS with the number of months for which you wish to recharge (i.e. 3 months) to number 317. Once your payment is confirmed, your system is activated and you will receive light instantly.
Lumos offices in Nigeria (2022)
| State | Office's name | Address |
| --- | --- | --- |
| FCT | Maraba Connect | Opposite Abacha Road Junction, Abuja |
| FCT | Gwagwalada Connect | Shopping Complex, Near Japaro Hotel, Along Lokoja – Kaduna Expressway Gwagwalada |
| FCT | Wuse Zone 5 Connect | Building Materia Market, Zone 5, Abuja |
| FCT | Maitama Service Center | Plot 2784, Shehu Shagari Way, Maitama |
| Ogun | Ogun Abeokuta Connect | 3 Lalubu Street, Oke-Ilewo, Abeokuta, Ogun State |
| Ogun | Ogun Shagamu Connect | 172, Aka Rigbo Street, Shagamu, Ogun State |
| Ogun | Ogun Sango Otta Connect | 58 Idiroko Road, Sango Otta, Ogun State |
| Oyo | Oyo Ibadan Service Center | MTN Office, Mobil Roundabout, Ring Road, Ibadan, Oyo State |
| Oyo | Oyo Idi- Ape Service Center | MTN Office, Opp Neco Office Idi Ape,Idiape ,Ibadan, Oyo State |
| Oyo | Oyo Connect | 35 Mode Street, Oyo Town, Oyo State |
| Ondo | Akure Connect | 47, Oba Adesida Road, Ricabim House, Akure, Ondo State |
| Ondo | Akure Demmy G DTP | 12, Ado Owo Road, Beside Fidelity Bank, Alagbaka, Akure, Ondo State |
| Ondo | Ondo Connect | 35, Yaba Road, Opposite Omole Junction, Yaba Ondo Town, Ondo State |
| Ekiti | Ekiti Ado Connect 2 | No 11, Iyin Road Beside Captain Cook, Ado-Ekiti, Ekiti State |
| Kwara | Ilorin Golad DTP | Taiwo Road, off Ilorin Road, Kwara State |
| Kwara | Ilorin 1 Connect | MTN Office by Tipper Garage, University of Ilorin Road, Tanke, Ilorin, Kwara State |
| Nasarawa | Keffi New Dawn | 17, Abubakar Burga Road, Opposite Police Barracks, Keffi, Nasarawa State |
| Nasarawa | Akwanga New Dawn | No 26 Keffi Road Opposite Abc Transport Akwanga, Nasarawa State |
| Niger | Minna Connect | No 23 Along Paiko Rd Tunga, Minna, Niger State |
| Niger | Minna New Dawn | No 24 Randan Ruwa Bosso, Minna, Niger State |
Conclusion
If you know that this article has helped you know the price of MTN Lumos solar panel and how to buy it in Nigeria, please share it with your friends and remember to subscribe to our newsletter or follow us on Facebook for more important updates.
References:
---
HOW TO PAY FOR YOUR LUMOS YELLOW BOX | www.lumos.com.ng | retrieved on 22nd April 2022.
MTN Lumos Solar Inverter: A Review | https://www.solarkobo.com/post/mtn-lumos-solar-inverter/ | retrieved on 21st April 2022.
www.naijatechguide.com | https://www.naijatechguide.com/2017/03/mtn-mobile-electricity-lumos-solar-system.html.