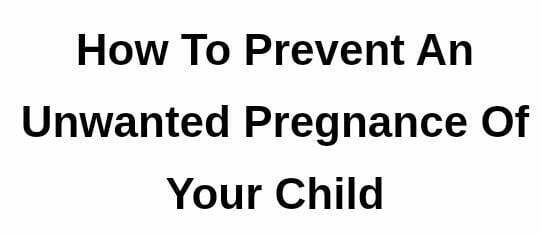 Base on the statistics, most teenager female children get impregnated by man during their puberty stage. Now, how can you prevent your child from getting unwanted pregnance? In this article, I will discuss everything.
Are you a teenager female child and getting disturbed by men? In fact, if you're be careful, you will get an unwanted pregnance.
In one of my articles, I discuss all different signs of puberty stage in male and female child. I showed and discussed that increased in beauty is one of the signs of puberty in female child.
Read this also: for more information or discussion on signs of puberty stage in male and female child, please click here now.
Why Teenage Female Children Are Getting An Unwanted Pregnance
The reasons why many female teenagers are mostly impregnated by man is as a result of their increased in beauty which causes by puberty stage.
Puberty signs in female child begins from her thirteen (13) to nineteen (19) years. That is, every teen-year female child is a star of all men.
Men like to date a youngest and virgin lady while such type of lady is very scarce. Meanwhile, a puberty-undergoing female child (teenager) must be youngest and virgin.
Thus, don't play with the teen age (13-19) of your female child because men now aday are resistant to see the female teenager. In other words, you child can be theft and get her raped.
What Parents Should Do If Men Are Disturbing Their Female Child
What is your responsibility as a parent if men are disturbing your female child is discussed below.
Naturally, female child who is between thirteen (13) to nineteen (19) years must be attracted by any man. Even a seventy (70) years old is happy to marry a fifteen (15) years old child if it's possible.
You cannot prevent men from toasting your female teenage child, thus, how should you do to prevent this upcoming unwanted pregnance?
How To Prevent A Teenage Female Child From Getting Unwanted Pregnance
In this article, I have shown you the reasons why men want to impregnate a teenage children. Now, I am going to show you how to prevent your child from getting an unwanted pregnance.
Pregnance at the early age (teen) is not encouraging, if you don't like your female child to get pregnance at her early age, then continue reading this post.
Below are the tips of preventing unwanted pregnance of a teenage female child:
Advise your child
Show her different examples
Do not shame her in public
Provide anything she needs
Don't punish her
Teach her sex education
Do not hide anything from her
Discuss with her every time
Explanations of eight (8) amazing ways to prevent unwanted pregnance of a female child.
1. Advise your child
Everything we're doing in the world, advice is the king ever. Advice can change positive things to negative, vice versa.
As the men are running your teenage child, don't talk anything to them. Just call your child in private and advise her.
Tell her the type of person you want her to be in life so that she should maintain herself. Those men who are promising you for marriage are a scammer, indeed, hence, don't let them to use your brain.
2. Show her different examples
Another way you can prevent your teenage child from getting an unwanted pregnance is by showing her different examples.
Show her different set of people in your community who regretted in giving up on me the maintenance of their virginity and people who are happy with their life due to their virginity they had maintained.
By showing your child different examples every time she misbehave or get closed to the men makes her to be prevented from being impregnated by man.
Read this also: how a parents should help their children to be educationally succeeded (top best methods that many parents have used).
3. Do not shame her in public
If you see your female child associating with men, don't go there and shame her. As a matter of fact, it's not her fault. Though, men know how to talk to a female and make them attend quickly.
As you're seeing your teen female child with men, they may not discuss stupid things with her. To know the type of discussion they were having, then don't disgrace her in public.
Meanwhile, you can call your child and ask her about the type of discussion they had and she'll surely tell.
4. Provide anything she needs
Another way to prevent your child from getting unwanted pregnance is by providing anything she wants at the right time.
Philosophical review shows that a hungry female child whose her parents don't care for her must find man who'll give her food.
However, the way which man will give food to a hungry female teenager is quite different. In some cases man sex teenage child, then after that, he'll give her money.
From the discussion below, it's shown that if you don't provide anything your teenage female child needs, she'll be impregnated at the time you don't expect.
5. Don't punish her
Don't punish your teenage female child for every thing she does wrongly.
A children especially female ones, don't deserve punishment every time. The reason why punishing your female child regularly causes her to get an unwanted pregnance is that during the process, men will come and advice her.
Some men don't only advice teen lady but also toast her to have sex. Some men tell a lady that what is the type of person that your parents are? Futhermore, I always see you crying, please follow me to my house.
6. Teach her sex education
What is sex education?
Sex education is the type of education which should be taught publicly especially to the people who don't know anything about sex.
By teaching your child sex education can make her to know how to prevent man from impregnating them. Teach her everything about sex particularly its prevention.
Advice your teenage female child that she should be careful with men. She shouldn't let men play with her too deep.
7. Do not hide anything from her
If you hide something from your female child, she may be impregnated by man due to her ignorance.
If you don't want your child to get an unwanted pregnance, then reveal the ins and outs of everything about the difference between relationship and marriage.
Disclose to your female child (teenager) the event that will occur if she let man sex her.
8. Discuss with her every time
Don't leave your child to live lonely. Hence, discuss with your female child if you are her dad than how you do with your son.
Also, if you're a mother, them try to discuss with your son every time in order to know the type of person he really is.
Parents should be regularly engaged in discussing with their puberty-undergoing female child (teen) to prevent her from getting an unwanted pregnance.
Conclusion
If you know that what I discussed above is very useful, please subscribe to the newsletter of this noble website (fastknowers.com) in order to get updates via your email by clicking here.
Do you want me to keep showing you related posts of this article for free of charge? If you do, then comment with any question you may have to ask and finally share it with your friends.
Read this also: how to find a career for your teenage child (both male and female).