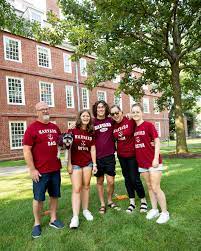 Are you interested to know the name of famous people who did school in Harvard university? In this article, that is what we are going to discuss with you today, Harvard University famous alumni!
The Harvard university is a university that is located in USA known for providing world's top famous alumni. An alumni of Harvard university are the CEOs of the tools which we are using today. Example,  Mark Zuckerberg, the founder of Facebook, the #1 world's social media platform did Harvard university.
Famous past students of Harvard university
If you are searching to know the name of all Harvard university notable alumni and what they do or their field, then let you continue reading this article.
Harvard University is very famous because it is the first institution of higher education established in the new world on 8 September 1636. Being the first university in US of America, its reputation was established as the sole place where one could get a degree.
Being the top choice university for every one in the world, over 150 Nobel Prizes were once a student of the Harvard university. The university produces high-impact research in many fields, from the sciences to the humanities.
---
Read these also:
---
One of the notable alumni of Harvard University is Natalie Portman, an actress graduated with an A.B.
Harvard graduates have made substantial and creative contributions to society, the arts and sciences, business, and national and international politics for more than three and a half centuries.
Below is the insight
Eight US presidents, 188 surviving billionaires, 79 Nobel laureates, seven Fields Medal winners, nine Turing Award laureates, 369 Rhodes Scholars, 252 Marshall Scholars, and thirteen Mitchell Scholars are among Harvard's alumni. Harvard students and graduates have won ten Academy Awards, 48 Pulitzer Prizes, 108 Olympic medals (including 46 gold medals), and founded a slew of prominent businesses around the world.
Note: besides numerous successful businessmen, scientists, scholars, writers, there are many celebrity actors and artists that have also been Harvard alumni.
The compilation of this page is a list of some of the most famous Harvard students of all time, along with the field/area of their achievements. This list of notable Harvard University alumni is based on the individual's achievements and fame.
Harvard notable alumni and more information about them
According to the Harvard Alumni Association, there are over 400,000 alumni members across the world. The name of top famous alumni of Harvard university are:
Mark Zuckerberg
Matt Damon
Natalie Portman
Barack Obama
Neil deGrasse Tyson
Conan O'Brien
Tommy Lee Jones
Henry Kissinger
Michael Bloomberg
Ratan Tata
Thomas Sowell
Sheryl Sandberg
Tom Morello
Steve Ballmer
Pete Buttigieg
Elisabeth Shue
Rashida Jones
Dustin Moskovitz
Jon Bernthal
John Lithgow
Ben Shapiro
Chris Hughes
Colin Jost
Chuck Schumer
Mitt Romney
Jeremy Lin
Lisa Brennan-Jobs
Jonathan Taylor Thomas
John Roberts
Yara Shahidi
Harvard University Indian notable alumni
Harvard university welcomes admission applications from all over the world but their acceptance rate is low. Meanwhile, their admissions and financial aid processes are the same for all applicants – regardless of nationality or citizenship.
India is one of the countries that the notable alumni of Harvard came from. With many competitive notable alumni of the prestigious Harvard university, Indians have in fact proven to be a great part of the global community.
The institution has retained its charm and excellence all through these years. It is, therefore, not surprising to see MBA applicants all over the world aspiring to make it to this coveted place.
Hundreds of Indians try to clear the admission and study at Harvard. Over the years, it has become home to Indians who, after graduation, have gone on to become famous business leaders in some of the top global corporations, politicians, and academicians.
Here's a list of top four (4) famous Indian alumni from Harvard university.
1. Ratan Tata
Chairman-emeritus of the Tata Sons, Ratan Tata graduated from Harvard in 1975. He attended the seven-week Advanced Management Program (AMP) and has endowed to the institution since. He became the Chairman of the Tata Group in 1991 till 2012 when Cyrus Mistry succeeded him.
2. Ashish Nanda
Ashish Nanda is the director of his alma mater – Indian Institute of Management (IIM), Ahmedabad. He won an invitation from Harvard to join their economic programme. He completed his Ph. D. in Business Economics and AM in Economics. Following this, he taught at the school for 13 years.
3. Suhel Seth
Suhel is the founder and managing partner of the consultancy firm Counselage India. He is an alumnus of the Advanced Management Program (AMP) from Harvard. He has a multifaceted personality and is known as a TV anchor, columnist, actor, keynote speaker among many other things. He is also known as being a management guru and has been invited by various universities to lecture on related topics.
4. Jayant Sinha
Jayant Sinha graduated with an MBA from Harvard in 1992. After his graduation, he joined McKinsey and Co. in Boston and then shifted to hedge fund Courage Capital. Before joining politics, he was a partner at Omidiyar Network, a philanthropic investment firm. He is currently a Member of Indian Parliament.
Conclusion
If you know that this article has helped you know the name of top 31 famous alumni of Harvard university, please share it with your friends and remember to subscribe to our newsletter for more important updates.
Read these also: