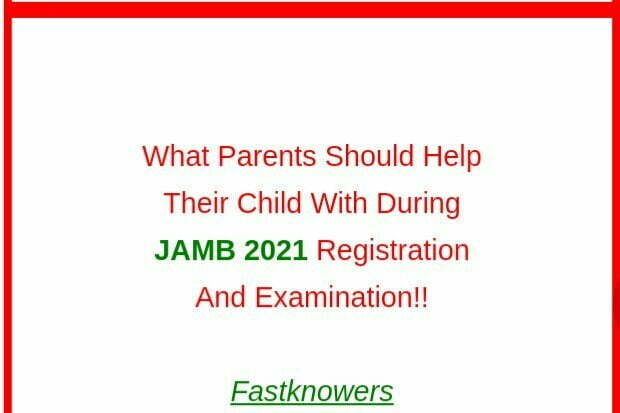 In this article we'll show you the responsibility of parents for their child in JAMB registration and examination in 2021 (what parents should do and the one they shouldn't).
The Joint Admission and Matriculation Board (JAMB) has revealed some things which some parents do for their child and most of those things are not recommended.
Most of those doings that some parents do for/to their child are seen as inappropriate.
However, in today's post, I will show you the things that you should do for your child and the ones that you shouldn't during or in the process of JAMB registration and examination and I hope you will read it very well.
As a matter of fact, if you don't want your child to get sanctioned, please keep your actions towards his/her JAMB registration and examination appropriate.
Recommended: accredited JAMB CBT centre for all states in Nigeria in 2021
After reading this article, you will know your responsibility and support for your JAMB candidate's child.
And if you are a child here, you will know the type of help you will expect from your parents.
As you may know, money for your JAMB registration is not the problem, your parents would aid you in your academics, but the type of aiding they should do for you matters.
Because if they help you anyhow, both of you can be prosecuted any how. Do you understand?
What Parents Of JAMB Candidate Should Do For Their Child In 2021 (Responsibility Of Parents)
Recommended: Documents needed for JAMB registration in 2021
What parents of child that want to write jamb should do for their child? Then below are the responsibilities of parents for their child who want to register and sit for jamb in 2021.
Ask your child to go and register
Wake up your child
Advise your child
Do not follow your child to the examination centre on the exam day
Recommended: top lucrative courses in Nigeria in 2021.
Above are the four responsibilities of a parents for their child that want to sit for JAMB (UTME). It is those (parents) who wish their child's failure that do not misdo what we listed above.
Would you like to look at the explanation of the four responsibilities of parents for their child? Then let us go ahead to read at their explanations!
What you should do as a parent responsibility for your child in JAMB 2021
1. Ask your child to go and register: Most of the candidates that have been sitting for jamb examination in Nigeria yearly are almost too young teenager.
That is to say, your child is too young to sponsor his/herself, infact it is their parents are the one that sponsor them academically and in any things.
Would you not like your child to graduate at younger age? Then why you do not ask him/her to go and register JAMB at the early age, 
Or do you like him/her to stay with you for some years in order to mature enough? No, the above question should not be answered "YES" if you like your child.
Any way a teenager of 16 years old person can register and sit for JAMB in Nigeria.
For example, if the registration begins, just call your child and say "Christiana, it is time for JAMB registration, I would want you to go and register, are you ready, how will you feel?"
If she want to refuse or complain, then advice her a little on why you said that.
E.g, you are now 16, if you register and sit for JAMB this year, you will get your First Degree at exactly your 20 years old like our neighbor's daughter had and just got lucrative job at her 20 – 21 years.
Thus, asking your child to go and register for JAMB at the right time makes him/her keep remembering you when he/she become a successful person.
If you comply with this guide, your child will become "our child", because it is positive. But if you let it turned negative by not following our thoughts, your child will be yours only (the owner).
Recommended: Nigerians currency and how they are.
Responsibility Of Parents For Their Child In JAMB 2021 Registration And Examination
2. Wake up your child: The life of a child with his/her parents is the best one. The parents of the child wake their child up for reading.
A dependent teenager cannot maintain waking his/herself up at the right time, thus he/she should be helped by the person that is suitable i.e, his/her parents (the best one).
The best thing which parents should do for their child is training his/her educationally and also make sure that his/her child is trained with positive education.
Do not do negative things in your child's presence, because doing so will wake your child's negative intentions.
Encourage your child to do face his/her book very seriously and show him/her the person who had become successful by education.
Also, do assure him/her that any time he/she finish his/her school, he/she will be successful by education like other educationally successeded persons.
Related: Subject combination of jamb for all courses in Nigeria.
Is Giving An Advice To A Child A Responsibility Of Parents For Their Child In JAMB 2021
3. Advise your child: Advice your child very well. Do not let him/her hang out with an unscrupulous child. The type of child that your child follow determines who your child is.
In this way, if your child follow a disobedient child, then your child can become disobedient.
If your child become disobedient by following a disobedient child, he/she may be difficult to listen to your advice.
Advise your child to do not follow any child who does not face his/her book, no matter how handsome of the child is, because if he/she do any unscrupulous things, both him/her and your child would be punished.
Immediately your child register for JAMB, start telling him/her to face his/her book in order to pass JAMB and get admission into the competitive university once and for all.
Do you know how your child will remember you? Anything you do for him/her like giving advice would never be forgotten.
See also: Why your child has not gotten his/her jamb profile code in time.
Is it good for parents to follow their child to the examination centre in 2021
4. Do not follow your child to the examination center: You love your child so much to pass JAMB exam and have done all the necessary things like those we have been discussing, that is good.
The final thing to be done now is for your child to go to the examination center, right?
But you have assumed that the examination center is too far and you intend to take him/her in a car to the examination center. Now, what next would you be intended to do?
In my opinion, you should not take your child to the exact place which he/she will sit for an exam, but you can take him/her nearer to the examination center or just give him/her some money for transportation from home to the examination center's town or place.
Related: How to create email address for your child jamb registration (quick step) .
Even JAMB itself has warned parents to do not come to the examination center with their child.
Only non-candidate persons who will be allowed to enter into an examination center (hall) are the invited invigilators.
Thus, any body that get found at the JAMB examination hall would be asked and if care is not taking, he/she will be arrested.
If you found this article helpful and also know that it can help other JAMB candidates and parents, then help us share it.
Conclusion of how parents should help their child in JAMB examination and registration in 2021 plus further reading:
Also do let me know how you may feel through the comment section. Please like and follow us on Facebook page.
Recommended: How to get NIN for jamb registration in 2020/2021 in Nigeria very fast.