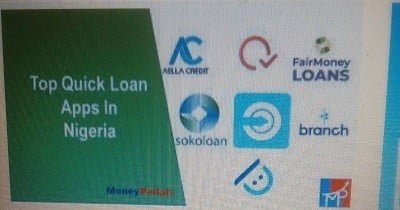 Below are the list of top 9 best loan apps in Nigeria in 2021 which are legit and approved by Central Bank of Nigeria (CBN) and Nigeria Deposit Insurance Corporation (NDIC).
OKash
OKash is a Micro-lending product which is provided by Blue Ridge Microfinance bank.
Intending loan applicants can download OKash from Google Play and set up their loan account in seconds, select their preferred bank account, link their active bank card for repayment, fill out a set of questions, and get a decision on their loan application in minutes all with paperless.
Okash as one of the top 9 best loan apps in Nigeria, it does not value your work, income, or other conditions, meanwhile, as long as you are 20-55 years old, all you need is an Android device, a data connection, a means of identification, as well as valid bank account and card.
How to repay Okash loan
Okash has made it as easy as possible for you to repay your loan, here are ways of paying an OKash loan.
We will auto debit due amount at repayment date direct from your bank card . Make sure the card has sufficient balance before due date.
You can pay via the App by clicking the "Make a Repayment" button.
You also can pay or transfer to this account:
Blue Ridge Microfinance Bank Ltd.
Bank Name: Zenith Bank Plc.
Account No: 1130085518.
Fill your BVN or your OPay registered phone number and your full legal name in the remarks section, then send the transfer details to [email protected] after transfer succeed to verify the information and change your loan status.
QuickCheck
QuickCheck is a modern lending platform for individuals and small businesses. QuickCheck uses mobile technology to enable individuals and small businesses to gain access to financial credit.
According to the platform, users can access quick and hassle-free loans of up to 30,000 Naira without any collateral for a duration of either 15 or 30 days.
QuickChek is one of the top 9 best loan apps in Nigeria that you can use to apply for a loan. You can download QuickCheck App from Google Play Store.
How to apply for a loan using QuickCheck
Create a Profile
To apply for loan using QuickCheck, first, you have to download the app for free, sign up for an account and let them get to know you.
Apply for a Loan
After you have created a QuickCheck loan app account, now, apply for a loan and they will instantly run your credit score and let machine learning decide if you qualify.
Get Cash
If you are qualified after you have applied, your cash will be disbursed within minutes to your bank account.
Read this also top best CBT mobile apps to pass JAMB in 2022 (listed & compared)
QuickCheck loan contact number
The fastest way to contact QuickCheck customer care representatives is by chatting with them on their website.
Click here to visit QuickCheck website
When their website load successfully, click on the chat icon located at the right hand side of the page
Now, enter your full name, email address, subject of your message and the description of your messages
and Finally click submit.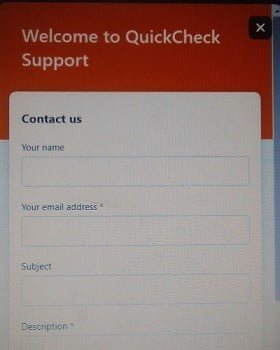 FairMoney
FairMoney offers short-term loans to help cover for urgent needs, bills, business and much more. They give access to loans at any time and anywhere with their loan application within 5 minutes.
FairMoney packages include personal loan, education loan, business loan & more. With the effective use of technology, they are able to provide a speedy and efficient loan app to all our esteemed customers.
It takes 5 minutes to get a FairMoney loan, to enjoy that, simply download their mobile app by clicking here for smooth, fast and efficient loan application from FairMoney.
PalmCredit
Applying for a loan from the PalmCredit loan app is easy and can be done in some quick minutes.
PalmCredit has a straightforward service that allows users of the app to have access to instant loans worth N2000 to N100,000 hassle.
Meanwhile, individuals who will qualify for the loans must however be 18 years old and above. The app also offers rewards to users who refer others to the loan service.
To apply for loan on PalmCredit, four things are involved and they are:
Download PalmCredit mobile app on your device from Play Store or App Store
Registering an account using the mobile app you have just downloaded
Wait for some minutes to get Approval
Finally, wait for the disbursement of fund to your bank account
ALAT
Nigeria's first-ever fully digital bank is the first on this list of best loan apps in Nigeria. This is a simple, and entirely digital platform that grants quick and instant loans without any form of paperwork.
ALAT does not require a visit to a physical location and response time between loan acceptance and loan disbursement is in minutes.
To apply for a loan on ALAT in Nigeria using a mobile app, simply follow the instructions below:
Download official ALAT app from Play Store or App store,
Sign up and
Click on the loan option from the menu.
After you have completed all necessary documentation, an evaluation of your risk store will be conducted and a range of loan offers will be presented to you along with the applicable duration and interest rate.
Once you click on your preferred loan offer and accept it, your account will be credited. With this platform, you can borrow as much as 2 Million Naira without collateral.
ALAT loan also offers a range of services such as the Device-lending offer and the Goal-based loan which allows you to receive a loan towards a specific goal or towards getting your preferred device or gadget.
The interest rate is also designed entirely to help the user. Salary earners can receive about 50,000 and even up to 4 million within hours and will have between 3 months to 24 months to pay back with only a 2% interest rate per month on a reducing balance basis.
Carbon
With Carbon loan app, you can unlock the power of money, pay bills, transfer money, get instant loans and enjoy high-interest savings, all in one place.
Grow your small business or fix personal emergencies with affordable, collateral-free loans offer to you by Carbon. You can use their mobile phone which is compatible on ios device and android device.
Click here to download Carbon loan app on your android phone from Play store
Click here to download on your Apple phone
Or click here to visit their website for more important information.
After downloading Carbon loan app on your mobile device, below are some of the benefits you will enjoy:
You can apply for a loan using their app 24/7 and get funded in your bank account in minutes.
Access up-to ₦1,000,000
No collateral. No guarantors. No paperwork
Get cash back on interest paid once you repay on time.
How to contact Carbon loan app customer care
The customer care representative teams of Carbon loan app are always on hand to help you with any problem you may have.
To let Carbon loan app customer care help you, simply send a mail to them on this email address: [email protected].
Carbon is a financial service provided by Carbon Finance & Investments Limited with CAC registration number: RC 1044655, licensed and regulated by the Central Bank of Nigeria (CBN).
At Carbon loan app, they empower individuals with credit, simple payments solutions, high-yield investment opportunities, and easy-to-use tools for personal financial management.
They are a global finance or banking company of over 90 employees with a presence in Mauritius, Nigeria, the United Kingdom, United States, Canada, South Africa, and Kenya.
In conclusion, Carbon is one of the top 9 best loan apps that many people currently use in Nigeria.
Paylater
 Paylater is an easy-to-use and entirely online lending platform that provides short-term loans to individuals and small businesses in Nigeria to help cover unexpected expenses or urgent cash needs.
With Paylater, you can access up to 500,000 Naira loan with no collateral by applying using your mobile phone only.
Once your application is approved, funds are typically received within 1 – 3 business days. Making on-time repayments can grant you access to higher credit limits for your next loan.
Eligibilities to apply for Paylater loan
Valid bank details
BVN number
Android Phone
Complete application
Download Paylater App from Google Play Store to get quick and flexible loans at affordable rates in Nigeria.
Some important features of Paylater loan app you have to know are:
Fast loan approval process within minutes
No collateral
No guarantor
Branch
At Branch, they have designed their loan process to fit your needs and help you grow. As you build credit with Branch, you unlock larger loan amounts.
Branch is one of the top best loan apps which every body in Nigeria can use to apply for loan request using their mobile phone or laptop. You can easily pay bills and purchase airtime and data bundles direct from your Branch Wallet, transact on the go while enjoying instant purchases.
Unlike other lenders, Branch loan app will not make you jump through hoops or fill out paperwork. Hence, all loans applications you may want to can simply applied through the Branch app and get approved in under 24 hours.
Market leading interest rates can make your money go further. Branch offers flexible withdrawals so that you can access your money anytime, anywhere.
One of the most important things about Branch loan app is that with its wallet (AKA, Branch Wallet), you can send and receive payments with your friends and family at no cost.
Branch loan app doesn't charge late fees or rollover fees, they don't put restrictions on how you spend your money, and their customer care representative teams are available 24/7 to assist you resolve any problem you may have.
How to apply for a Branch loan
If you want to apply for a Branch loan on your mobile phone using their mobile application, simply follow the step by step guides and instructions below:
Download the Branch app
Use your Android phone to download Branch from the Google Play store. Click here to continue
Create your account
Fill out a simple form in under 30 seconds and submit for a quick review
Apply for the loan that meets your needs
Receive the loan into your account.
Alternatively, you can also apply for a loan on Branch website using your phone or laptop by just following the simple guides below.
Applying for a Branch loan online is easy! After you have downloaded the Branch app, all you need to do is sign up, navigate to the "Loans" option at the bottom of the Home screen, and fill in your personal details, phone number and bank details.
Now, after the account has been created, you can view all available loan offers, then select an option and finally tap Apply button.
KiaKia
The KiaKia App is a platform where ordinary individuals above 18 years of age with legitimate means of income can fund secured and unsecured loans originated and booked by KiaKia platform and earn monthly, quarterly, bi-annual and annual interest rates on the funds.
Every functional economy in the world has a viable credit and loans system. However, credit system in Nigeria is largely underdeveloped and mostly the exclusive preserve of elite individuals and large corporations who are mostly responsible for over 85% of the credit activities in Nigeria.
Meanwhile, there are currently over 5,000 approved Microfinance banks in Nigeria each has a branches across the country, yet, MSMEs and businesses or individual still have to pass through different challenges if they want to apply for a loan.
As a result of the above, KiaKia, as an innovative business has come to help you in applying for a loan anytime, everywhere without guarantor or collateral.
KiaKia as one of the top 9 best loan apps in Nigeria which every citizen of Nigeria can use to apply for loan anytime and everywhere across the country can ensure that credible individuals and businesses are not denied critical credit due to a lack of credit history/information, institutional bureaucracies, lack of innovation and agility to meed this simple need.
They have organically grown, profiled and dealt with over 323,000+ users as a mix of individuals and Mirco, Small, and Medium Enterprises (MSMEs) from all over Nigeria.
KiaKia aims to be the hub for individuals and MSME financing in the hospitality, commodities trading, food production and processing, agro-allied, manufacturing, contract financing, extractive industries, etc.
Loan requirements of KiaKia
To successfully submit a loan application on KiaKia mobile app or on their website, you have to fulfill the following requirements:
An applicant must be resident in Nigeria
An applicant must be above 21 years of age
An applicant must possess a Bank Verification Number (BVN) and be an account holder with any of the mainstream commercial banks in Nigeria.
An applicant must have evidence of verified source(s) of income (employed in the public/private sector or runs his/her own business)
An applicant must provide a valid means of Identification (Work ID for employed applicant, and Government-issued ID for self-employed) applicant
An applicant must provide proof of income (sms or email screenshots of monthly income alerts or electronic bank statement (in Pdf format) for the 6 most recent months)
Alternatively, an applicant can authorize KiaKia to view his/her bank transactions by connecting his/her bank account to the Mr. K software ONLY for the purpose of obtaining bank transaction details.
Is KiaKia loan app legit
KiaKia loan app is legit because their head office is loacted at PLOT 395A Etang Obuli Crescent, off Idris Ibrahim Crescent, Obafemi Awolowo Way, Jabi, Abuja.
Apart from their head office which we have shown above, KiaKia has been in finance business since 2016. Importantly, KiaKia is a trading name of KiaKia Bits Ltd which was duly registered by CAC with certificate number (RC):799552) as a licensed non-banking financial technology company.
Conclusion
If you know that this article has helped you the list of top 9 best loan apps in Nigeria, please share it with your friends and remember to subscribe to our newsletter for more important updates from us.
Read these also: list of all best driving schools in Lagos in 2021.