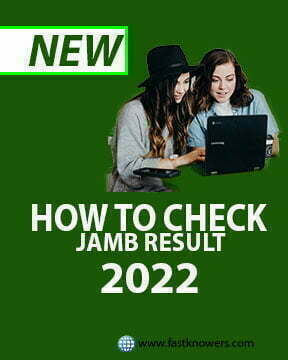 If you were among those who sat for the JAMB examination this year, you may be eager and in hurry to check your result, right? In this post today, we'll show you how to check the JAMB result and print it out step by step.
Has JAMB 2022 result out or released? Yes. It has been released and here are the guides on how to check and print it.
How to get your JAMB Result checked and printed online with your smartphone is what we will discuss throughout this article. So, stay tuned.
Many JAMB candidates are gladly saying that their results are being released. Some candidates say we scored this and that.
Yes, of course, all those information can go viral in a candidate's vicinity but a bit problem is how a can candidate gets it printed to paper slip online with a smartphone.
Read this also: how to study for the JAMB examination within two weeks and pass very well.
Your original and printed jamb result slip will be helping you in many, many unbelievable ways, hence, remember to save it very carefully.
As a matter of fact, the number one uses is that it bears your witness as a legal JAMB candidate during the Pre-admission screening exercise (Post UTME) of your institution.
How to check JAMB results in 2022
The JAMB 2022 results have been released. To check your own result online in 2022, simply JAMB Result Checker portal at www.portal.jamb.gov.ng/eFacility_/CheckUTMEResults, enter your JAMB Registration Number, and click the "Check My Results" button. If you are not with your registration, you can also use your phone number to check.
Please follow the prompts and input your phone number in the required column as we have just explained about the registration number and  "Click on 'Check My Results".
You can also use your phone number which you used to register for JAMB and check your result if you don't have a browsing phone or laptop. To do that, just simply text UTMERESULT in form of an SMS via your phone number to 55019.
Note: you must pay a fee of N1,000 to JAMB for checking your JAMB Result. And the JAMB Original Result Slip must bear your passport photograph on it.
Now, we're going to show you how to check and print JAMB results with the second method.
Login to your JAMB Account profile at jamb.org.ng/efacility
Under the list of services, Click on the "Print Result Slip"
On the next page that appears, click "continue with payment" to make payment via Remita or other options available.
If the payment is successful, your JAMB Original result slip will be displayed and you can proceed to print it immediately.
It will equally be sent to your email address in case you prefer to print it later.
Please note that this method works best after you have paid a sum of N1,000 to JAMB in the first time.
Visit Jamb Official result printing portal at www.jamb.or.ng or simply click here.
When the site fully loads, a page will open for you to enter your Email and Password.
Enter the email you used for the Jamb profile in the space for Email.
Enter the exact Password you used to create the Jamb account in the space for the password.
Click on your Login and wait for the page to load.
Your Jamb profile homepage will now open.
Scroll down and check the print Result slip.
Enter your JAMB registration number and examination year.
Click on the print result.
Then plug your device with a printer
That's all, finally.
If you comply with the steps above, then you have got your JAMB Result checked and printed.
If you know that this article helped you know how to check and print JAMB results in 2022, then please share it may be it can also help others. Feel free to drop any questions you may have via the comment section. Thank you.