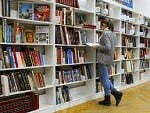 Library is a place to read books and journals. It also houses advanced electronic resources, including the internet, computers (digital library collections), remote access to a wide range of technology and instruments. Library has different types and in this article, we will show some of them with you and their explanation.
If you have searched for the types of Library, then here, we have got you covered. Here, we have explained all types of Library and their functions or explanation.
According to Cornell University Librarians, is was told that there are four (4) different types of Library which are:
Academic libraries. .
School libraries.
Special libraries.
Public libraries.
1. Academic libraries serve colleges and universities.

2. Public libraries serve cities and towns of all types.

3. School libraries serve students from Kindergarten to grade 12.

4. Special libraries are in specialized environments, such as hospitals, corporations, museums, the military, private business, and the government.
However, those four types of library are also divided into many types and they are listed and explained below one by one.
Types of library and their functions
Digital libraries are libraries that house digital resources. They are defined as an organization and not a service that provide access to digital works, have a preservation responsibility to provide future access to materials, and provides these items easily and affordably.
The definition of a digital library implies that "a digital library uses a variety of software, networking technologies and standards to facilitate access to digital content and data to a designated user community."
2. Research library
A research library is a collection of materials on one or more subjects. A research library supports scholarly or scientific research and will generally include primary as well as secondary sources; it will maintain permanent collections and attempt to provide access to all necessary materials.
3. Reference library
A reference library does not lend books and other items; instead, they can only be read at the library itself. Typically, such libraries are used for research purposes, for example at a university.
Some items at reference libraries may be historical and even unique. Many lending libraries contain a "reference section", which holds books, such as dictionaries, which are common reference books, and are therefore not lent out.
4. Public library
A public library provides services to the general public. If the library is part of a countywide library system, citizens with an active library card from around that county can use the library branches associated with the library system.
A library can serve only their city, however, if they are not a member of the county public library system. Much of the materials located within a public library are available for borrowing.
5. National library
A national or state library serves as a national repository of information, and has the right of legal deposit, which is a legal requirement that publishers in the country need to deposit a copy of each publication with the library.
Unlike a public library, a national library rarely allows citizens to borrow books. Often, their collections include numerous rare, valuable, or significant works. There are wider definitions of a national library, putting less emphasis on the repository character.
6. Special library
All other libraries fall into the "special library" category. Many private businesses and public organizations, including hospitals, churches, museums, research laboratories, law firms, and many government departments and agencies, maintain their own libraries for the use of their employees in doing specialized research related to their work.
Depending on the particular institution, special libraries may or may not be accessible to the general public or elements thereof.
In more specialized institutions such as law firms and research laboratories, librarians employed in special libraries are commonly specialists in the institution's field rather than generally trained librarians, and often are not required to have advanced degrees in a specifically library-related field due to the specialized content and clientele of the library.
7. Children's library
"Children's library" redirects here. For the collection of digitized books, see Internet Archive's Children's Library. A children's library in Montreal, Quebec, Canada in 1943.
Children's libraries are special collections of books intended for juvenile readers and usually kept in separate rooms of general public libraries. Some children's libraries have entire floors or wings dedicated to them in bigger libraries while smaller ones may have a separate room or area for children. They are an educational agency seeking to acquaint the young with the world's literature and to cultivate a love for reading.
8. Academic library
Academic library is generally located on college and university campuses and primarily serve the students and faculty of that and other academic institutions.
Some academic libraries, especially those at public institutions, are accessible to members of the general public in whole or in part. Therefore Library Services are extended to the general public at a fee, most academic libraries create such services in order to mobilize and also to just enhance literacy levels in their own communities.
Libraries are known as institutions that enables the improvement of the reading culture in all parts of the world.
Tasks and functions of library
| Task | Function |
| --- | --- |
| User services | Connecting people to the information they need. |
| Technical services | Ordering, cataloging, and preparing materials. |
| Computer services | Maintain library databases, software programming, web page design. |
| Administrative services | Manage the library and services, negotiate contracts with vendors, supervise library employees, prepare budgets. |
Conclusion
We wrote this article with the aim of teaching you the types of library and their functions or explanation. If you have observed some parts which needs correction, please don't hesitate to let us know via the comment section.
Has this article shown you all types of library and their functions and explanation? What is thought about this article, helpful? Please share it with your friends if you know that it has helped you know the function of all types of library. In addition, remember to subscribe to our newsletter or follow us on Facebook for more important updates.
Reference:
Cornell University's Library (website: www.library.cornell.edu).
Read this also: how to convert airtime to cash in Nigeria to your bank account.