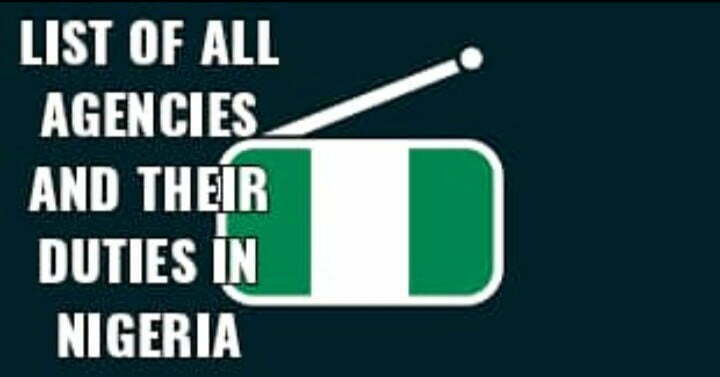 In this post today, you'll be seeing the list of all Nigerian agencies and their duties or functions. You should note that when ever you don't know how duty, you would be easily found guilty.
Every one in the country has his/her functions. Hence, every agencies; Soldier, Police or EFCC (just to mention a few) has their despirate functions in the society, Nigeria.
It cannot be possible for Soldier to take the responsibility or function of EFCC and vise versa.
Read this also: six geo-political zones in Nigeria (languages, states and cultures in each of them).
If you want to know the functions of the sixty-seven (67) Nigerian agencies that we're going to show you, then continue reading.
---
Table of Contents
---
In this article we'll cover what we've been shown in the table of content above.
Tip: any agency which you want to know its duty, just click on it and you'll be scrolled down to it.
So, let's continue..
Before we start, we recommend you to read this also: how to sing every type of Nigerian anthem and national pledge.
List Of All Sixty-Seven Nigerian Agencies You Should Need To Know
We've compiled this article from all the categories of agencies and their over all number is sixty-seven (67).
Those agencies are categorized from law enforcement agency, communication agency power agency and lots more.
To know your fundermental right, you should know the duties of all the agencies around you.
The importance of this content is that for example, it will explain everything.
If you continue reading, you'll know what the writer of this article meant.
Read this also: how to apply for Nigerian national ID card and get your national ID number very fast.
So, let's start our business, list of all Nigerian agencies and their duties.
Law Enforcement Agencies In Nigeria And Their Functions
The Nigerian law enforcement agencies are those agencies which defend the people in the country from accidental killing or fight between other countries.
These agencies ensure the maint of law and order.
Nigerian law and agencies are are follow:
Nigerian armed forces
Nigeria Police
Nigeria Copyright Commission
Economic and Financial Crime Commission
National Drug Law Enforcement Agency
Nigeria Immigration Service
Nigeria Customs Service
Code Of Conduct Bureau
Federal Road Safety Commission
Nigeria Security and Civil Defence Corps
Independent Corrupt Practices Commission
Communication And Media Agencies In Nigeria And Their Roles Or Functions
Nigeria is a biggest country which has communication or media agencies.
Below are the list and functions of all communication agencies in Nigeria.
The number one roles or functions of communication agencies in the country is that they help in regulating of information on the internet or help in broadcasting information.
Nigerian communication and media agencies are:
Nigerian Television Authority
News Agency Of Nigeria
Nigerian Communication Satellite
Federal Radio Corporation Of Nigeria
Nigerian Communication Commission
National Information Technology Development Agency Stadium
Energy Or Power Agencies In Nigeria And Their Roles
When we say power, we're definitely referring to energy produced by electricity which all of us use in home and offices.
Below are the agencies which make Nigerian power work as expected in one way or the others:
Nigerian National Petroleum Corporation
Power Holding Company of Nigeria
Ministry of Power and Steel
National Petroleum Investment Management Service
Petroleum Product Pricing Regulatory Agency
Department of Petroleum Resources
Economic Agencies In Nigeria And Their Primary Roles
Read this also: approved JAMB registration centre (CBT) in every 36 states in Nigeria in 2021.
Financial, Economic or Monetary agencies in Nigeria and their duties or functions.
Economic agency is one of the list of Nigerian agencies which controls or ensured that the monies of all public people are maintained, hence their duties is maintaining economic related things.
National Pension Commission
Nigeria Investment Promotion Commission
Federal Inland Revenue Service
Corporate Affairs Commission
Niger Delta Development Commission
Central Bank of Nigeria
Fiscal Responsibility Commission
National Insurance Commission
Bureau of Public Enterprises
National Council of Privatization
Intelligence Agencies In Nigeria And Their Duties
See this content also: how to intelligently know the telephone number which loaded your Airtel recharge card (step by step).
Intelligence agencies in Nigeria are:
Defence Intelligence Agency
Directorate of Military Intelligence
State Security Service
National Intelligence Agency
Others Or Uncategorized Agencies In Nigeria And Their Roles
The following agencies are uncategorized (general). They facilitate in maintaining peace, law and order in a society.
There are some agencies which can be formed to facilitate the business in Nigeria. For example, Standard Organization of Nigeria (SON).
Let's continue looking to know every uncategorized Nigerian agencies.
Nigeria Port Authority
National Agriculture and Rural Development Bank
Nigerian Shippers' Council
National Directorate of Employment
National Agency for the Prohibition of Trafficking In Persons
Standard Organization of Nigeria
Small and Medium Enterprise Development Agency of Nigeria
Industrial Training Fund
National Veterinary Research Institute
National Lottery Regulatory Commission
Computer Professionals Registration Council of Nigeria
Nigeria Maritime Administration and Safety Agency
National Bureau of Statistics
National Water Resources Institute
Federal Aviation Authority of Nigeria
National Sports Commission
National Planning Commission
Federal Housing Authority
National Agency for Food and Drug Administration and Control
National Environmental Regulation and Enforcement Agency
Legal Aid Council of Nigeria
National Emergency Management Agency
National Oil Spill Detection and Response Agency
Independent National Electoral Commission
National Orientation Agency
National Salaries, Income and Wages Commission
Federal Environmental Protection Agency
National Centre for Remote Sensing
Read this also: how to calculate cashew price when weighed in Kilograms (expert guide).
Concussion of Nigerian agencies and further reading
In Nigeria, there are many agencies and all of them have been shown above.
If you know that this article is helpful, please don't hesitate to share it with your friends and comment with any question or suggestion you may have got.
Also, if you don't want to miss any important articles like this henceforth, then like our Facebook page or join our newsletter.
Read this also: how to change the name and other details on the Nigerian national ID card by yourself.