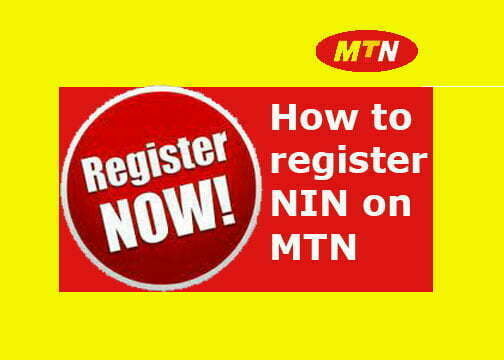 Do you want to register your NIN on your MTN SIM card to avoid it from being disconnected? According to the 2021 rule of Nigerian government for every internet user, says that they should link their NIN with their SIM card. Today, we shall show you the code and how to register and link your NIN with your MTN line.
Linking your NIN with your line is one of the uses of NIN. By doing so, all your details on NIMC database will be imported to your network providers database which will be used for reference purpose in future.
Failure to register your NIN on your SIM will lead your SIM card to become disconnected, ordered by ministry of communication, the federal republic of Nigeria.
MTN network is the #1 company that gives huge amount of data airtime and data bonus to its customers. Click here to read how to borrow airtime from MTN.
Now, let's show you how you can link NIN on your MTN line step by step.
How to register NIN with MTN network
To register or link NIN on your MTN line, just simply dial *785*your NIN# via the SIM card you want to link it with. You can also download MTN mobile app (MyMTN) from Google play store or Apple app store to link it.
If you don't know your NIN number offhand, you can dial *346# to retrieve it no matter the type of SIM card you use. Please note that this service attracts a fee of N20 from your current airtime account balance.
What is the code to link NIN on MTN
*785*Your NIN#. It is free of charge. In fact, there are many methods to use to link your NIN with your MTN SIM card. Some of the methods are discussed below.
USSD code method – Dial *785*Your11 digit NIN# and follow the prompts.
Via MTN mobile app (MyMTN). – download the app if you don't have it already, text 'MYMTN' to 5018 to get the link for downloading it or visit the Google Play or Apple App Store.
On MTN website. – visit https://nin.mtnonline.com
Texting message method. – Send NIN, your 11 digit NIN to 785, for example: NIN-12345678999 to 785.
Recommended: list of all MTN codes in Nigeria and their uses.
Haven't you still gotten your NIN yet? You can enroll for it at MTN NIN enrollment centre and get today unfailingly. To do that, simply visit MTN page by clicking here for more.
All you have to get to register NIN with MTN at their NIN enrollment offices are your:
Certificate of origin,
Attestation Letter from a prominent ruler in your community,
Birth certificate or declaration of Age,
Attestation from a religious/traditional ruler,
NHIS card,
Government Staff ID card,
Tax clearance certificate.
MTN Nigeria has a huge pack for you. If you have newly linked your NIN with them, they would give you the bonus;
National Calls @N24 (40K/sec),
National SMS @N12,
Data Browsing @N15/MB.
Now, what are you waiting for? Kindly link it now to get this awoof bonus. If you are having issue linking it, please contact MTN customer care on [email protected].
Conclusion
If you know that this article has helped you know code and how to register your NIN on your MTN line, please share it with your friends and don't forget to subscribe our newsletter or follow us on Facebook for more important updates.