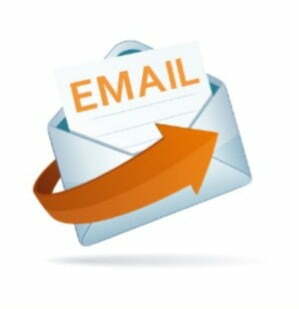 In this content, you'll know the descriptive differences between email and Gmail address with real examples and how to create any one by yourself and with your smartphone.
In some days ago, one of my followers commented on my Facebook post as "what is the differences between email address and Gmail address?" This question brought the creation of this article today.
Do you know the difference between email address and Gmail address? If you don't, then keep reading on, you will know it right away.
One of our focuses in this article today is to let you understand the differences, importances and how to create email or Gmail address.
See this also: where to register for national ID card in Lagos state in this year and get your NIN very fast.
An email is the messaging software connected to the internet to receive and send messages from one source (person) to another (person). We cannot over emphasize the use of email address, it works very much.
As it's been known, message between two people is very fast with the use of email address.
Before you can do some things on the internet, e.g, comment on some websites, your email/Gmail address is required.
What Are The Differences Between Email & Gmail Address
The Gmail address and email address are pronounced as if they are the same while they don't. But, today in this article you will know the difference between them.
First of all, Gmail address should not be written as gmail address because G+mail means Googlemail.
Below are the differences between email and Gmail address;
Gmail is an email address powered by Google while email address is the collection of Yahoo Mail, Google mail, Zoho mail, Bing mail e.t.c.
For example, if you have an email address managed to you by Google, Yahoo, Zoho e.t.c, their names are Gmail, Yahoomail, Zohomail e.t.c respectively and all of them are called your email addresses.
See this also: if sim card is not receiving message, how to update its message center number and get it fixed.
The first capital letter in an email address identifies the email manager. E.g, Gmail identifies Google mail (G+mail) and yahoomail identifies yahoo mail (yahoo+mail).
This should be understood that where ever your email address is requested, you can put down your Gmail address or yahoomail or zohomail in that email address requested box.
Every email address provider works similarly and any of them can make you get email address but Gmail by Google is the best one we recommend.
Examples Of Email Addresses (Gmail And Others)
Below are the examples of email address and Gmail address in order to let you understand the difference between email and Gmail address.
1 sophiasolomon2@gmail.com »»Gmail
2 skofifermud44@yahoomail.com »»Yahoomail.
Both the number one and two reffer to email address of Sophia Solomon and Skofifer Mud while the number one is the Gmail and number two is yahoomail.
Recommended for you to read: how to join our newsletter with your email address.
Let us for example say that when the application comes, both the Sophia Solomon and Skofifer Mud can input sophiasolomon2@gmail.com and skofifermud44@yahoomail.com in an email requested box and still get the messages from the same source.
Summary: when ever you are asked to put down your email address, you are being asked to put down any type of email address you have.
Read this content also: how to apply for Nigerian national ID card and get your national Identification number (NIN) very fast.
How To Create Any Type Of Email Address By Yourself
If you have been wondering how to create an email address, then here are the quick steps you should follow to create yours now.
You may click here to create a Gmail address and click here also to create a yahoomail address.
You should note that both Gmail and email address can be used interchangeably. In fact, they are used to do the same thing.
If you know that this article has helped you know the differences between email and Gmail address and also showed you how to create it, then please share this article.
Finally, follow us on Facebook or join our newsletter (with your email address)!
Read this also: how to use an email address to create Jumia online shopping account and order anything from the comfort of your home.
I am Abdulrazaq, a student and a type of person who love guiding people with any important thing I know. I established this blog in order to show people what is what and prevent them from making avoidable mistakes.