Do you wonder why Facebook ruins the picture that you post? Sometimes, when you share your best birthday pictures, part of them get cut by Facebook. The reason is as a result of using inappropriate dimension. Today, we will share with you all sizes that you should use in 2022 for your image before you post on Facebook.
No matter how small in size your image is, Facebook must compress it in order to make Facebook site load faster because they just released that they generate 4 new petabytes of data per day.
Meanwhile, Facebook will resize an image to have a width of 500 pixels so as to avoid pixelation, cropping, and slow load times.
For your image to appear normal, Facebook recommends that you dimensions of 1200 x 630 pixels. While the aspect ratio should be 1.91:1.22.
For more information about all Facebook image sizes, please read them below one by one.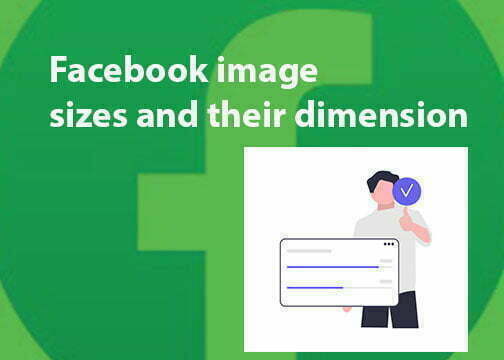 Facebook image size for all posts
Facebook profile picture image size.
170px by 170px.
Please note that it'll display as 170px by 170px on a desktop, 128px by 128px on a smartphone and 36px by 36px on most phones.
For more, please have a read about this from Facebook help centre.
Facebook cover photo image size
851px by 315px. It will display as 820px by 312px on desktop and at 640px by 360px on a smartphone.
Facebook event photo size
1200px by 628px.
Facebook image's size in link share
 1200px by 630px.
Facebook ads image sizes
1080px by 1080px.
Read this also: how to recover your hacked Facebook account very fast.
However, if you can't maintain the image sizes above, strive to have a minimum sizes as described in the table below.
| | |
| --- | --- |
| Cover Photo | 820 × 312 px |
| Image Post | 1,200 × 630 px |
| Shared Link Images | 1,200 × 628 px |
| Tab Images | 111 × 74 px |
Facebook post image sizes in inches
| | |
| --- | --- |
| Profile picture | 10.417 *10.417inches (750*750 pixels) |
| Cover photo | 11.819 * 4.875 inches (851*351 pixels) |
| Images size in link share | 16.667*8.75 inches (1200*630 pixels) |
The dimensions above can be used in Photoshop, Corel Draw, etc. Hope this page has helped you know Facebook post image sizes this 2022? Please let's hear from you via the comment section.