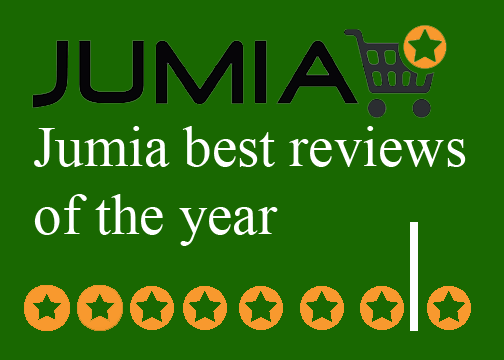 Are you intending to buy products or items from the Jumia website and searching for information on whether you should continue or buy from the physical store? Today, I will review the reality of products on Jumia and also how best Jumia's products are.
Since Jumia is an online store, people think that it's preferable to shop physically to shop electronically and that is not recommended.
Yahoo boys (people who steal people's money online) have deterred the online activity of some good people. Now, it's very hard to trust a website as some of them were created aims to collect people's banking details.
When shopping with Jumia, you must be asked to enter your banking details like CVV, card number, card expiring date, and lots more, and that is what most people don't love to disclose because they believe that they can be scammed upon doing so.
In this century (21st CT), everything has changed. In the olden days, if you want to buy products or goods, you must go out by yourself and buy. But now, it doesn't work like that.
With the Jumia website, you can shop online with your ATM card. Different and best high-quality products and items are on sale on Jumia. Now, what are you waiting for?
Read this also: how to step-by-step return the product(s) you purchased from Jumia if you're no longer interested.
Jumia has got a physical office in Lagos state only. You can live in Maiduguri or anywhere in Nigeria and order product(s) and they will deliver it to you. Another question you may have in mind is "Are all products on Jumia real and original?" Let's get into that!
Are the products on Jumia website reliable
Some people are afraid to do online shopping after they had gotten scammed for the first time by a fraudster. From the bottom of my heart, I want to let you know that Jumia operates legally.
Jumia is real. It's a phone number through which you can contact them or you can go to their office in Lagos for any request or complaint.
Are you in some places being informed that Jumia sells fake or fewer quality products? If you are, then that is not factual.
Products and items on Jumia are real and original, indeed. The reality of this is that you will be delivered with the products you ordered.
As a matter of fact, Jumia doesn't produce or make any product. What it does is sell and advertise products for the producers. Hence, producers cannot give fake things to Jumia to sell.
Meanwhile, any producer who will try to spam Jumia Will be penalized accordingly. Jumia allows people to return the product(s) they bought from the day it was delivered to the 16th day (i.e, if you receive it today, you still have a chance to return it within 16 days).
Have you known how Jumia works? If you haven't, please go over the previous paragraphs.
How to buy products on the website of Jumia
Like I was saying to you in this article, the products bought on the Jumia website cannot be compared to the one that is bought from a physical store, that is the number one reality. Secondly, you can have rest of mind while shopping.
However, the price of the products found on the Jumia website is as shown in the image below. That is the clock and its price is N2, 388.
The best part is that price of a product on the Jumia website is static, and it's not negotiable. Here, the price of this watch is N2, 388 (no less, no more).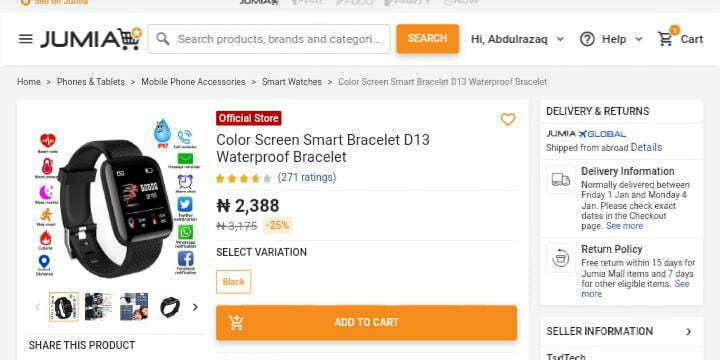 If you want to buy this watch, then click here to order on the Jumia website by yourself now.
Proof that the products on Jumia are of best quality
By viewing the image below, you'd confirm that Jumia doesn't disappoint. What you ordered is what you will receive unless you didn't order very correctly.
Below are the reviews of the people whose orders have been delivered and received successfully.
If you bought the product on the Jumia website, you will be asked to rate the experience you had with your product(s) and it's mandatory to do so.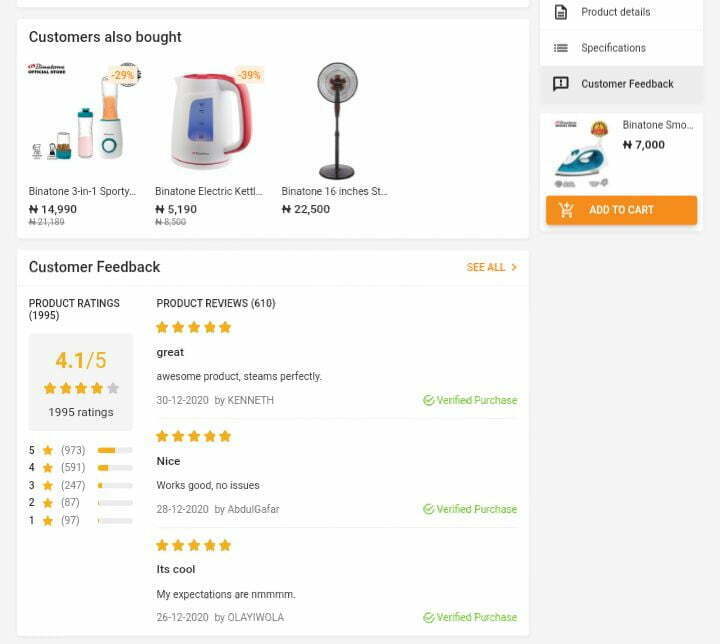 When buying something from Jumia or any other online shopping website, observe the customer's feedback or reviews very inquisitively as the product that has high ratings and positive reviews tends to get high-quality buyers.
According to my thinking and experience, an item that has four-star ratings and above is okay to buy. Importantly, if you are mistakenly being given the wrong item or product, Jumia will never ask you any questions if you wish to return and get your money refunded.
Conclusion
If you know that I have shown you the up-to-date reality of products on the Jumia website, please share it with your friends, and don't forget to comment with any questions you may have to ask.
Need a step-by-step guides for how to shop on Jumia? We're here to show you guides the right way.
If you have got difficulty ordering products on the Jumia website or you don't know how to place an order, please let me know.
Meanwhile, if you've not yet created your account on the Jumia website, click here now to create one very, very fast.
If you want to get in important related updates from us, please like our Facebook page.
Thank you and have you here in the next time. Cheers!